Shakib Al Hasan's Timed-Out Appeal Controversy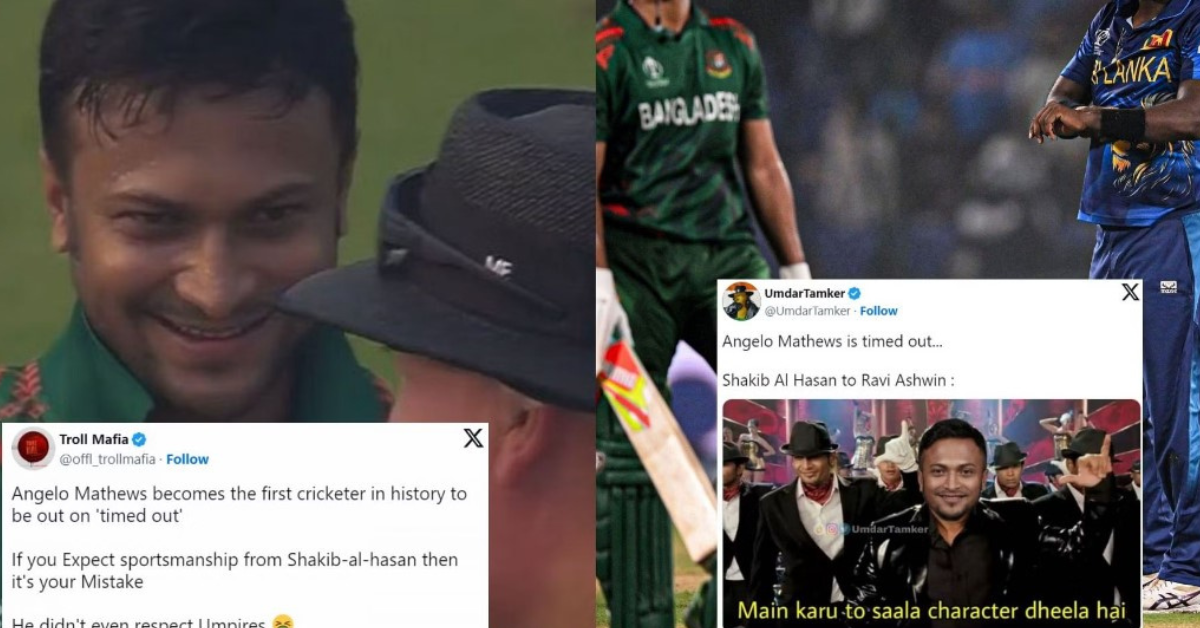 Shakib Al Hasan Faces Backlash for Controversial Timed-Out Appeal in BAN vs SL Clash
Bangladesh captain Shakib Al Hasan faced the wrath of fans after his controversial timed-out appeal against Sri Lankan batter Angelo Mathews during the 36th match of the 2023 World Cup on Monday (November 6) in Delhi.
The incident transpired during the first innings of the match in the 25th over. Veteran Lankan all-rounder Angelo Mathews walked in at the fall of the fourth wicket of Sadeera Samarawickrama. Mathews took his guard in time but withdrew after noticing some issues with his helmet.
He then gestured towards the dressing room for another helmet. A frustrated Shakib went on to appeal to the umpire, complaining about the delay. The officials then ruled Angelo Mathews out. He became the first batter in the history of international cricket to get timed out. Shakib also refused to take his appeal back even after umpires and Mathews consulted him.
Sri Lanka eventually managed to reach 279 in 49.3 overs. Shakib Al Hasan then played a crucial knock of 82 (65) and helped his side chase down the target in 41.1 overs. Mathews dismissed Shakib in the second innings and also gave him a send-off with a wristwatch gesture.
Fans took note of the interesting incident during the match between Sri Lanka and Bangladesh. They expressed their displeasure over Shakib Al Hasan's decision through their reactions on social media. Some were disappointed, while others criticized the appeal as unsportsmanlike conduct.
At the post-match presentation, Sri Lanka captain Kusal Mendis expressed disappointment over his counterpart Shakib Al Hasan's appeal for a timed-out against Angelo Mathews. Mendis mentioned that it was disappointing, and logic should have prevailed, indicating that it was an equipment failure rather than a deliberate delay by Mathews. Sri Lanka captain Kusal Mendis also reflected on his team's performance and future prospects.
This controversial incident has sparked debates among cricket fans and raised questions about sportsmanship and fair play in the game. Shakib Al Hasan's decision not to withdraw the appeal has drawn criticism, while Sri Lankan fans and players have expressed their disappointment over the controversial ruling.
As the cricketing world continues to discuss this incident, it serves as a reminder of the importance of maintaining the spirit of cricket and fair play on and off the field. The 2023 World Cup will likely be remembered not only for the exciting matches but also for this controversial moment that has sparked widespread debate and discussion in the cricket community.
For More Related Updates Please Visit Our Official Website
By- Sahiba Suri