List of top 10 Lowest Total in One Day International's (ODI) History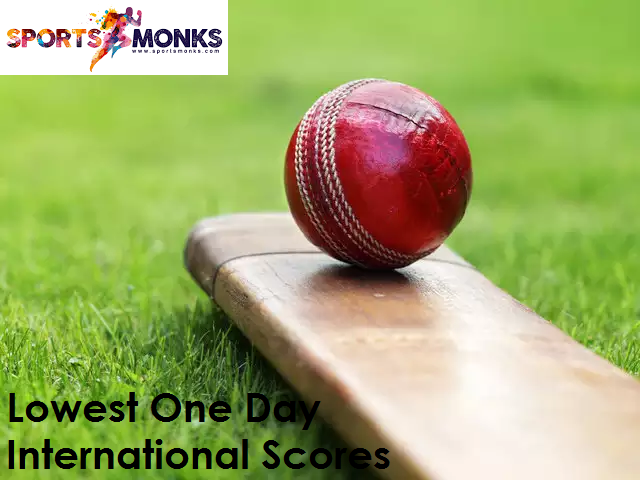 One Day International (ODI) Info
One Day International cricket always played between international cricket who are approved by International Cricket Council (ICC) or top four Associate members. In ODI matches each team has to bowl 50 overs per innings. The First ODI match was played between England and Australia in January 1971. If we talk about the best ODI team in cricket world is South Africa with the winning percentage of 63.74 (According to Wikipedia). Let's jump into the records of ODI Cricket.
ODI Records Bowling, Batting, Catches
The most runs Scored by in ODI cricket is Sachin Tendulkar, he has scored 18,426 in 452 innings. The record of most dismissals by wicket keeper is held by Kumar Sangakkara (Sri Lanka) and the most catches by a fielder is also held by Sri Lankan cricketer Mahela Jayawardene. Muttiah Muralitharan is the leading wicket taker in ODI he dismissed 534 batsmen in just 341 innings.
USA Shrank on just 35 runs against Nepal in ODI
The USA on 12-Feb-2020 registered the joint-lowest ODI score in the history of cricket after getting out on just 35 runs against Nepal in the ICC Men's Cricket World Cup League 2 match. USA has just batted for 12 overs and their opener Xavier Marshall was the top-scorer as he played a knock of 16 runs.
Lowest total Score in ODI History
| | | |
| --- | --- | --- |
| Teams and Lowest Score | Against & Venue | Year |
| USA (35 Runs) | Nepal (Kirtipur) | 2020 |
| Zimbabwe (35 Runs) | Sri Lanka (Harare) | 2004 |
| Canada (36 Runs) | Sri Lanka (Paarl) | 2003 |
| Zimbabwe (38 Runs) | Sri Lanka (Colombo) | 2001 |
| Sri Lanka (43 Runs) | South Africa (Paarl) | 2012 |
| Pakistan (43 Runs) | West Indies (Cape Town) | 1993 |
| Zimbabwe (44 Runs) | Bangladesh (Chittagong) | 2009 |
| Canada (45 Runs) | England (Manchester) | 1979 |
| Namibia (45 Runs) | Australia (Potchefstroom) | 2003 |
| India (54 Runs) | Sri Lanka (Sharjah) | 2000 |