ICC World Cup Cricket 2019 Schedule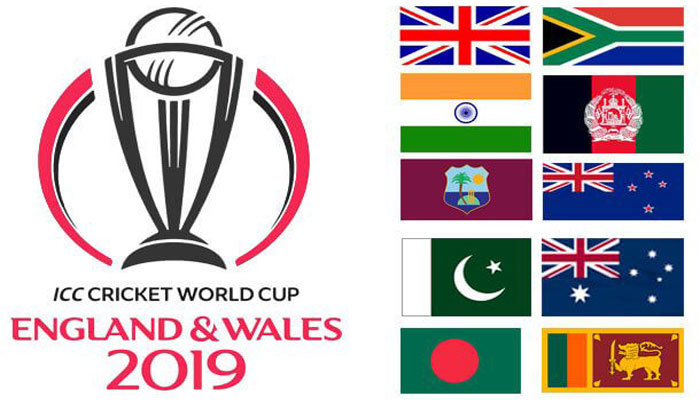 The Cricket World Cup 2019 is about to begin and fans worldwide wait again with bated breath as their favorite teams compete with one another, in the beautiful country of England. As England welcomes the summer, so does it welcome the nine other countries looking forward to take the Cup home.
The Cricket World Cup 2019 England is to be a Round- Robin Tournament, and not the conventional Elimination one, where all the teams will play the others once and the top four will move on to the Semi- Finals.
The first match listed on ICC World Cup 2019 schedule is definitely an important one as England is a favorite on its home ground. South Africa is yet to win a World Cup but it has one of the strongest teams this year.
According to the ICC World Cup matches schedule, India would be playing its first major game this World Cup on the 5th of June, against South Africa. India has young team and a great captain and they are looking forward to winning the World Cup for the third time this year.
Australia is always a strong contender when it comes to the ICC World Cup and West Indies has one of its most aggressive teams this year. The match between them on the 6th of June is definitely going to be a great game to watch.
The other match to look out for will be the match between India and Australia to be held on the 9th of June. Ever since Sourav Ganguly had beaten the Australians way back in the 2000s, the rivalry between both these teams has become the stuff of legends.
The match that most Indians would be looking forward to in the Cricket World Cup 2019 England of course, is to be held on the 16th of June, versus Pakistan. There is hardly anything more entertaining than watching these two teams fighting it out, and since they would be coming face to face just once- given the format this year- this match will have all the added excitement.
The match which the host country will look forward to is, to be held on the 25th of June, versus Australia. The England Australia match is always a match of honor and this year it will be no different. The pressure will of course, be on Australia as England would enjoy the advantage of the home crowd.
Below is the World Cup Cricket England Fixture for this year's match.
Date
Team A
Team B
Stadium
Venue
Result
30th May
England
South Africa
The Oval
London
England won by 104 runs
31st May
West Indies
Pakistan
Trent Bridge
Nottingham
West Indies won by 7 wickets
1st June
New Zealand
Sri Lanka
Sophia Gardens
Cardiff
New Zealand won by 10 wickets
1st June
Australia
Afghanistan
County Ground
Bristol
Australia won by 7 wickets
2nd June
South Africa
Bangladesh
The Oval
London
Bangladesh won by 21 runs
3rd June
England
Pakistan
Trent Bridge
Nottingham
Pakistan won by 14 runs
4th June
Afghanistan
Sri Lanka
Sophia Gardens
Cardiff
Sri Lanka won by 34 runs
5th June
South Africa
India
Rose Bowl
Southampton
India won by 6 wickets
5th June
Bangladesh
New Zealand
The Oval
London
New Zealand won by 2 wickets
6th June
Australia
West Indies
Trent Bridge
Nottingham
Australia won by 15 runs
7th June
Pakistan
Sri Lanka
County Ground
Bristol
Match Abandoned without a ball bowled
8th June
England
Bangladesh
Sophia Gardens
Cardiff
England won by 106 runs
8th June
Afghanistan
New Zealand
The Cooper
Associates County Ground
Taunton
New Zealand won by 7 wickets
9th June
India
Australia
The Oval
London
India won by 36 runs
10th June
South Africa
West Indies
Rose Bowl
Southampton
No result
11th June
Bangladesh
Sri Lanka
County Ground
Bristol
Match Abandoned without a ball bowled
12th June
Australia
Pakistan
The Cooper
Associates County Ground
Taunton
Australia won by 41 runs
June 13th
India
New Zealand
Trent Bridge
Nottingham
Match Abandoned without a ball bowled
June 14th
England
West Indies
Rose Bowl
Southampton
England won by 8 wickets
June 15th
Sri Lanka
Australia
The Oval
London
Australia won by 87 runs

June 15th
South Africa
Afghanistan
Sophia Gardens
Cardiff
South Africa won by 9 wickets
June 16th
India
Pakistan
Emirates Old Trafford
Manchester
India won by 89 runs (D/L method)
17th June
West Indies
Bangladesh
The Cooper Associates
County Grounds
Taunton
Bangladesh won by 7 wickets (51 balls left)
18th June
England
Afghanistan
Emirates Old Trafford
Manchester
England won by 150 runs
19th June
New Zealand
South Africa
Edgbaston
Birmingham
New Zealand won by 4 wickets (3 balls left)
20th June
Australia
Bangladesh
Trent Bridge
Nottingham
Australia won by 48 runs
21st June
England
Sri Lanka
Headingley
Leeds
Sri Lanka won by 20 runs
22nd June
India
Afghanistan
Rose Bowl
Southampton
India won by 11 runs
22nd June
West Indies
New Zealand
Emirates Old Trafford
Manchester
New Zealand won by 5 runs
23rd June
Pakistan
South Africa
Lord's
London
Pakistan won by 49 runs
24th June
Bangladesh
Afghanistan
Rose Bowl
Southampton
Bangladesh won by 62 runs
25th June
England
Australia
Lord's
London
Australia won by 64 runs
26th June
New Zealand
Pakistan
Edgbaston
Birmingham
Pakistan won by 6 wickets (5 balls left)
27th June
West Indies
India
Emirates Old Trafford
Manchester
India won by 125 runs
28th June
Sri Lanka
South Africa
Riverside Ground
Chester-le- Street
South Africa won by 9 wickets (76 balls left)
29th June
Pakistan
Afghanistan
Headingley
Leeds
Pakistan won by 3 wickets (5 balls left)
29th June
New Zealand
Australia
Lord's
London
Australia won by 86 runs
30th June
England
India
Edgbaston
Birmingham
England won by 31 runs
1st July
Sri Lanka
West Indies
Riverside Ground
Chester- le Street

Sri Lanka won by 23 runs
2nd July
Bangladesh
India
Edgbaston
Birmingham
India won by 28 runs
3rd July
England
New Zealand
Riverside Ground
Chester le Street
England won by 119 runs
4th July
Afghanistan
West India
Headingley
Leeds

West India won 23 runs
5th July
Pakistan
Bangladesh
Lord's
London
Pakistan won by 94 runs

6

th July
India
Sri Lanka
Headingley
Leeds
India won by 7 wickets

6

th July
South Africa
Australia
Old Trafford
Manchester
South Africa won by 10 runs
9th July
India
New Zealand
Old Trafford
(1st Semi Final)
Manchester
New Zealand won by 18 runs
11th July
Australia
England
Edgbaston
(2nd Semi Final)
Birmingham
Not Played Yet
Click here to know the current team standings: ICC World Cup 2019 Points Table