Top 5 Takeaways From India's 2019 Cricketing Season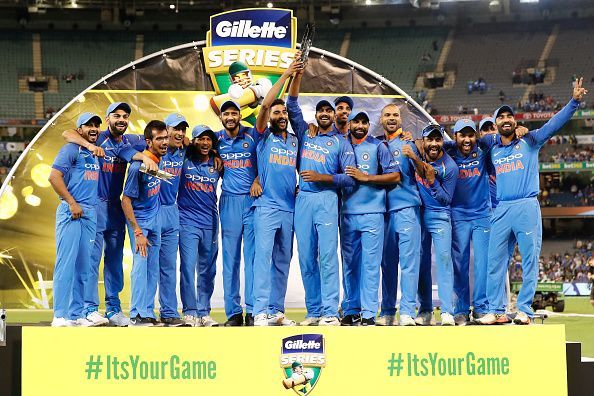 The Indian Cricket team led by Virat Kohli capped off a memorable year in 2019 as they whitewashed the Windies in the ODIs and T20Is and finished second in the ICC ODI rankings. They finished as the top-ranked team in Tests and finished fifth in the T20I rankings. Also in the process, they beat Australia in Australia for the first time by a margin of 2-1 in Tests and 2-1 in ODIs. Virat Kohli became the first Indian skipper to win a Test and ODI series on Australian soil.
After winning in Australia they continued the domination and won the ODI series against New Zealand 4-1. However, the lost the T20I series 2-1.
Australia then toured India between February 24 and March 13 this year and completed a revenge of sorts by beating India in India in ODIs and T20Is. First, they beat India 2-0 in the T20Is and then beat them again in the ODIs 3-2.
Also Read: Boxing Day And Its Importance in Test Cricket
India then played the 2019 World Cup and won eight of the 10 games in the tournament. While their league match against New Zealand was abandoned due to rain, they lost against England and then lost again against the Kiwis which saw them getting knocked out of the tournament.
They played three more series after the World Cup where they defeated Bangladesh 2-1 in the T20Is and then whitewashed them 2-0 in the Test series. Before winning against Bangladesh in November, India toured to the Caribbean and whitewashed them as well on a full-fledged tour. They won the T20Is 3-0 to start off and then registered 2-0 victories in the ODIs and Tests respectively.
Also Read: Epoch-Defining Decade For Indian Cricket- The Rise & Establishment As A Cricketing Superpower
Once again they played the West Indies in a limited-overs series before the end of the year. The Windies travelled to India between December 6 to 22 for a three-match T20I and ODI series and it was India who won both the series.
This year overall, was a very productive year for Indian cricket where the team discovered some new talents and some good bench strength for the future. Here are the top 5 takeaways from India's 2019 cricketing season.
Beating Australia in Australia
Team India achieved one of their biggest achievements this year at the very start of 2019. Under Virat Kohli, India beat Australia in Tests and ODIs to achieve a historic triumph down under. Kohli became the first captain to beat Australia in Australia. India thus proved that they are good travellers as well and certainly have the team to win overseas and especially in Australia. They beat Australia 2-1 in Tests, 2-1 in ODIs and drew the T20Is 1-1.
Also Read: IPL 2020: Best Unsold XI Players after IPL 2020 Auction

Mayank Agarwal & Rohit Sharma – The Test Openers
Prithvi Shaw who made his debut in the Test series against West Indies at home before India's tour to Australia got injured and this opened an opportunity for Mayank to make his Test debut. He scored a defiant 77 in his very first Test innings in Sydney and never looked back. After that brilliant start, Mayank played all the Test matches India played this year. In 11 innings, he notched up 754 runs including two double hundreds and three centuries. He scored all these runs at an average of 68.55.
Rohit Sharma, on the other hand, played five Test matches and scored 556 runs at a stunning average of 92.6. He also scored his maiden Test double ton against South Africa at the JSCA International Stadium in Ranchi. India thus rediscovered the Test opener in Rohit Sharma and will hope that he continues his good form next year after registering a breakthrough year in Tests in 2019.
Mohammad Shami-The ODI Bowler
That 2019 was a year for Mohammad Shami can be gauged from the fact that he has bowled the most number of overs in ODI cricket this year. In the past two years in 2017 and 2018, Shami just played five ODI matches for India where he bowled just 50 overs taken together and picked up just seven wickets. In 2019, he bowled 177 overs, his most ever in a calendar year in ODIs.
With the 2019 World Cup in England, the team management felt the need of Shami's pace in the tournament and included him in the tournament. He returned with 14 wickets for India in the tournament including in just 4 matches including a hat-trick against Afghanistan. He was the most consistent among the Indian bowlers and also took good care of his fitness. He ended the year with 42 wickets in ODIs, the highest this year leaving behind the likes of Trent Boult, Mitchell Starc and Lockie Ferguson.
Also Read: Top 3 Indian Run-Getters and Wicket-Takers in ODIs in 2019
Kohli and Rohit Hunting in Packs in ODIs
Team India had a really memorable year in ODI cricket in 2019. While Shami topped the wicket-takers list for the year, Virat Kohli and Rohit Sharma topped the run-getters list. Rohit finished with 1490 runs from 27 innings while Kohli finished with 1377 runs from 25 innings. Together they scored 2867 runs together. Their contribution was one of the key factors behind the Indian team becoming the batting powerhouse this year. Rohit also had a memorable year in terms of his success at the ICC World Cup in England. He ended with 648 runs including five centuries, the most by a player in a single edition of the World Cup. He ended the year with seven hundreds, while Kohli scored five.
India Playing Their Maiden Pink-Ball Test Match
2019 also saw the Indian cricket team making its debut in Pink-Ball Test. The second Test match between India Bangladesh in Kolkata saw both the teams playing their maiden Pink-Ball Test match. Preparations began in full swing to make this Test match a historic occasion as Kolkata decked up in Pink in all its glory. BCCI Boss Sourav Ganguly finally made the inevitable happen in Indian cricket, while all his preceding officials couldn't materialize the long-awaited dream. The Test match was attended by eminent officials from both countries with a galaxy of superstars from the Indian sports fraternity also attending the event.
Also Read: India vs Bangladesh Pink-Ball Test Details
Overall, India played eight Test matches this year and remained unbeaten throughout the season. Out of the eight matches, only one was drawn while India won the rest seven. Their biggest victory this year was against West Indies in Antigua where they won by 318 runs. They beat West Indies in West Indies before they won against South Africa and Bangladesh at home.