The Top 5 Batsman of the ICC World Cup Cricket 2019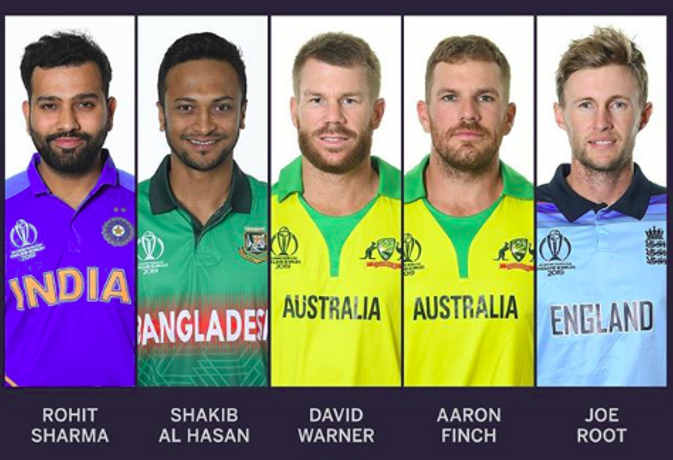 The World Cup Cricket 2019 proved to be an excellent hunting ground for batsmen as they got to show their skills in their own unique ways! When it comes to batting, form and confidence are the two key factors that can totally turn the game around. The warm-up matches gave the ICC World Cup top players a perfect platform to get into the groove. Many sports enthusiasts are actually of the opinion that cricket is a batsman's game. With the likes of MS Dhoni, Brendon McCullum, Matt Prior, Brad Haddin, and so on, it is the era of ultra-aggressive batsmen. Read on to find out more about the top 5 batsmen of the World Cup 2019:
Rohit Sharma (India): having finished as the highest run scorer of this World Cup with 648 runs, Sharma also topped the list of maximum boundaries. At 67 fours and 14 sixes, his was a storming presence that had all cricket-crazy fans glued to their screens. In fact, he became the second Indian batsman after Sachin Tendulkar to score over 600 runs in a single World Cup. Now that's some feat indeed!
David Warner (Australia): the second highest run scorer in World Cup 2019, he also claims credit for the highest individual score of 166 runs. With a total of 647 runs in the tournament, his comeback to international cricket after serving a ban proved to be worth the wait! Three centuries and three half-centuries is no mean feat after all. As an opening batsman, he proved to be a driving force for the Australian team, and also secured his place amidst ICC World Cup top 5 batsman.
Shakib Al Hasan (Bangladesh): Having scored 606 runs in 8 matches, he was indeed a batsman to look out for! Thanks to him, Bangladesh outplayed South Africa in their opening match. The ICC World No. 1 all-rounder has bagged credits for being the only player to claim 10 wickets and score 500 plus runs in a single World Cup campaign. He also stole the limelight with an impressive average of 86.57 runs per innings. No wonder he deserves to be glorified with regard to ICC World Cup top 5 batsman ranking.
Kane Williamson (New Zealand): considered to be one of the best players of the world, Williamson not only led his team to the World Cup finals, but also created another record- he has got 578 runs at the ICC Cricket World Cup 2019, which is more than any other captain t any World Cup till date. Having maintained an exceptional form throughout the World Cup, Williamson also scored two match-winning centuries against South Africa and West Indies, respectively.
Joe Root (England): Touted as England's understated superstar, Joe Root has made a place for himself in England's top order. His strike rate of 23.33 in the final match against New Zealand is the second lowest for a player in an ODI World Cup final facing at least 30 balls. In the semifinal against Australia, Root at 49 not out off 46 along with captain Eoin Morgan at 45 not out off 39, managed to score the remaining runs which won them victory. He definitely needs to be mentioned when talking about the performance statistics of top 5 bowlers of ICC World Cup 2019.