Kevin Staut continues excellent performance at Al Shaqab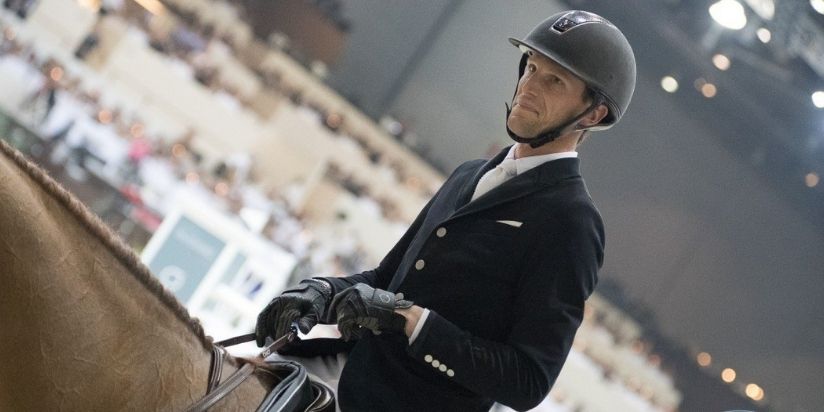 Kevin Staut, a famous French rider, in the legendary Longines Arena at Al Shaqab, the 40-year-old led Visconti du Telman to a perfect practice to secure the individual classification in the Global Champions League. Staut captured a comparable 1.55m class last week, and the Frenchman won the top prize of €13,750 yesterday with his 12-year-old mare. Staut emphasized his plans for action today and tomorrow by clocking a time of 61.73 seconds for Visconti du Telman. Staut's fellow countryman Simon Delestre, riding a Berlux Z, finished second in 63.44 seconds. Delestre took home €11,000 in prize money. Philipp Weishaupt of Germany, riding with Coby, finished third (63.74 seconds, €8,250).
Marcus Ehning (Stargold, 65.35 seconds, €5,500) of Germany and Eduardo Alvarez Aznar (Rokfeller de Pleville Bois Margot, 65.39 seconds, €3,850) of Spain finished fifth and sixth, respectively. Max Kuhner of Austria, riding Vancouver Dreams, set the fastest time in the 1.45m class earlier yesterday. Kuhner secured the top prize of €6,350 with Vancouver Dreams, an 11-year-old mare who clocked a time of 25.15 seconds in phase two of the trial. During his routine, Germany's Ehning, riding with Funky Fred, took second place (25.36 seconds). Ehning took home €5,080. Maurice Tebbel of Germany finished third with his 14-year-old filly Chaccos' Son. Tebbel won €3,810 for his time of 25.47 seconds, which was also impressive for Chaccos' Son. Henrik von Eckermann of Sweden (Carlotta, 26.04 seconds, €2,540) and Jos Verlooy of Belgium (Fabregas, 26.46 seconds, €1,778) rounded out the top five. Circle one of the GCL In the first round of the Global Champions League (GCL), Valkenswaard United set the fastest time of 132.41 seconds, with Peder Fredricson and Ehning riding Hansson WL, a 13-year-old stallion, and Stargold, a 10-year-old stallion, respectively. The Berlin Eagles (133.33 seconds) finished second, with Christian Kukuk, riding Checker, and Philipp Weishaupt, riding Coby, both riding clean rounds. Denis Lynch (Cristello, age 14) and Scott Brash (Hello Jefferson, age 12) of the New York Empire (134.29 seconds) were the third-best pair. After Titouan Schumacher, astride Atome Z, stalled with 4 faults, D o h a F a l c o n s (136.31 seconds, 4 faults) became eighth fastest heading into tomorrow's major round. Constant van Paesschen (Isidoor van de Helle, 13) performed a flawless, although long, routine.
Riders restart battle at Longines Qatar Equestrian Tour Hathab
Today's tournaments of the Longines Qatar Equestrian Tour Hathab will showcase Qatari and international riders. Riders in the 100/115cm class will compete for a cumulative prize purse of QR20,000 in the Small Tour race against the clock. Riders will participate in the Medium Tour title today, with a prize pool of QR30,000. The Open Class will award an overall prize of QR25,000 in the 115/125cm class tomorrow, while the Big Tour will see participants compete for an overall prize of QR45,000 in the 130/145cm class. According to organizers, future Rider competitions have been deferred for this round, while dressage events (levels 1 and 2) will occur on March 13.