Team Spirit Triumph at The International 2023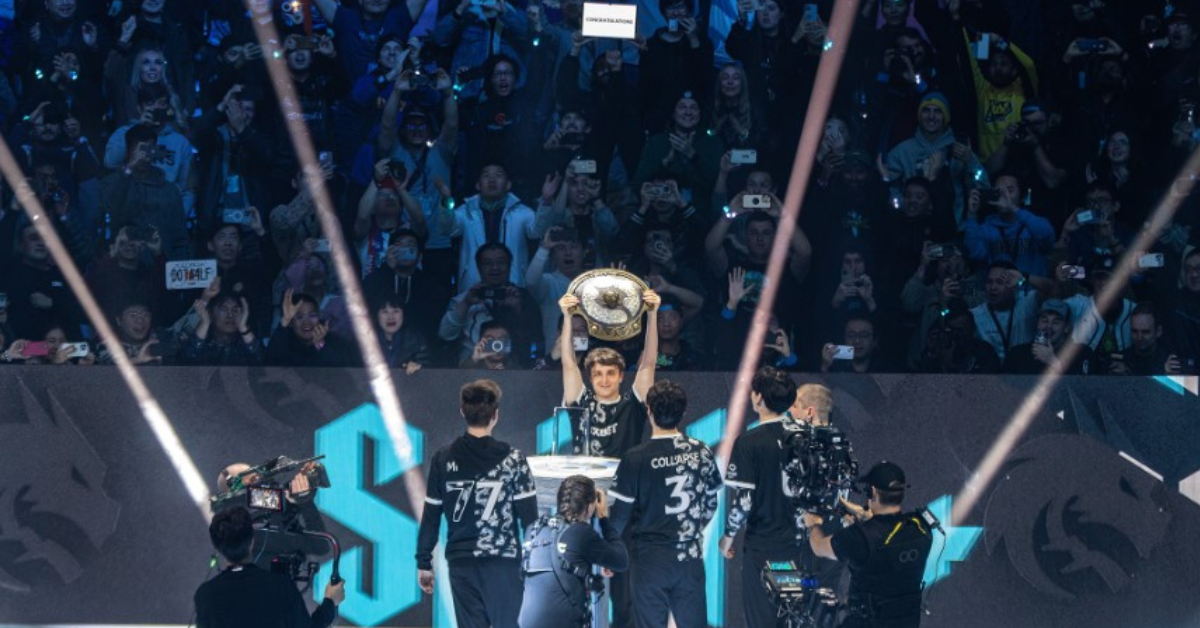 Team Spirit emerges as Grand Champions of The International 2023, becoming the second team ever to secure the coveted Aegis twice. Their impressive journey saw them triumph with a resounding 3-0 victory in the Grand Finals, solidifying their position as the premier Dota team in the world.
The Path to The International – Group Stage
Team Spirit set the tone for their remarkable run with a flawless 8-0 performance in the Group Stage. They outclassed opponents like 9pandas, SMG, Entity, and Evil Geniuses with 2-0 series wins, showcasing their dominance from the outset. The seeding round proved no different, with Team Spirit securing another 2-0 series victory, this time against Shopify Rebellion, as they progressed to the Playoffs.
The Road to The International – Playoffs
The Playoffs posed their first significant challenge, with Virtus.pro claiming a quick victory in game one, putting Team Spirit on the defensive. The following match evolved into a fierce battle, where Spirit initially built and then relinquished a substantial lead before regaining control and forcing a game three. In a tightly contested match, VP held on for 30 minutes, but Team Spirit ultimately seized victory, securing their well-deserved place on the main stage at Climate Pledge Arena.
The International
On the main stage, Team Spirit faced Team Liquid, a consistently strong team eager to rectify past second-place finishes. In a game-one victory marked by aggressive play, Team Spirit dominated Liquid's supports and cores. Liquid retaliated with a stellar performance in game two, but the deciding match saw Team Spirit overcome a mid-game deficit and secure their place in a showdown with formidable opponents, LGD Gaming, who had lost just one match in their journey.
The first game against LGD was a grueling 76-minute battle. LGD exhibited early aggression, but Team Spirit stood firm and gradually seized control. Although LGD made valiant efforts to come back, Team Spirit secured victory, marking LGD's first loss on the main stage. The second game was a confident victory for Team Spirit, as they steadily built an advantage and compelled LGD to surrender. After a disappointing showing in Singapore in 2022, Team Spirit demonstrated a remarkable resurgence as they advanced to the Grand Finals.
In the Grand Finals, they faced the formidable Gaimin Gladiators, a team that had dominated this year's Major tournaments and was known for their aggressive early-game strategies that had thwarted numerous lower bracket teams.
Team Spirit proved their mettle by swiftly claiming a commanding lead in game one, leaving no room for a comeback by GG. Game two was a more closely contested affair, with Gaimin Gladiators occasionally taking the lead, but Team Spirit rallied to dominate the late game and secure a 2-0 series lead.
In game three, Gaimin Gladiators seized control early, with Dota+ even predicting a 95% chance of forcing a game four by the 30-minute mark. Yet, Team Spirit's remarkable teamwork, vision, and coordination allowed them to capitalize on that 5% chance and engineer a remarkable comeback, securing a resounding 3-0 victory in the Grand Finals. They claimed their second Aegis in three years, and their mid-laner Larl joined the champions' club.
These names will forever be etched on the Aegis of Champions:
Illia "Yatoro雨" Muliarchuk
Denis "Larl" Sigitov
Magomed "Collapse" Khalilov
Myroslav "Mira" Kolpakov
Yaroslav "Miposhka" Naidenov
Reflecting on the Tournament
For those who missed any part of the tournament or wish to relive the exceptional moments and plays, replays of the entire event, including broadcast content between games, can be found on the Dota 2 YouTube channel. Additionally, a collection of event photos can be accessed on the Dota 2 Instagram and Dota 2 flickr.
The Dota community, players, talent, and supporters have played an indispensable role in making The International the pinnacle of the competitive season. Without their unwavering support, this celebration would not be possible. The hope is that this year's tournament brought as much joy to the fans as it did to the organizers.
Celebrating the Champions
Special Champion edition sticker capsules featuring Team Spirit are now available for purchase. Each capsule contains a sticker featuring Yatoro雨, Larl, Collapse, Mira, Miposhka, or the entire team. Fifty percent of all sales proceeds will directly benefit Team Spirit.
The International Compendium
For those with outstanding challenges and rewards in The International 2023 Compendium, there is still time. The Compendium will remain open until November 16, giving fans two more weeks to complete their goals. By employing some of the latest TI strategies, it won't be long before everything is secured.
For More Related Updates Please Visit Our Official Website
By- Sahiba Suri