There's 'positive conflict' – Gary Stead on relationship with Kane Williamson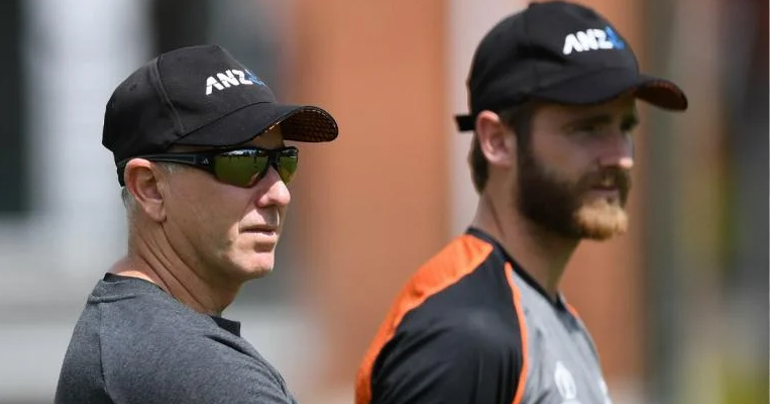 Kane Williamson and Gary Stead, the New Zealand captain and coach respectively, have had to answer questions about their supposedly frayed relationship ever since they got to Bay Oval in Mount Maunganui for a training session. After Williamson called the relationship "very good", Stead has called it "really strong", adding that they are both gung-ho about taking the team to the next level.
Some of the chatter in local cricket circles started after speculation in May that Stead wanted Tom Latham as the regular Test captain in place of Williamson after Latham led New Zealand in one Test – a 279-run loss in a 3-0 series sweep – in Australia earlier this year. "Kane and I have a really strong relationship, and we spoke about it," Stead told Stuff on Saturday. "There was no basis in truth and the disappointing part is it's coming from somewhere and someone, but it's not Kane and it's not I.
"I really enjoy working with Kane. The discussions we have are robust and always directed at what's best for the team, which is something I know we are truly aligned on.
"It's like any business, you always have positive conflict and if there wasn't, then I'd be worried."
Williamson was asked the question a couple of days back too, when he attended a press interaction after a nets session, and he said, "Gary and I have a very good relationship. We are always honest with each other and keen to challenge each other with our views on the game. Ultimately we both share the vision of where we want the team to go – how we get there is a constant discussion as in any organisation – and we are happy to have those honest discussions together."
Stead, the 48-year-old former Test batsman, took over from Mike Hesson in August 2018, and it has been a largely good run so far, with nine wins and five defeats in 16 Tests, which have taken them to No. 2 in the ICC's Test rankings. They also finished as the runners-up at the 2019 ODI World Cup final. On the other hand, the Test series sweep in Australia was the lowlight.
"For the most part we've had some pretty amazing experiences as a group and I cherish a lot of those," Stead, who would be expecting a contract extension when the current one expires after what should have been the end of the T20 World Cup in October, said. "Most of the time it's an enjoyable job, and there's always things that are tough which is part of the role as well.
"Selection is always difficult when you know there're some very good players that miss out, and at times the media side and the extra scrutiny you get is more demanding."