T10 League 2019: Watch How Andre Russell Was Floored by a Bouncer from a Spinner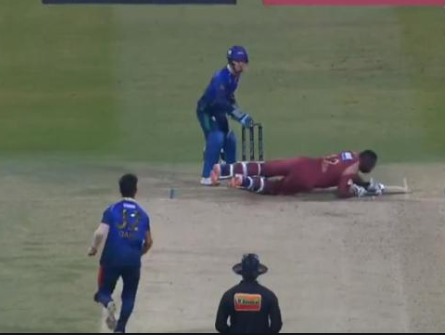 West Indian all-rounder Andre Russell is one of the most feared batsmen ever, especially in T20 cricket. He is a hard-hitter of the ball and can go ballistic and brutal when he is in top form. In the ongoing T10 League he has scored 163 runs in six matches. He has lit up T10 League 2019 by his blitzkrieg batting and economical bowling.
In the last game which the Northern Warrior played against the Bangla Tigers on November 20, Russell received a deadly bouncer from Tigers spinner Qais Ahmed by which he was floored on the ground.
Also Read: T10 League 2019 Day 7 Results: Arabians Top the Table While Bulls, Tuskers Get Eliminated
It was the first delivery of the sixth over when Qais was given his second over. He was bowling to Russell who was on strike. He delivered him a nasty bouncer from nowhere and Russell had to take evasive action to save himself from getting hit on the head. He took a bad tumble and was immediately attended by the physio of the team.
The Warriors lost the match at the end by six runs chasing 103 to win, despite Russell scoring a quickfire 41 from 25 balls. You can watch the video below.
Also Read: T10 League 2019 Points Table and Team Standings
The Warriors with six points from six games are fourth on the points table at the moment. Friday, 22 December will mark an end to the Super League stage of the tournament. By the end of the night, it will be known if the Warriors will make it to the playoffs.