IPL 2020 : Is Dawid Malan on Chennai Super Kings radar to replace Suresh Raina ?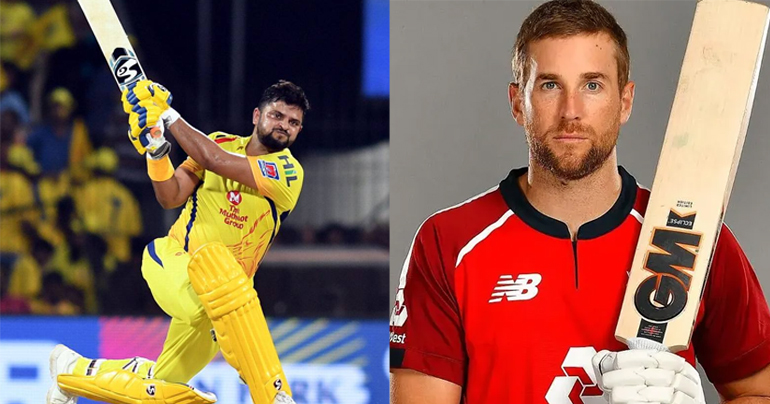 The Chennai Super Kings (CSK) team is planning to do a coup of sorts in the Indian Premier League (IPL 2020). There are few discussions going in CSK camp on the name of Dawid Malan of England. 
Malan who has recently secured number 1 position in the ICC Men's T20 International player rankings is on the radar of CSK as a possible replacement for Suresh Raina. 
33 year old Malan had emerged as the leading scorer of the three-match series against the Aussies, in which he accumulated 129 runs while batting at a strike rate of 138.70.
'These are just discussions, nothing has been finalized as such. Malan is a very accomplished T20 player. He is also a left hander like Raina. But team management hasn't taken any final call on whether to call for Raina's replacement or not', said the CSK team source on condition of anonymity. 
IPL 2020 : Why Malan can be a great choice for CSK ?
Batting at number three, Malan has been sensational in his 16-game old T20 career, scoring 682 runs, including an unbeaten hundred, at an average of 48.71. Without any doubt, Malan in the current circumstances in CSK camp can be a great choice.
 – Malan is currently in a great form
– Like Raina, Malan bats at number 3
– Like Raina, Malan bats left handed 
The only thing which goes against Malan's name as replacement for Raina is – that picking another foreigner in the team in place of leading Indian cricketer will disturb the balance of the team. That probably is the reason that CSK is yet to finally make up their mind on Malan.  
Meanwhile Malan himself has declared that he is also on verge of finalizing deal with one of the Big Bash League teams for this season.  
"There has been some contact with one of the clubs," Malan told ESPNCricinfo. "That's still ongoing at the moment so hopefully we can finish and finalise that soon and hopefully that can get announced. I don't know if I'm allowed yet [to say which club], so I'll sit on the fence with that one."
So whatever decision CSK has to take, they will have to move as fast as possible on the same. Malan without any doubt can give CSK's batting unit much needed boost in the absence of Raina.  IPL 2020 : Chennai Super Kings schedule in IPL 2020
| | | | | |
| --- | --- | --- | --- | --- |
| Match No | Date | Teams vs Teams | Venue | Time |
| match 1 | 19-Sep | Mumbai Indians vs Chennai Super Kings | Sheikh Zayed Stadium, Abu Dhabi | 07:30 PM |
| match 4 | 22-Sep | Rajasthan Royals vs Chennai Super Kings | Sharjah Cricket Stadium, Sharjah | 07:30 PM |
| match 7 | 25-Sep | Chennai Super Kings vs Delhi Capitals | Dubai International Cricket Stadium, Dubai | 07:30 PM |
| match 14 | 02-Oct | Chennai Super Kings vs Sunrisers Hyderabad | Dubai International Cricket Stadium, Dubai | 07:30 PM |
| match 18 | 04-Oct | Kings XI Punjab vs Chennai Super Kings | Dubai International Cricket Stadium, Dubai | 07:30 PM |
| match 21 | 07-Oct | Kolkata Knight Riders vs Chennai Super Kings | Sheikh Zayed Stadium, Abu Dhabi | 07:30 PM |
| match 25 | 10-Oct | Chennai Super Kings vs Royal Challengers Bangalore | Dubai International Cricket Stadium, Dubai | 07:30 PM |
| match 29 | 13-Oct | Sunrisers Hyderabad vs Chennai Super Kings | Dubai International Cricket Stadium, Dubai | 07:30 PM |
| match 34 | 17-Oct | Delhi Capitals vs Chennai Super Kings | Sharjah Cricket Stadium, Sharjah | 07:30 PM |
| match 37 | 19-Oct | Chennai Super Kings vs Rajasthan Royals | Sheikh Zayed Stadium, Abu Dhabi | 07:30 PM |
| match 41 | 23-Oct | Chennai Super Kings vs Mumbai Indians | Sharjah Cricket Stadium, Sharjah | 07:30 PM |
| match 44 | 25-Oct | Royal Challengers Bangalore vs Chennai Super Kings | Dubai International Cricket Stadium, Dubai | 03:30 PM |
| match 49 | 29-Oct | Chennai Super Kings vs Kolkata Knight Riders | Dubai International Cricket Stadium, Dubai | 07:30 PM |
| match 53 | 01-Nov | Chennai Super Kings vs Kings XI Punjab | Sheikh Zayed Stadium, Abu Dhabi | 03:30 PM |