Valencia hosts two further Accenture CHAMPS virtual workshops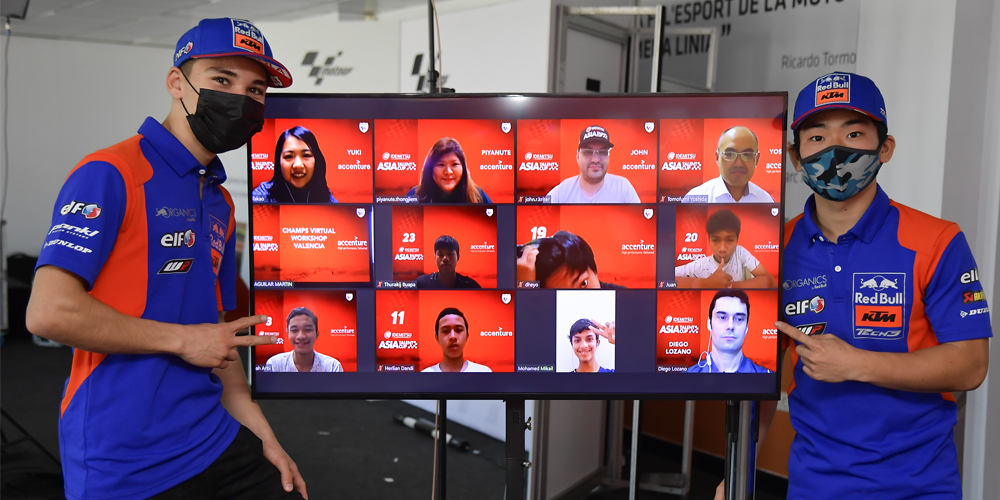 On Monday the 9th and Wednesday the 11th of November, the Accenture CHAMPS virtual workshops returned at the Circuit Ricardo Tormo in Valencia. Red Bull KTM Tech 3 riders Ayumu Sasaki and Deniz¨Öncü joined the first workshop, before the second saw the return of Kaito Toba (Red Bull KTM Ajo), this time joined by new attendee Billy Van Eerde whilst on site for the Red Bull MotoGP Rookies Cup.

On Monday it was the Idemitsu Asia Talent Cup riders hailing from closer timezones to Europe who connected to the workshop with Sasaki and Öncü, before Wednesday welcomed the Australian and Japanese riders online to talk to Toba and Van Eerde.

As has become custom, two quizzes kept the ATC class of 2020 on their toes, this time covering tracks and a few on signals and flags. There was also more talk about social media, how best to use it and some tips and tricks on online communication, as well as the importance of knowing what you're sharing and where.

Finally, coach Diego Lozano took over for the latter section of the workshop. That covered training and track action once again, with the ATC riders also getting plenty of chance to ask the riders in the room throughout each session – about anything from social media to training to their goals for the future.

And with that, it's a wrap on the final two Accenture CHAMPS virtual workshops, with plenty of knowledge shared and learned. Thank you to all our alumni who took part, and thanks to the ATC class of 2020!