QNB Stars League – Schedule & Team Standings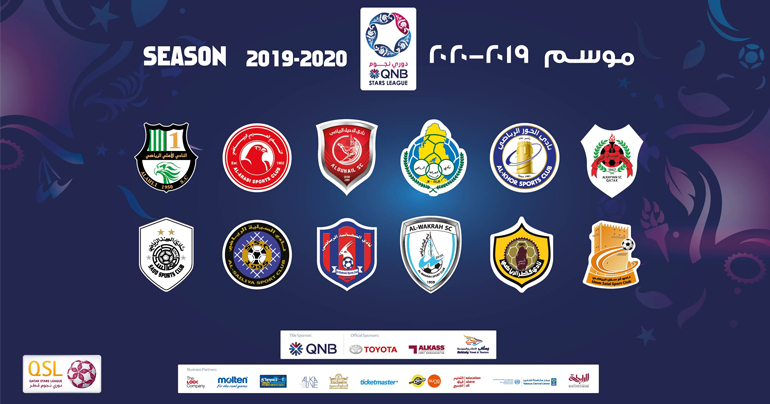 The Qatar Stars League ( QSL) announced the schedule of matches in Weeks 18, 19 and 20 of the 2019-20 season QNB Stars League, after co-ordination with the authorities concerned.
The matches will be played at three stadiums having cooling technology – Education City, Al Janoub and Jassim bin Hamad.
It may be noted that the kick-off timings and venues of matches in the last two weeks (21 and 22) will be finalized later based on the results and standings of teams in the table, as the QSL is keen to provide all clubs with equal opportunities.
QNB Starts League Schedule
103
24/07/2020 –
16:45
Al Gharafa
VS
Al Arabi
Al Janoub Stadium
104
24/07/2020 –
19:00
Qatar SC
VS
Al Rayyan
Al Sadd Stadium
105
25/07/2020 –
16:45
Al Duhail
VS
Umm Salal
Al Janoub Stadium
106
25/07/2020 –
19:00
Al Sadd
VS
Al Khor
Al Sadd Stadium
107
26/07/2020 –
16:45
Al Wakrah
VS
Al Sailiya
Al Janoub Stadium
108
26/07/2020 –
19:00
Al Shahania
VS
Al Ahli
Al Sadd Stadium
109
01/08/2020 –
16:30
Al Rayyan
VS
Al Arabi
Al Janoub Stadium
110
01/08/2020 –
18:45
Al Sailiya
VS
Al Shahania
Al Sadd Stadium
111
02/08/2020 –
16:30
Al Khor
VS
Al Wakrah
Al Janoub Stadium
112
02/08/2020 –
18:45
Al Gharafa
VS
Al Duhail
Al Sadd Stadium
113
03/08/2020 –
16:30
Al Ahli
VS
Al Sadd
Al Janoub Stadium
114
03/08/2020 –
18:45
Qatar SC
VS
Umm Salal
Al Sadd Stadium
115
06/08/2020 –
16:30
Al Rayyan
VS
Al Sailiya
Al Janoub Stadium
116
06/08/2020 –
18:45
Al Wakrah
VS
Al Arabi
Al Sadd Stadium
117
07/08/2020 –
16:30
Al Gharafa
VS
Al Khor
Al Janoub Stadium
118
07/08/2020 –
18:45
Al Shahania
VS
Qatar SC
Al Sadd Stadium
119
08/08/2020 –
16:30
Umm Salal
VS
Al Ahli
Al Janoub Stadium
120
08/08/2020 –
18:45
Al Sadd
VS
Al Duhail
Al Sadd Stadium
QNB Starts League Standings
| | | | | | | | | | |
| --- | --- | --- | --- | --- | --- | --- | --- | --- | --- |
| Pos | Club | Matches | Win | Lose | Draw | GF | GA | GD | Points |
| 1 | Al Duhail | 18 | 13 | 1 | 4 | 34 | 15 | 19 | 43 |
| 2 | Al Rayyan | 18 | 12 | 1 | 5 | 36 | 15 | 21 | 41 |
| 3 | Al Sadd | 18 | 11 | 5 | 2 | 47 | 28 | 19 | 35 |
| 4 | Al Gharafa | 18 | 9 | 5 | 4 | 30 | 24 | 6 | 31 |
| 5 | Al Arabi | 18 | 6 | 6 | 6 | 27 | 25 | 2 | 24 |
| 6 | Al Sailiya | 18 | 7 | 8 | 3 | 19 | 22 | -3 | 24 |
| 7 | Al Wakrah | 18 | 5 | 8 | 5 | 24 | 27 | -3 | 20 |
| 8 | Al Ahli | 18 | 5 | 9 | 4 | 23 | 32 | -9 | 19 |
| 9 | Qatar SC | 18 | 4 | 9 | 5 | 17 | 24 | -7 | 17 |
| 10 | Umm Salal | 18 | 3 | 9 | 6 | 16 | 34 | -18 | 15 |
| 11 | Al Khor | 18 | 3 | 10 | 5 | 20 | 29 | -9 | 14 |
| 12 | Al Shahania | 18 | 2 | 9 | 7 | 20 | 38 | -18 | 13 |