From Rags to Riches – How Bangladesh U19 World Cup Squad Was Formed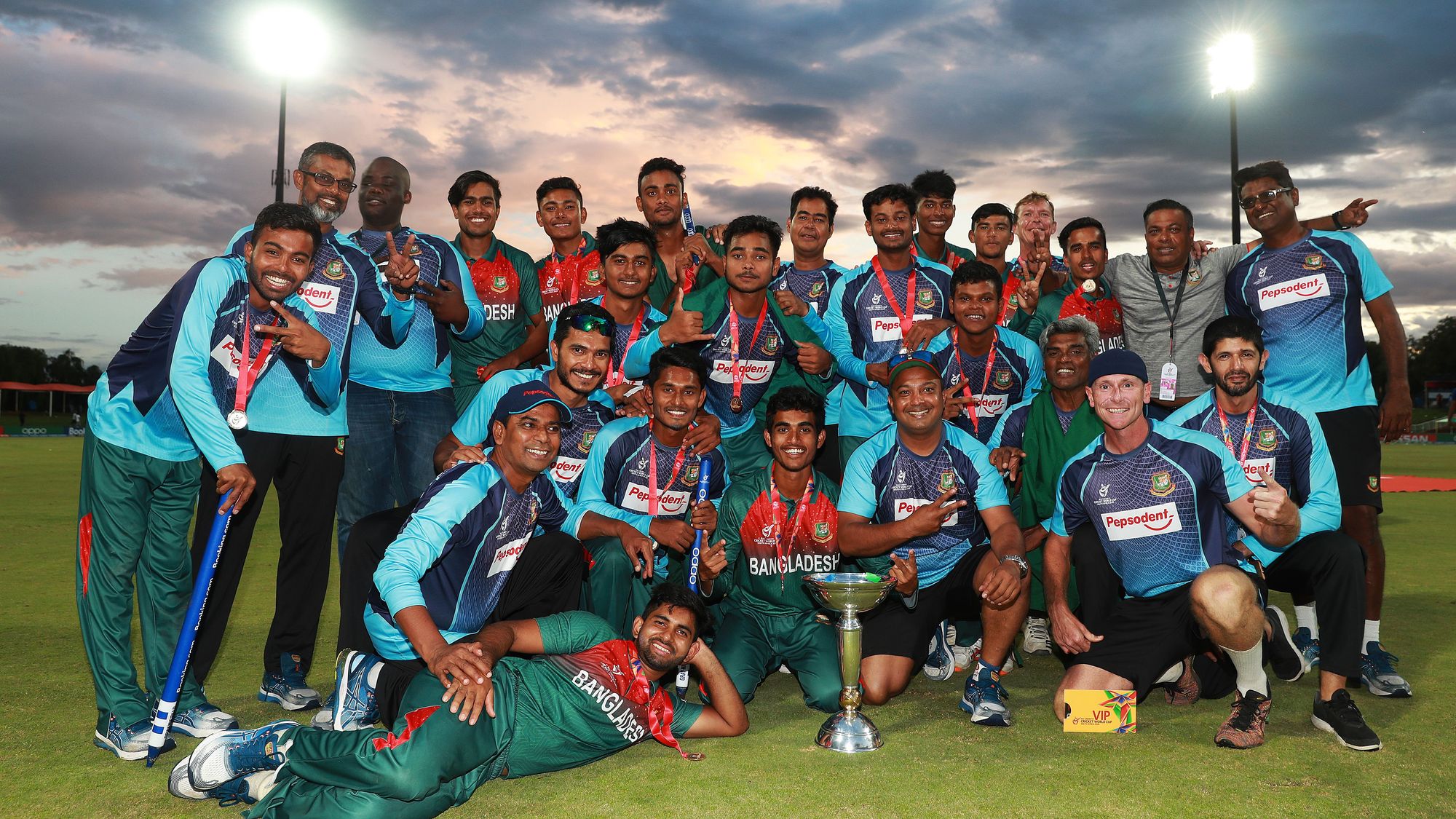 Bangladesh beat India in the 2020 U19 World Cup final on February 09, Sunday at Potchefstroom to win their first major ICC title. In the process, they have eclipsed their senior team who have not been able to bag a single ICC title ever since they first came into the scene in 1999. Akbar Ali and his boys have thus given their country a historic moment, one which will be etched in the memory of Bangladesh cricket and their fans. The journey of the Bangladesh U19 World Cup Squad is nothing short of inspirational after they lost the semifinal during the 2016 edition of the tournament at home.
Bangladesh has had a campaign to remember remaining unbeaten in the tournament throughout. All the members of the Bangladesh U19 2020 World Cup squad contributed to their team's success at some point in the tournament. It is their combined efforts that made the Bangladesh U19 World Cup squad rewrite history books at the end of the event.
Meanwhile, President of Bangladesh Cricket Board (BCB) hailed the success of the U-19 team saying that they would stick to the success formulae in the future with the senior cricket team as well. The BCB President remembered the hard time that was put into building the Bangladesh U 19 2020 World Cup squad.
Also Read: List of ICC Under 19 Cricket World Cup Winners (1988-2020)
"Surely we will be following this preparation template. In 2016, we were very confident of our team that they will play the final but it did not happen as we lost to the West Indies in the semifinal. Though we played in Bangladesh we understood our shortcomings and we started planning for the World Cup from that moment", Hasan told reporters at the BCB office premises.
The process towards building the Bangladesh U19 World Cup squad started two years ago when the board members decided to have their last training camp at Bogra where they started preparing to play according to the bouncy tracks of South Africa. A set of 20 players were selected from the Under-17 team in 2018 and later shortlisted to a 15-member squad, deciding not to chop and change much over the last two years. They also played a handful of ODI's against different teams which was a key process of their preparations for the U19 World Cup 2020.
"We isolated the team from the rest and our major emphasis was to better our game abroad because we faced the problem of not playing well overseas. We played 30 Youth ODIs and sent them to play in countries like Sri Lanka, England and New Zealand. We were definitely well prepared and we had high hopes from them. In cricket, you cannot predict but we knew this team had the potential to be champions" the BCB President said highlighting the preparation process of the Bangladesh U19 World Cup squad.
Also Read: Bangladesh and India Players Involved in Ugly Fight After U-19 Final
Bangladesh team history in U 19 World Cups
Bangladesh's history in U19 World Cup before this tournament was not one of glory. They have been participating in the tournament since 1998 and this is just the second time in 12 editions, they managed to get into the knockouts and eventually become champions. They hosted the tournament in 2004 and 2016. While they finished ninth in 2004, they were rather unlucky to finished third in the 2016 edition.
Road Ahead For Bangladesh U19 2020 World Cup Squad
The Bangladesh U19 World Cup 2020 squad can be reasonably happy of their recent achievement, one which as per their board President set the right example to take the game of cricket forward in the country.
Our major emphasis was to win the matches at that time regardless of performance and I admit that we did take a lot of short-term steps at that time and we made a lot of short-term goals. Now, as we have built our image and everybody respects Bangladesh now we will work to have long-term planning for future players and pipeline. We've been talking about this for two and a half years that some of our talented cricketers are lost due to them not getting the perfect platform" he concluded saying.