List of ICC Under 19 Cricket World Cup Winners (1988-2020)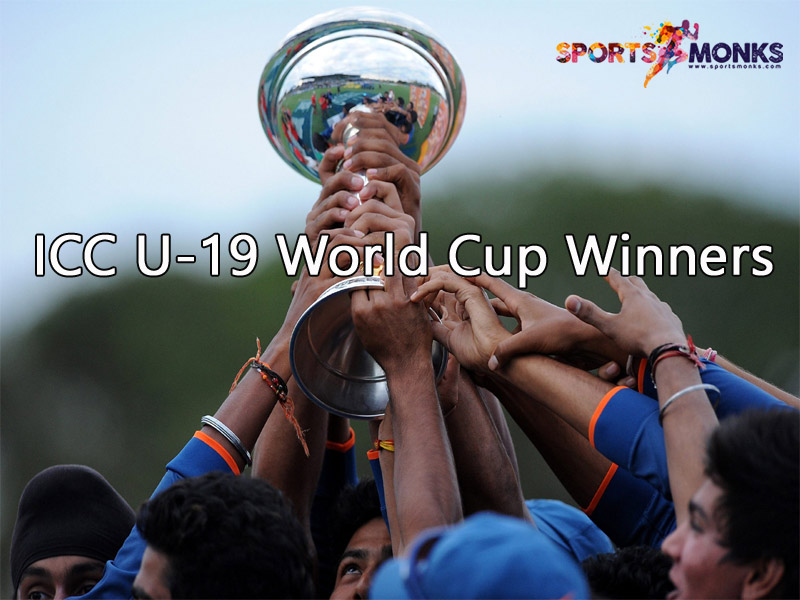 ICC (International Cricket Council) organizes Championship for Youngsters who are under 19 in age which is called ICC Under 19 World Cup. This World Cup Championship takes place every second year since 1998 and the first edition of Under-19 Cricket World Cup was played in 1988. There were 19 teams who took part in the inaugural season of ICC U-19 World Cup. The national teams participating in the World Cup have to first undergo a qualification process. The first under 19 World Cup was won by Australia. On its inception in 1988 the Under-19 Cricket World Cup was known as the Youth World Cup.
A total 13 editions of ICC Under-19 world Cup has been played since then and the recent one (2020) was played in South Africa. The ICC U-19 Cricket World Cup 2020 was won by Bangladesh after defeating India by 3 wickets  in the summit clash at JB Marks Oval, Potchefstroom on 9th February 2020.
Bangaldesh is the current defending champions, which has won its maiden title after beating India in the final of 2020 ICC U-19 World Cup. India thus missed out on a record 5th title in their seventh final appearance.
India is most sucessfull team in the ICC Under-19 World Cup. Indian Cricket team 4 titles (2018, 2012, 2008 and 2000) so far which is the highest amongst in the all teams, while Australia has won 3 times (2010, 2002 and 1998), Pakistan won 2 times (2006 and 2004) and England (1998), South Africa (2014), West Indies (2016) and Bangladesh (2020) once each. Two other teams – New Zealand and Sri Lanka – have made it to tournament finals.
ICC U-19 World Cup Winners List (1988-2020)
Checkout the full list of ICC Under 19 Cricket World Cup winners from 1988 to present.
| | | | |
| --- | --- | --- | --- |
| Year | Winners | Runner-Ups | Host |
| 2022 | – | – | West Indies |
| 2020 | Bangladesh | India | South Africa |
| 2018 | India | Australia | New Zealand |
| 2016 | West Indies | India | Bangladesh |
| 2014 | South Africa | Pakistan | UAE |
| 2012 | India | Australia | Australia |
| 2010 | Australia | Pakistan | New Zealand |
| 2008 | India | South Africa | Malaysia |
| 2006 | Pakistan | India | Sri Lanka |
| 2004 | Pakistan | West Indies | Bangladesh |
| 2002 | Australia | South Africa | New Zealand |
| 2000 | India | Sri Lanka | Sri Lanka |
| 1998 | England | New Zealand | South Africa |
| 1988 | Australia | Pakistan | Australia |
ICC U-19 World Cup Results Team Wise
| | | |
| --- | --- | --- |
| Teams | Winners | Runner-Ups |
| India | 4 | 2 |
| Australia | 3 | 1 |
| Pakistan | 2 | 3 |
| South Africa | 1 | 2 |
| England | 1 | 0 |
| Bangladesh | 1 | 0 |
| West Indies | 1 | 0 |
| New Zealand | 0 | 1 |
| Sri Lanka | 0 | 1 |