FIFA President Says World Cup Qatar 2022 Will Be an Exceptional Event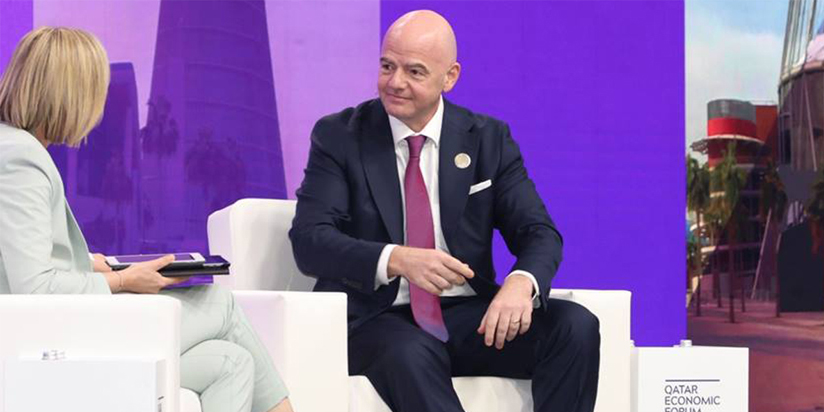 FIFA President Gianni Infantino said that the FIFA World Cup Qatar 2022 will be an exceptional edition, held on eight world class stadiums close to one another. He added that this feature could allow fans to watch two or three matches a day. He also said he expects 1.5-2 million fans to visit Qatar and five billion to watch the matches.
Infantino was participating in a session called Countdown to the Greatest Show on Earth as part of Qatar Economic Forum, Powered by Bloomberg. He had the World Cup's official ball, called Al Rihla, on stage. He described it as a unique ball, given it was made specially for Qatar Economic Forum and had the forum's name inscribed on it.
He said that demand for ticket sales were high, with 23 million ticket requests in total and five million ticket requests for the final.
"I think the whole country here, and more and more the whole region, is really tuning in for this World Cup…I'm now in this business for a couple of decades, I've never seen such a state of readiness of a big event like here. And we are getting ready now day by day, more and more, to welcome two million people here in Qatar," he said.
He said that having enough accommodation for visiting fans is not a worry, stressing that everything is done to have enough accommodation to the visiting fans.
In terms of workers' rights in World Cup facilities, Infantino said that his first visit after becoming FIFA President was to Qatar in 2016 to address the situation of workers. He noted that a lot of changes has been made since then, including the abolishment of the kafala system, the introduction of minimum wages, as well as regulations to address the heat among other measures.
"It took us in Europe hundreds of years to arrive where we are now in terms of the social impact for the people…we are here and we are together and the cooperation is really great and we want to make sure this stands after the World Cup," he added.
He called on visitors who plan to come to respect the country and region's culture, stressing that Qatar welcomes everyone and that all visitors will be able to see the progress the country has made in all fields.
Speaking about the change of football in the coming years, Infantino said: "Football is a big industry, receiving over USD 2 billion, which is the budget of countries, and it has an element that connects all the peoples of the world," pointing out that FIFA was keen to organize this tournament for the first time on Arab soil, where the State of Qatar has enjoyed this honor.
He stated that following an unprecedented tournament organized by Qatar "FIFA 2021 Arab Cup" tournament last December, where Arabs celebrated their tournament, and it was an impressive and exceptional competition.
He added: "When people come here, they will see with their own eyes how the country's culture and history are linked to the history of football."
He also noted that the World Cup broadcast system will be changed based on Netflix and or Apple etc, as FIFA + platform has been launched, calling on everyone to discover this platform.
Infantino confirmed, in a statement to Qatar News Agency (QNA), that organizing the World Cup in Qatar and selling tickets will benefit the country's economy, noting that more than two million people will come to Qatar, and some of them will discover the country for the first time.
He explained that the state has redoubled its efforts to prepare spaces to receive the fans, in addition to the Corniche, which will be a space for celebrations and carnivals from all over the world, there will be other spaces for fans that will support the tourism sector in Qatar and the region as a whole.
He pointed out that the outlook for Qatar, the region and the Arabs will change after the tournament, stressing that football should remain global and be hosted in all regions without discrimination.
He also noted that FIFA, in cooperation with players' federations and unions, seeks to curb abuse of players through social media, noting that more than 50 percent of players in different tournaments have been subjected to abuse, which ignites discrimination and racism.
In his statement to QNA, he stressed that FIFA is transparent in its management, and established a new and strong governance system to the extent that the US Department of Justice decided to return the sum of USD 200 million that it had seized from the corrupt, after FIFA was "a victim of corrupt people, Now every dollar is being tracked and invested in developing the game."
He stated that there are great players, such as Cristiano Ronaldo, Leo Messi, Mbappe and Neymar, who will be part of this tournament, which will be held during November and December, coinciding with the beginning and peak of the season, pointing out that organizing the tournament in the summer comes at a time when players suffer from fatigue and exhaustion, but holding a tournament in the winter, as will happen for the first time in Qatar, will ensure that we have the best World Cup not only from the public's point of view, but in terms of the players' performance on the field."
(QNA)