"City Renames Pitch in Honor of Alex Williams"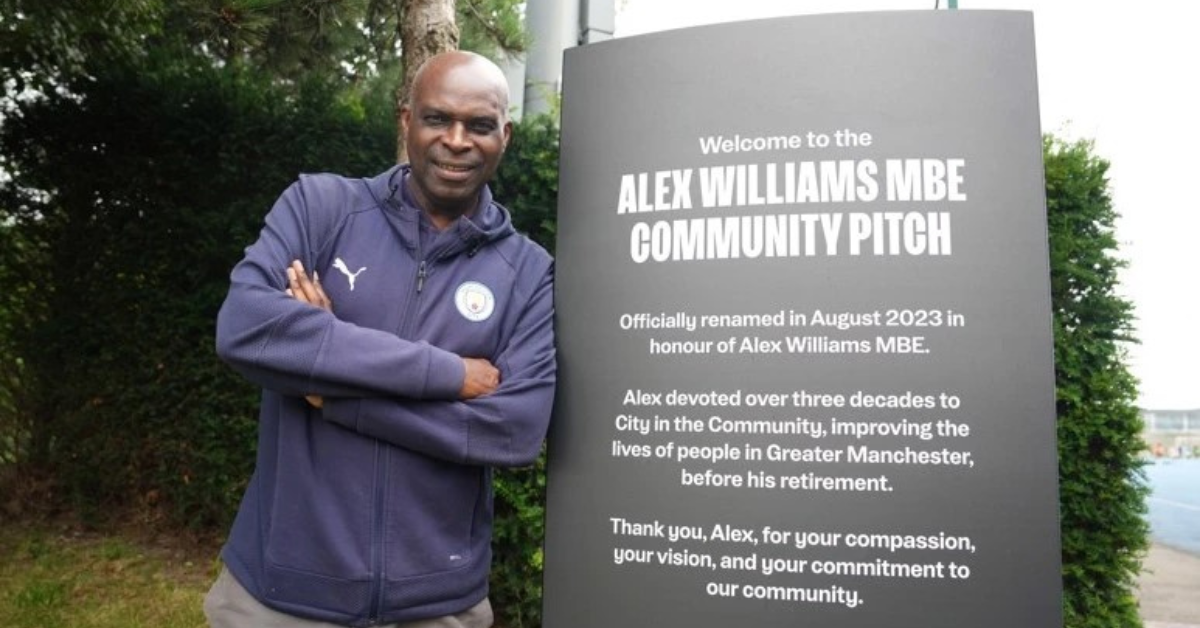 In a heartfelt tribute, Manchester City Football Club has taken a poignant step to rename a pitch at their City Football Academy (CFA) in honor of former goalkeeper and community ambassador, Alex Williams MBE, on the occasion of his retirement. This gesture marks the culmination of Williams' remarkable journey from a goalkeeper to the head of City in the Community (CITC), a role he undertook in 1990, transforming it into one of the largest and most impactful football foundations in the country.
The newly christened 'The Alex Williams Community Pitch' stands as a testament to Williams' enduring positive influence across Greater Manchester for more than three decades. The pitch's chosen bright blue color not only resonates with the club's identity but also symbolizes the vibrant impact it has on the local community. This pitch, home to numerous City in the Community football programs, remains the sole area of the City Football Academy accessible to the public, making it an ideal canvas for the legacy Williams leaves behind.
The official plaque unveiling ceremony was a momentous occasion that occurred during a Soccer School session, with local youngsters forming the core of the event. Williams' reaction was a mix of surprise and humility, as he expressed his profound honor at having a pitch named after him. He commented, "I never could have imagined that they'd rename a pitch here at the City Football Academy after me – and of all of them, it's the blue community pitch, which is really fitting! I'm honored." Reflecting on the years of positive impact, Williams acknowledged the pitch's potential to continue offering opportunities to local youth, fostering growth and development.
Watch:https://www.sportsmonks.com/premier-league/training-the-lionesses-are-back/
With his transition into a non-executive role as Life President for City in the Community post-retirement, Williams remains connected to the charity and its endeavors. This role grants him the privilege of participating in meetings and events as he chooses, ensuring his continued presence in the organization he has dedicated his life to.
In a display of gratitude, Manchester City Football Club has also announced plans to dedicate their home fixture against Fulham to Alex Williams. The match will feature a special on-pitch presentation, accompanied by a guard of honor comprised of local children, a touching acknowledgment of Williams' impact on both the club and the community.
Alex Williams' remarkable journey began in Moss Side, Manchester, and his commitment to improving lives in Greater Manchester has been unwavering. His legacy involves not only growing CITC from a small team to an extensive charitable organization but also forging a strong bond with the Official Supporters Club, actively participating in meetings and fundraising efforts. His dedication was rewarded with the prestigious MBE award in 2002, presented by King Charles III.
The renaming of 'The Alex Williams Community Pitch' stands as a heartfelt tribute to a man whose dedication and passion have transformed the lives of countless individuals and the community at large. It's a reminder that the impact of football goes beyond the pitch, touching lives and shaping communities in profound ways.
For more related updates , visit our official website.
By- Sahiba Suri