David De Gea is a doubt for Manchester United's meeting with rivals Liverpool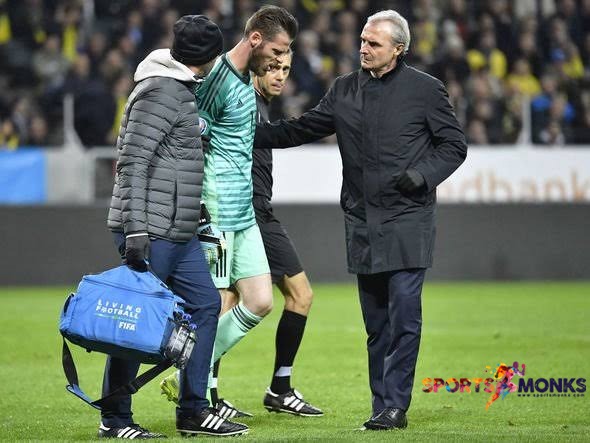 Manchester United were perched precariously on the Premier League table ahead of their do or die clash against Liverpool, the favourites for the title this time around. United were staring at the relegation zone in case they lost to Liverpool and then came the big blow- David De Gea, their premier goalkeeper had picked up a severe muscle injury while playing for Spain.
With the coach Ole Gunnar Solksjaer already besieged by several injury issues in the squad, De Gea's news came as a major setback for United. De Gea remained doubtful for the game after he picked up a hamstring injury just one hour into the 1-1 Euro 2020 qualifying game against Sweden at Stockholm. De Gea dropped to the ground, writhing with pain and Kepa Arrizabalaga who plays at Chelsea, replaced him.
Ahead of the Liverpool game, Solksjaer was set to welcome back previously injured stars like Aaron Wan-Bissaka, Anthony Martial, Victor Lindelof and Luke Shaw, all of whom played for Sweden against Spain but De Gea's potential absence from the Liverpool game left a bitter aftertaste. Sergio Romero was thus deemed to be the starting choice for Manchester United. United were after all at number 12, only two points over the relegation zone.
De Gea was however included in the starting squad for United's game against Liverpool although the coach stated at the pre-match press conference that he was not expected to play. Solksjaer had stated that Sergio Romero had been training well and was doing a lot of work in the gym. He stated that Romero was ready to seize his opportunity while stating that David De Gea was not expected to play a part in the proceedings.
However, Manchester United fans were in for a major surprise when David De Gea started the match against Liverpool. Some fans declared that it gave them more optimism about United staying stronger in front of the sticks although some were not too excited about a half-fit and injured De Gea straining himself for one game. De Gea did play his part well in the match against Liverpool which United famously drew 1-1 to keep their heads above water although he was subbed later on by Sergio Romero.
All in all, this is one injury scare that gave United a few sleepless nights before it was all sorted out in the end.