Sibling Power: Greek Sisters in Water Polo Spotlight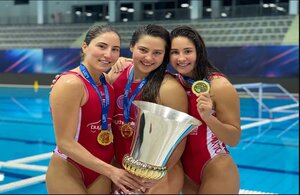 Greek Sisters Leading the Charge for Paris 2024 Olympics
In the pursuit of Olympic inclusion for Paris 2024, three talented Greek sisters – Margarita, Eleftheria, and Vasiliki Plevritou – are making waves in the world of water polo. These sisters, known for their remarkable skills, are at the forefront as the Greek national team navigates the challenging path to the pinnacle of their sport.
Their journey began over a decade ago when Margarita and Eleftheria Plevritou showcased their water polo prowess at the FINA World Youth Championships in Perth, Australia. Fast forward to 2021, and the trio made their senior national team debut at the Olympic Games Qualification Tournament in Trieste, Italy.
Margarita, the oldest of the three at 29, was the first to represent the senior team, followed by Eleftheria (26) and Vasiliki (25). Their close bond as sisters extends beyond the pool, where they excel as a united force in the national team, each holding a distinct position.
Margarita shares her perspective on their relationship, stating that their sisterly bond enhances their teamwork during matches, making them not just teammates but close friends who support each other in all aspects of life.
While competing together in a team, the Plevritou sisters experience a unique and fulfilling dynamic, strengthening their sisterly bond through excellent communication and coordination in the water.
Their shared passion for water polo extends to their social lives, as they live in proximity to each other, share experiences like earning maritime degrees, enjoy vacations, and engage in various activities outside of the pool.
Their family, although not professional athletes, has always been enthusiastic about sports, fostering their passion for athletics from a young age.
Margarita expresses her gratitude for the unwavering support they receive from their family and friends, acknowledging that this support is invaluable in navigating their demanding athletic careers.
As for their future in water polo, the sisters remain committed to giving their best for as long as they can, focusing on maintaining peak performance and contributing to the team's success.
Reflecting on their careers, the sisters cherish numerous highlights, with one standout moment being their victory against Italy in the semifinals of the 2022 European Championships.
The emergence of teams like Israel and Argentina in the sport excites them, showcasing the global growth and inclusivity of water polo.
The expansion of women's water polo is viewed as a positive development by the sisters, and they hope to see it continue to grow on a global scale, providing more opportunities for female athletes to excel and inspire others.
Looking ahead to upcoming competitions, the sisters express mixed feelings about the challenges and rewards the packed schedule will bring, emphasizing their anticipation of showcasing their dedication to water polo.
The Plevritou sisters have left an indelible mark in water polo, earning medals and trophies in various competitions throughout their careers, showcasing their incredible talent and dedication to the sport.
In summary, these three Greek sisters are not only excelling in water polo but also working as a united force to lead their national team towards the Paris 2024 Olympics, proving that the power of family and teamwork knows no bounds.
For More Related Updates Please Visit Our Official Website
By- Sahiba Suri