MANCHESTER UNITED WOMEN 3 LIVERPOOL 1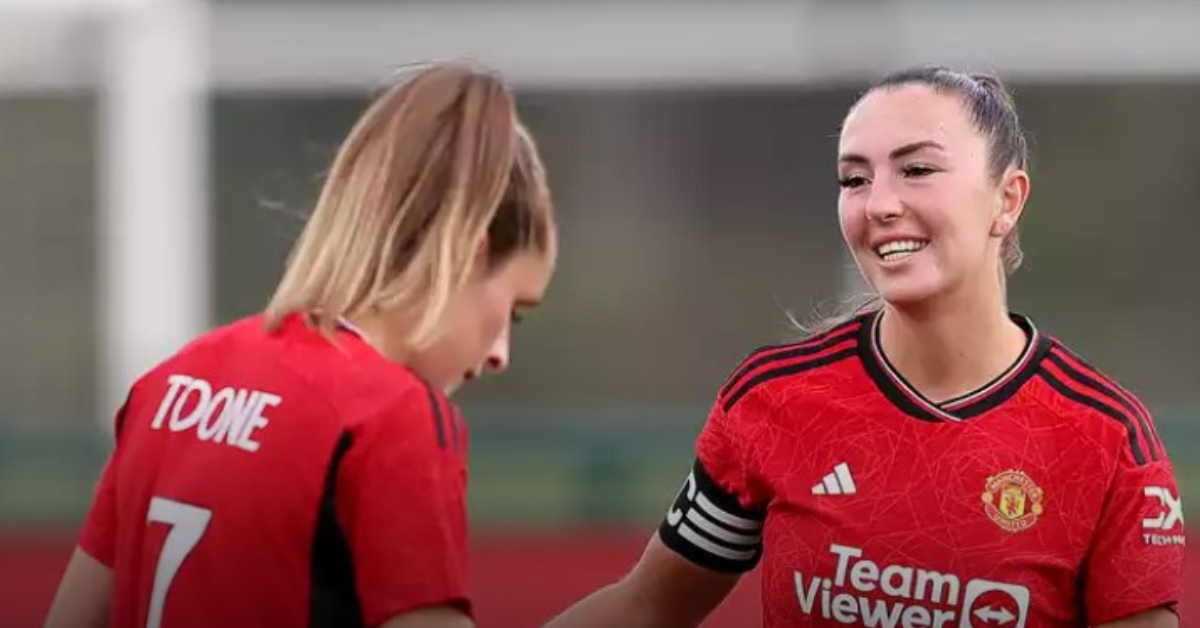 MANCHESTER UNITED WOMEN 3 LIVERPOOL 1
Manchester United Women Triumph Over Liverpool: A 3-1 Victory
In a thrilling pre-season friendly, Manchester United Women secured a triumphant 3-1 victory over Liverpool at Carrington on Wednesday afternoon. The match displayed a promising performance from the Reds, marked by standout moments from Ella Toone, Natasha Flint, and Geyse.
First-Half Dominance
United, under the guidance of manager Marc Skinner, fielded a formidable lineup featuring Toone, Mary Earps, and Katie Zelem, all making their first starts since returning from the World Cup. The Red Devils started the game with a bang, showcasing their attacking prowess. Early chances created by Nikita Parris kept the Liverpool defense on its toes.
It took less than 15 minutes for United to break the deadlock. Toone, displaying her clinical finishing, found the net from a sublime right-wing cross by Leah Galton. Just two minutes later, Toone was back at it, latching onto Hayley Ladd's through ball and lofting it elegantly over the Liverpool goalkeeper.
United maintained their dominance, with Geyse coming close to adding her name to the scoresheet. The defensive partnership of Gemma Evans and Millie Turner thwarted Liverpool's attempts on goal effectively. As the first half drew to a close, Liverpool managed to pull one back with Natasha Flint capitalizing on a defensive mishap, making it 2-1 at halftime.
Second-Half Display
The second half witnessed significant changes as Skinner made five substitutions, altering the complexion of the United lineup. Safia Middleton-Patel took over in goal from Earps, and new additions like Hinata Miyazawa, Emma Watson, Hannah Blundell, and Lucia Garcia joined the action.
Liverpool came out strongly in the second half, and Marie Hobinger's corner found Fisk on the edge of the area, but her first-touch attempt narrowly missed the target. The midfield battle intensified, with Hayley Ladd playing a crucial role for United. Hinata Miyazawa, making her debut for the club, displayed impressive skills, outmaneuvering Liverpool's players.
United's third goal was a testament to teamwork. Miyazawa won possession on the edge of the area, and Hannah Blundell expertly directed the ball into the box. Geyse exhibited composure, calmly slotting the ball into the back of the net.
Liverpool persisted in their efforts, creating several scoring opportunities, but Middleton-Patel stood tall in goal, preserving United's lead.
This victory marked United's second pre-season win, setting the stage for an exciting season ahead. With one final pre-season fixture against Tottenham Hotspur on Sunday, the Red Devils look forward to their season opener against Aston Villa on October 1.
Stay tuned for more thrilling action from Manchester United Women as they aim for success in the upcoming season.
For More Related Updates Visit Our Official Site.
By- Sahiba Suri