IVANA FERREIRA FUSO DEPARTS UNITED WOMEN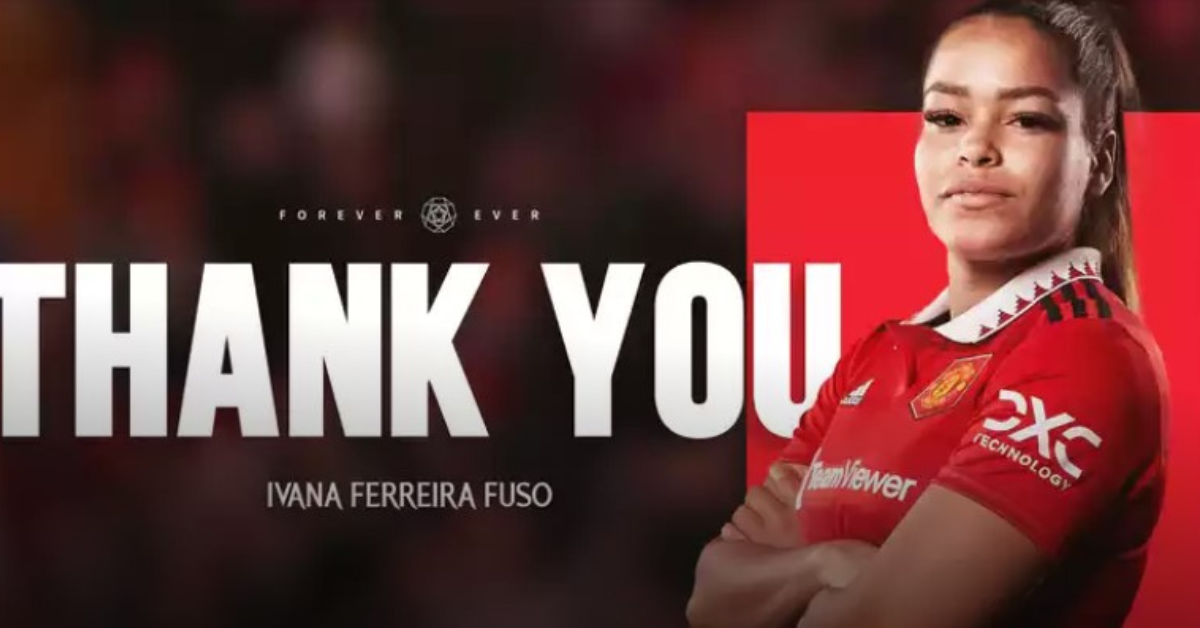 IVANA FERREIRA FUSO DEPARTS UNITED WOMEN
Manchester United has officially announced that Ivana Ferreira Fuso, the talented striker, has completed a permanent transfer to Birmingham City, a team competing in the Barclays Women's Championship. Ivana Ferreira Fuso, who hails from Brazil, initially joined Manchester United's women's team in the summer of 2020. During her time with the club, she made a total of 21 appearances across various competitions and managed to score two goals.
One of her standout moments in a Manchester United shirt was her remarkable goal in the League Cup victory against Manchester City, a moment that will be fondly remembered by fans. Ivana Ferreira Fuso's contributions and dedication to the team have been appreciated by both the club and its supporters.
Her move to Birmingham City marks a new chapter in her career, and Manchester United wishes her the best of luck in her future endeavors. The club expresses its gratitude for Ivana Ferreira Fuso's time with the team and the moments she created during her stint in Manchester United's colors.
Ivana Ferreira Fuso's journey with Manchester United began in 2020 when she joined the club as an exciting addition to the women's squad. Over the course of her time with the team, she showcased her skills and dedication to the sport, leaving a lasting impact on the club and its fans.
During her 21 appearances for Manchester United, Ivana Ferreira Fuso displayed her versatility as a striker, contributing to the team's efforts across various competitions. Her two goals for the club, including the memorable strike in the League Cup victory over Manchester City in November 2021, showcased her ability to make a difference on the pitch.
The goal against Manchester City was a moment of brilliance that highlighted Ivana Ferreira Fuso's talent and her ability to rise to the occasion in crucial matches. It was a goal that resonated with fans and added to the excitement of the women's team's performances.
As Ivana Ferreira Fuso departs Manchester United to join Birmingham City, it marks a significant step in her footballing journey. The move to Birmingham City presents new opportunities and challenges for the Brazilian striker, and it reflects her ambition to continue growing and developing as a footballer.
Manchester United recognizes and appreciates the contributions of Ivana Ferreira Fuso during her time with the club. Her dedication to the team and her memorable moments in a United shirt will not be forgotten. The club extends its best wishes to Ivana Ferreira Fuso as she embarks on this new chapter in her career with Birmingham City.
The Barclays Women's Championship, where Ivana Ferreira Fuso will be competing with Birmingham City, is a highly competitive league that provides a platform for talented players to showcase their skills and make significant strides in their careers. It is a testament to Ivana Ferreira Fuso's abilities that she has earned a place in this league.
As she joins Birmingham City, she will continue to pursue her passion for football and work towards achieving her goals in the sport. Manchester United's women's team and its supporters will follow her progress with interest and pride.
In conclusion, she transfer to Birmingham City marks the beginning of a new chapter in her footballing journey. Manchester United acknowledges her contributions to the club and wishes her the best of luck in her future endeavors. Her time with the team has been filled with memorable moments, and she leaves with the gratitude and appreciation of the club and its fans.
For more related updates visit our official website .
By- Sahiba Suri