Sergio Aguero: Is Argentine entering final months of Manchester City career?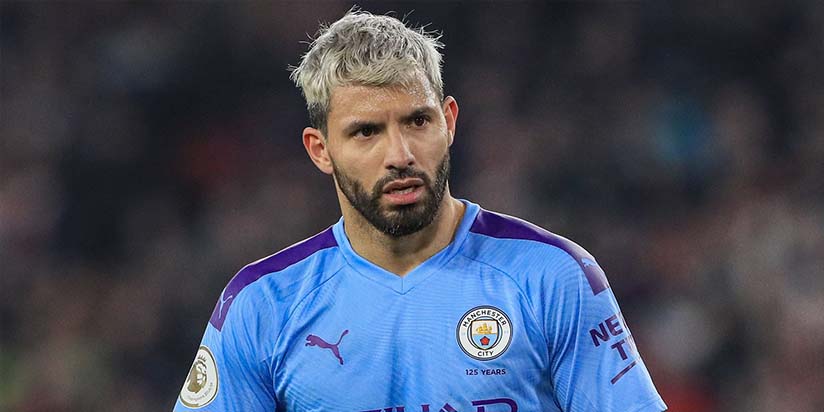 Manchester derby day used to be an occasion to relish for Sergio Aguero.
He scored on his debut, turning home Micah Richards' low cross for City's third in that never-to-be-forgotten 6-1 win at Old Trafford in 2011.
It was one of eight goals in his first eight outings in matches between the blues and the reds as City went from being Sir Alex Ferguson's noisy neighbours to the top side, not just in Manchester but also in England across the eight seasons that followed.
Although Aguero has scored only once in his past six derby appearances, under normal circumstances few would dismiss his chances of getting the goal that would move him level with Joe Hayes and Francis Lee as City's highest scorers against United, or the three that would see him move past Wayne Rooney as the most prolific player from either side in these momentous duels.
However, current conditions are anything but normal.
Forget about the global pandemic, there is also a "new normal" for Aguero, who is out of contract in the summer and has not scored a league goal in more than a year. Despite being fully fit, the chances are there will be no place for the Argentine in Pep Guardiola's starting XI against United. Even if the brilliant 32-year-old is named on the City bench, there is no guarantee he will be used.
Almost unnoticed, the fourth highest scorer in Premier League history and the man responsible for the most iconic goal in the entire competition is in danger of becoming a marginal figure as Guardiola's reshaped team chase an unprecedented quadruple.
Short presentational grey line
Records matter to Aguero. Speak to those who know him and it is clear eclipsing Rooney's derby-day mark of 11 is a major driving force.
Also, it is stressed, he has not fallen out of love with Manchester City. The club's record scorer is open to the idea of staying on into next season, even if there is interest from Paris St-Germain, Barcelona and Italian duo Juventus and Inter Milan.
Motivation is not an issue and neither, now, is fitness.
It has been though. The knee injury Aguero suffered against Burnley in June was, by all accounts, significant. Recovery was frustratingly slow and when Aguero did get back, he was immediately put into a period of isolation due to a close contact with someone who tested positive for coronavirus – and then he got it himself.
In the eight months from 22 June to 23 February, Aguero started three games. The seven substitute appearances that split his two starts against West Ham, at London Stadium on 24 October and Etihad Stadium on 27 February, gave him 92 minutes of action.
He has not completed a full game since last season's encounter with the Hammers, on 19 February, which was the last time supporters were present to watch City play at home.
The most recent of the two goals Aguero has scored this season came against Marseille on 9 December. His last league goal came at Sheffield United on 21 January 2020.
Aguero puts his absence down to bad luck.
Source: BBC