Bundesliga Stars Join German National Team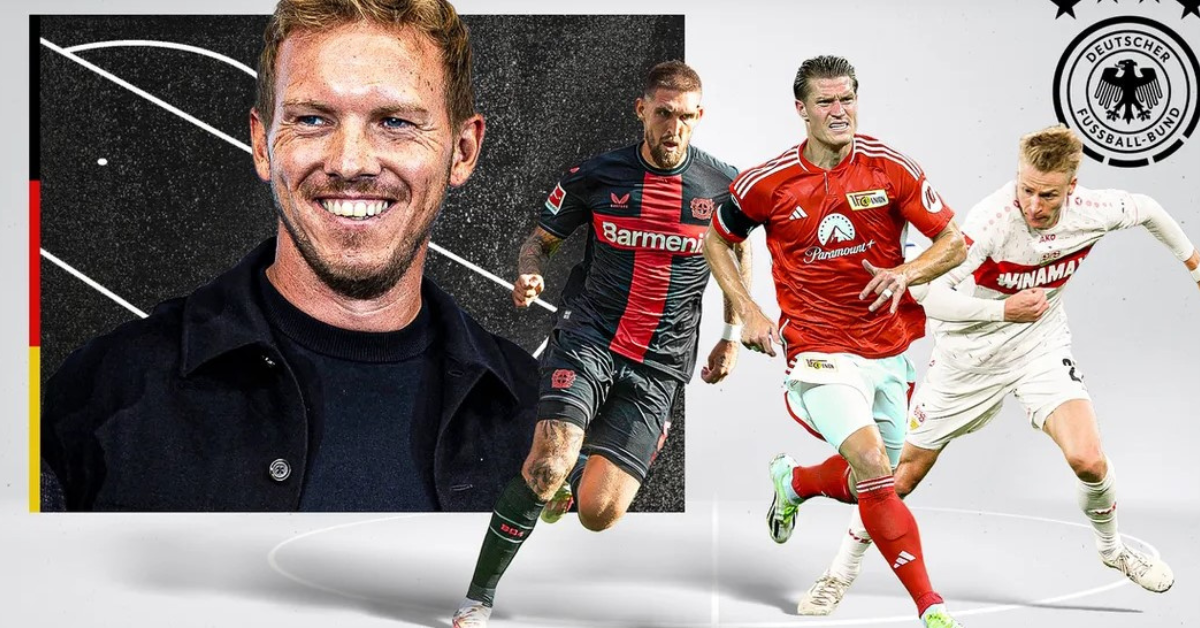 Bundesliga Stars Join German National Team
Julian Nagelsmann's debut as the manager of the German national football team has seen him introduce three fresh faces into the squad for upcoming friendlies against the USA and Mexico. Kevin Behrens, Chris Führich, and Robert Andrich, all from the Bundesliga, have earned their first call-ups and could make their debut appearances during this international break.
This article takes a closer look at what these new additions bring to the German national team:
Kevin Behrens:
Age: 32
Club: Union Berlin
Position: Striker
Playing Style: Comparable to Niclas Füllkrug
Germany has a storied history of producing world-class No. 9 strikers, but this tradition had seemingly dwindled in recent years. While Thomas Müller is a prolific scorer with 10 FIFA World Cup goals to his name, he tends to operate from deeper and wider positions rather than as a typical striker. However, Hansi Flick's stint as the national team coach brought the emergence of Niclas Füllkrug as a genuine international star in the striker role. Füllkrug, now with Borussia Dortmund, has made an impact with seven goals in nine caps. Kevin Behrens shares several similarities with Füllkrug. Both players were once released by Werder Bremen and fought their way up from the lower tiers of German football. Behrens, who currently plays for Union Berlin, has scored four goals in the Bundesliga this season, all of which were headers, a trait that caught Nagelsmann's attention. This call-up has added depth to Germany's striker options, providing two natural No. 9s to choose from.
Chris Führich:
Age: 25
Club: Stuttgart
Position: Left winger
Playing Style: Resembles Marco Reus
Chris Führich has been in exceptional form for VfB Stuttgart this season. While Serhou Guirassy has grabbed headlines with his astounding 13 goals in seven games, Führich has emerged as another potent attacker for Stuttgart. A former player in Borussia Dortmund's academy and reserve team, Führich has contributed two goals and five assists in his seven appearances, boasting a goal-involvement rate of one every 85 minutes. What makes his performance even more impressive is that he primarily operates as a left-winger, meaning he is further from the goal than Guirassy. Nevertheless, he has been a key contributor to Stuttgart's success this season.
Nagelsmann's decision to introduce these fresh talents to the national team suggests a blend of experience and youthful enthusiasm, bringing variety and depth to the squad. Germany, under Nagelsmann's leadership, is keen to harness the potential of these Bundesliga standouts to maintain its competitive edge on the international stage.
For More Related News Please Visit Our Official Website
By- Sahiba Suri