AntonioRadelja Wins VBL Grand Final 2023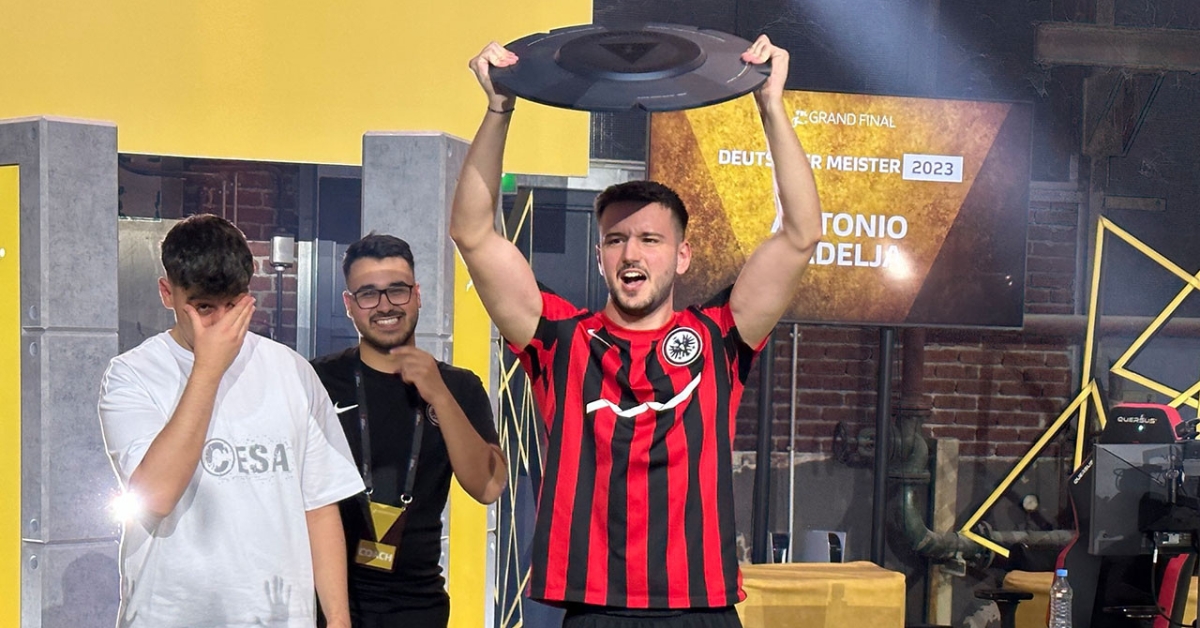 "I'm super happy, I still can't believe it," Radelja said after his success at the Strassenkicker Base in Cologne on Sunday evening. "I've probably never played as well as I did this weekend, but there were also an incredible number of good players," he continued. "I had to stay mentally strong until the end while my support team helped me a lot," the newly-crowned champion added.
At the end of what was the eleventh season of the eSports competition, Radelja defeated Berkay "BerkayLion" Demirci from FC St. Pauli in the VBL Grand Final 2023 by 4-2 on aggregate (first leg 1:1 / second leg 3:1). The game was played on EA SPORTS FIFA 23. WIth his victory, Radelja collected the VBL-Meisterschale and prize money of 40,000 euros.
Speaking after the tournament, Jörg Höflich, Head of Virtual Bundesliga at DFL GmbH, said, "On behalf of the DFL, congratulations to Antonio Radelja on winning the title in 2023. The new German champion confidently qualified for the VBL Grand Final showing nerves of steel in what was a strong, competitive environment. Our thanks at the end of the season go to all of the competitors, participating clubs and partners of the Virtual Bundesliga."
In the VBL Grand Final, 32 players competed in an offline event after qualifying via the VBL Club Championship or the VBL Open playoffs. The prize money pool totalled 100,000 euros.
As with the VBL Open playoffs, the Grand Final was played in FIFA Ultimate Team mode (Bundesliga version). The players were only allowed to use player items from the Bundesliga and Bundesliga 2, and could only have a maximum of two players per club in the squad. Additionally, up to one Bundesliga hero card (Mario Gomez, Lars Ricken, Jürgen Kohler, Lucio, Ebi Smolarek, Rudi Völler) and one German icon (Lothar Matthäus, Philipp Lahm, Miroslav Klose, Michael Ballack, Bastian Schweinsteiger, Gerd Müller) was permitted.
Source:- Bundesliga