ICC World Test Championship 2019-21 Points Table & Team Standings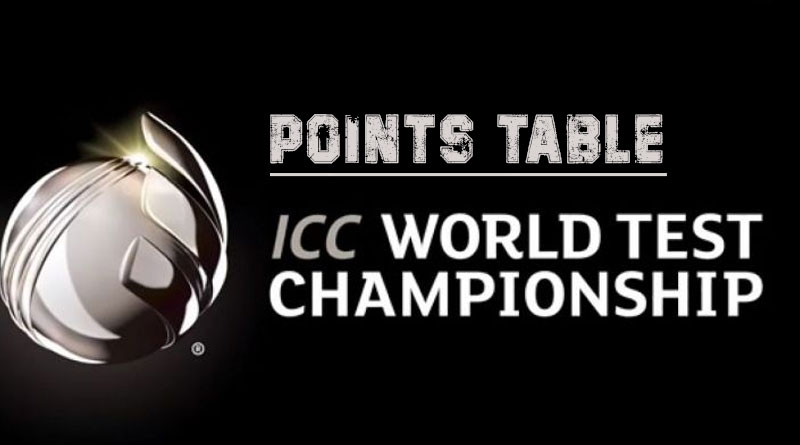 The ICC World Test Championship came into effect with the first Ashes Test between England and Australia at Edgbaston in Birmingham that got underway from August 1, 2019 and it will end with a final match in Lord's, year 2021. The ICC made a move and created a world cup for test cricket with the goal of making test cricket go at par with ODI and T20 formats of cricket.  There are 9 of the 12 nations which are playing in the World Cup of test matches. The tournament is going to be played for over a span of 2 years. Each team is supposed to play against 6 opponents.  There will be a total of 2 to 5 test matches. So even if the participating teams do not play under the same number of tests, they will surely play under the same number of series.
World Test Championship Points System
ICC made some changes to the system when it came to points. They declared all the series will have same points; the length of the series will not matter. This was implemented to make sure that the countries which are playing few numbers of tests are not lacking in any way. Another important thing that was specified was how the points will be awarded.  Instead of series results, match results will be the basis for points. If you are wondering how the championship will work and thereby the pointing system, here is your answer. The test teams which have been ranked as top nine will play matches against teams that they chose to, all through the championship period. All the 6 matches will not be played at home, but three will be at home, the other three need to be played while touring.
Now for the points table, If the number of matches in the series is two, then for winning you would need 60 points, in order to declare it a tie you will need 30 points and for point for s draw, you lose 20. In case of a loss there are no points. Again if there are 3 matches, you would need 50% in order to win, 1/3rd to tie it up and even less for a loss. In case if the match is lost there will be no points awarded. Each series carries a total of 120 points. This new system has been praised a lot by the critics. But the most critiqued factor of these world test matches is the fact that the teams playing get to choose their opponents. Hence teams can choose to play against teams which seem less threatening to them. This gives rise to the factor that each team and their schedule during the whole match period is not weighed in a fair way. There is no equality among all the teams.
Also Read: India's schedule in the ICC World Test Championship
A few of the test series which are in this world championship are also a part of an even extensive series which will also going on, in par with other series like that of the 2019 Ashes series. There are a few teams which are going to play test matches in this period which are not a part of this championship as a part of ICC future tours program. This two year long World test championship can be seen as a promotional event for the ICC who wants to increase the popularity and revive the name that test series had. Test series has slowly lost its spark and with the coming of the new kind of championship it is seen as an attempt to even increase the seriousness among players.
ICC World Test Championship Final
At the end of this two-year cycle, the top two teams with highest points will get to play the final in June 2021 at Lord's, London. In case it is a draw or tie, the team with the highest points in the overall points table will be declared as champions.
ICC World Test Championship Points Table 2019-21
| | | | | | | |
| --- | --- | --- | --- | --- | --- | --- |
| Teams | Points | Matches | Won | Lost | Draw | Tied |
| India | 360 | 7 | 7 | 0 | 0 | 0 |
| Australia | 296 | 10 | 7 | 2 | 1 | 0 |
| England | 146 | 9 | 5 | 3 | 1 | 0 |
| Pakistan | 140 | 5 | 2 | 2 | 1 | 0 |
| Sri Lanka | 80 | 4 | 1 | 2 | 1 | 0 |
| New Zealand | 60 | 5 | 1 | 4 | 0 | 0 |
| South Africa | 24 | 7 | 1 | 6 | 0 | 0 |
| West Indies | 0 | 2 | 0 | 2 | 0 | 0 |
| Bangladesh | 0 | 3 | 0 | 3 | 0 | 0 |
Last Update: 11th February 2020
Off Spinner Nathan Lyon's taken 2nd fifer of the game, following David Warner's record 24th Test century, scripted Australia's comfortable 279-run victory at the Sydney Cricket Ground to round off their summer with a thumping 3-0 series clean sweep over New Zealand on 6th January 2020.
India defeated Bangladesh by an innings and 46 runs in the 2nd Test match in Kolkata on 24th November. In the process, they gained 60 points and strengthened their lead in the ICC World Test Championship Points Table.
After registering away series win against West Indies and home series victories against South Africa and Bangladesh, India now stand at the top of the table with 360 points, followed by Australia (296) and Pakistan with 80 points. Sri Lanka and New Zealand are 4th and 5th respectively.
India whitewashed West Indies With 2-0 in the recent test series at home. Now Indian Cricket Team consolidated their position at the top of the ICC World Test Championship points table, clinching the maximum points with the 2-0 win over South Africa.