ICC Trolls Donald Trump For Mispronouncing Sachin Tendulkar's Name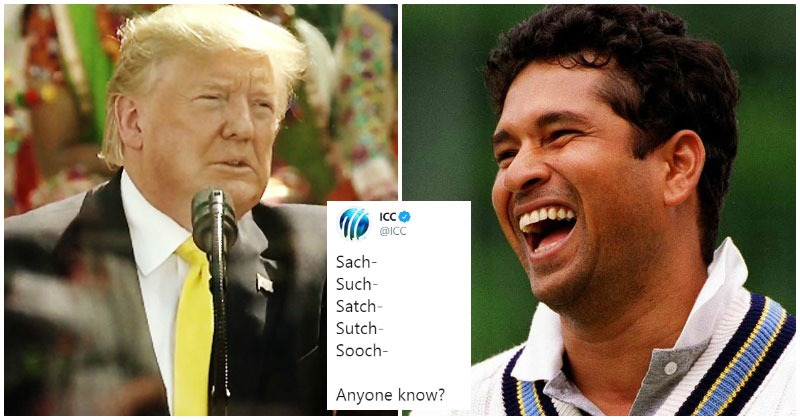 The International Cricket Council has trolled US President Donald Trump who is on a visit to India. Trump is invited by Indian PM Narendra Modi on the occasion of unveiling arguably, the world's largest cricket stadium in Motera. His trip is being named as "Namaste Trump". ICC trolls Donald Trump has been trending everywhere after the US President mispronounced Sachin Tendulkar's name.
While addressing the crowd of over one lakh at the Motera stadium, Trump spoke about Sachin Tendulkar and Virat Kohli. "This is the country where your people cheer on the biggest cricketers, from Sachin Tendulkar to Virat Kohli, the greatest in the world," said Trump. While trying to pronounce Tendulkar's name correctly, he mispronounced it a number of times.
Also Read: World Test Championship: India's Road Ahead After First Loss
The ICC has trolled Donald Trump for mispronouncing the name of the God of Cricket. ICC trolls Donald Trump has been trending on Twitter ever since. ICC captained the video post, "Sach-Such-Satch-Sutch-Sooch-Anyone know?
The crowd at Motera cheered in large numbers when Trump called out the names of Kohli and Tendulkar. Even Indian PM Narendra Modi was seen to be smiling.
Among the huge gathering of over 1 lakh at the venue were the current BCCI President Sourav Ganguly, Union Home Minister Amit Shah and Gujarat CM Vijay Rupani.
US President Trump is being accompanied by his wife Melania Trump in his current trip to India. Earlier, the Indian PM visited Houston in September last year. Modi's trip was named as Howdy Modi and thus Namaste Trump is the Indian version of welcoming the US President in the country.
Also Read: IPL 2020 Promo Launched: Witty Video Takes Internet by Storm
Trump to Host Bilateral Talks With Modi
Trump will preside over bilateral talks with Narendra Modi at the Hyderabad House today. Trump's visit to India will be a little less than 36 hours within which he was scheduled for a number of things.
During their talks at the Hyderabad House here, the two leaders are also expected to deliberate on a number of issues ranging from regional issues to terrorism to Indo-Pacific relations to the situation in the Gulf region.