The Tickets to Fastest Format in Cricket – The Abu Dhabi T10 on Sale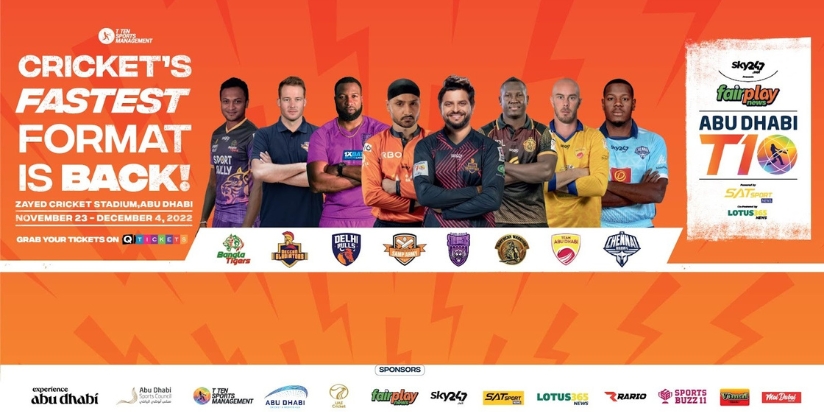 The world's leading tournament for T10 cricket – The Abu Dhabi T10 is back!
With the newest and fastest format of the sport, Season 6 promises its fans an exciting watch at Zayed Cricket Stadium, Abu Dhabi.


Starting on November 23 and running up till December 4th, the 12 days will see 8 teams battle it out for the Abu Dhabi T10 Trophy. The 10-over tournament will feature Indian stars like Suresh Raina, Harbhajan Singh, S Sreesanth and others.
Last season's champions Deccan Gladiators will be looking to defend their title with ardent fans watching on from the 20,000-seat outdoor stadium. Two new teams New York Strikers and Morrisville Samp Army will also be a part of the eight-team event.
The opening game at 6:15 pm will see the New York Strikers take on the Bangla Tigers led by their captains Kieron Pollard and Shakib Al Hasan, followed by defending Champions Deccan Gladiators playing against Team Abu Dhabi.
The finale for the tournament on Sunday, December 4th will showcase some of the best gameplay and end with a concert. 


With some of the biggest names in the world of cricket set to take part in this season, it promises to be a very exciting tournament for all fans. Tickets to the matches are available on Q-Tickets.com with individual, family seats, pods, and corporate hospitality options to choose from.
Abu Dhabi T10 League 2022, full schedule:


November 23
Match 1: New York Strikers vs Bangla Tigers
Match 2: Deccan Gladiators vs Team Abu Dhabi


November 24
Match 3: Morrisville Samp Army vs Bangla Tigers
Match 4: Northern Warriors vs Delhi Bulls
Match 5: The Chennai Braves vs New York Strikers


November 25
Match 6: Northern Warriors vs Deccan Gladiators
Match 7: Team Abu Dhabi vs Delhi Bulls
Match 8: Bangla Tigers vs The Chennai Braves


November 26
Match 9: Deccan Gladiators vs New York Strikers
Match 10: Team Abu Dhabi vs Northern Warriors
Match 11: Morrisville Samp Army vs Delhi Bulls


November 27
Match 12: Bangla Tigers vs Northern Warriors
Match 13: Morrisville Samp Army vs Team Abu Dhabi
Match 14: Delhi Bulls vs Deccan Gladiators


November 28
Match 15: New York Strikers vs Morrisville Samp Army
Match 16: Team Abu Dhabi vs Northern Warriors


November 29
Match 17: Team Abu Dhabi vs Morrisville Samp Army
Match 18: Deccan Gladiators vs The Chennai Braves
Match 19: Bangla Tigers vs Delhi Bulls


November 30
Match 20: The Chennai Braves vs Team Abu Dhabi
Match 21: Bangla Tigers vs Deccan Gladiators
Match 22: New York Strikers vs Northern Warriors


December 1
Match 23: Delhi Bulls vs New York Strikers
Match 24: Team Abu Dhabi vs Bangla Tigers
Match 25: Morrisville Samp Army vs Deccan Gladiators


December 2
Match 26: Delhi Bulls vs The Chennai Braves
Match 27: Northern Warriors vs Morrisville Samp Army
Match 28: New York Strikers vs Team Abu Dhabi


December 3
Qualifier 1: TBC vs TBC
Eliminator: TBC vs TBC
Qualifier 2: TBC vs TBC


December 4
3rd Place Play-off: TBC vs TBC
FINAL: TBC vs TBC
Hurry up! Book your tickets now on www.q-tickets.com