Bellator 264: Gegard Mousasi defends title against John Salter – highlights, report and full replay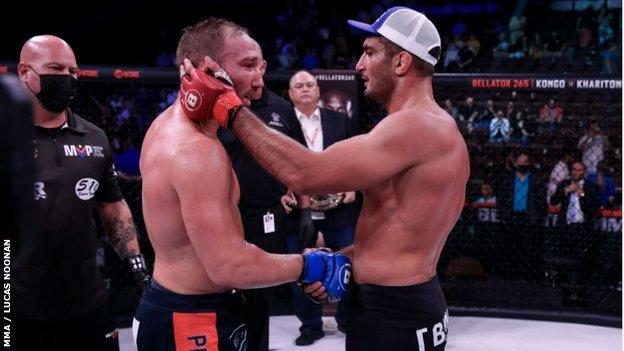 Two-time Bellator middleweight champion Gegard Mousasi defended his title in style on Friday night.
Fighting in the main event of Bellator 264, Mousasi, 36, nullified the wrestling threat of number-one contender John Salter.
Ground strikes at the 2:07 mark of the third round finished Mousasi's opponent to register the 48th win of his decorated MMA career.
The first round saw Salter score an early takedown in Connecticut.
In the event at the Mohegan Sun Arena in Uncasville, Salter was looking to grind down the champion, but Mousasi defended smartly to stay out of trouble before scoring with some big knees to the body in the closing moments of the round.
Mousasi came back strongly in Round 2, using his boxing to out-strike the challenger on their feet.
Then, after Salter attempted to drag the action to the mat again, the champion defended well and turned the tables before hammering Salter with ground strikes, with only the bell saving the American at the end of the round.
With Mousasi firmly in the ascendancy, Salter desperately shot in for an early takedown at the start of Round 3, but the Dutch champion easily stuffed the attempt and ended up on top.
Mousasi then unleashed a non-stop salvo of ground strikes that forced referee Dan Miragliotta to step in and stop the fight mid-way through the round.