Top Superstar Set to Return to Raw Next Week
WrestlingNewsBlog.com
Next week's edition of Monday Night Raw will be the final one before Survivor Series. In case you are unfamiliar with Survivor Series, it's one of the Big 4 Pay-per-views, along with Royal Rumble, Wrestlemania and Summerslam. Since 2016, Survivor Series has been featuring Raw and Smackdown Live Superstars battling each other for Brand Supremacy.
Apart from the Traditional Survivor Series multi-man elimination tag team matches, the event has also been featuring Champions from one brand facing their counterparts from the other. For example, The Raw Tag Team Champions face the Smackdown Live Tag Team Champions; The Intercontinental Champion faces the United States Champion etc.
One such match this year will pit The Universal Champion, Brock Lesnar against the WWE Champion, AJ Styles in a rematch from last year. Brock Lesnar escaped with the win last year after an amazing bout. The match was made official last Friday at Crown Jewel after Lesnar regained the Universal Title and Styles retained his title against Samoa Joe.
Styles vs. Lesnar is a match people would pay to see; there's no doubt in that. However, in Professional Wrestling, a match needs to follow a compelling story to go down as a talked about the match. A poor build can adversely affect the match.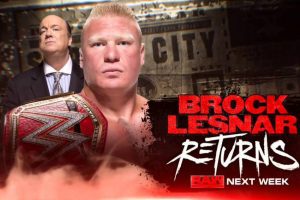 So, in order to hype the dream rematch, Brock Lesnar will appear on Raw next week. Although The Beast Incarnate has spent most of this year as the Universal Champion, he has hardly made any appearances on the Raw brand due to his part-time schedule and re-emerging interest in returning to UFC. However, that shouldn't stop the Universal Champion from making his presence felt on the go-home edition of Monday Night Raw.
The segment will likely feature Paul Heyman raving about his client (Brock Lesnar). However, expect the WWE Champion to pop up and attack the Beast, ensuring a pull-apart brawl between the two. Lesnar's current contract has him locked for only a few appearances in the future so if he's scheduled to appear on Raw, expect something huge to go down.