Top 5 possible WWE Superstars who could face Drew McIntyre at SummerSlam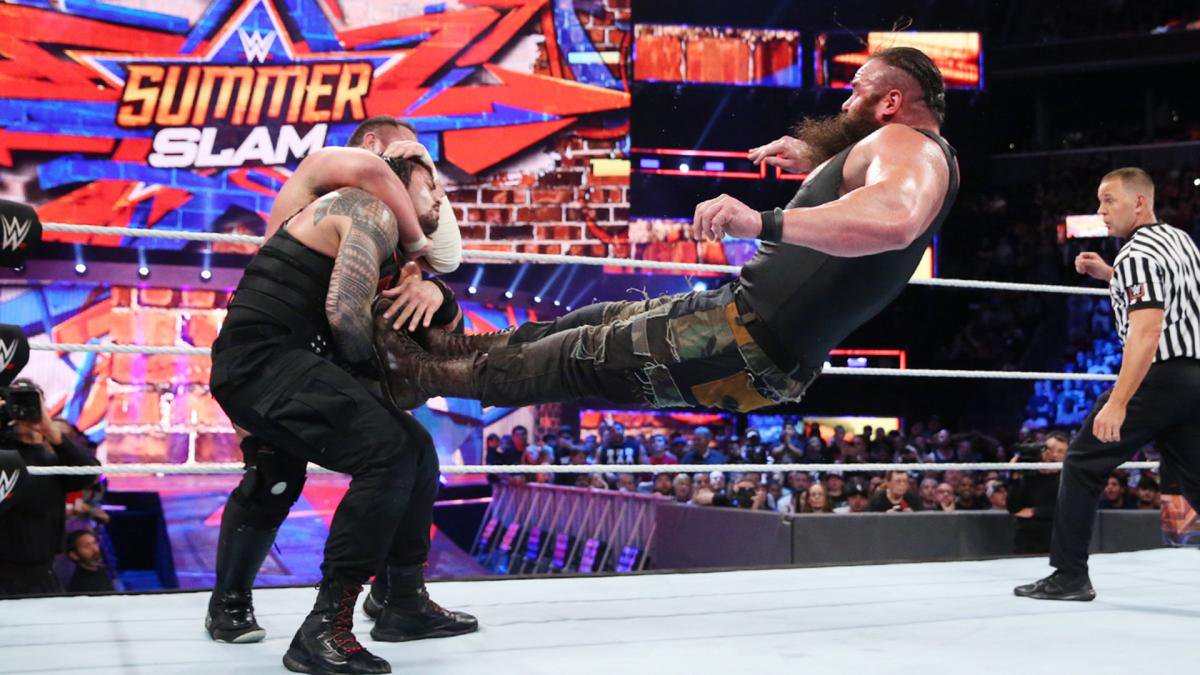 Drew McIntyre is one of the biggest superstars of WWE of contemporary times. It would hardly be exaggeration to say that his second tenure in WWE has been superbly impressive. Following his victory in the NXT Title in the development brand, he returned to the main roster last year.
After his comeback, he has managed to establish himself as a top heel of the Red Brand. He defeated the likes of Dolph Ziggler, Kurt Angle, Baron Cornin, and two members of the Shield. Right now, he has an association with Shane McMahon. With SummerSlam being just three away, insiders are of the belief that McIntyre will have a match at the Biggest Party of the Summer.
The following are some of the prospective opponents for Drew McIntyre at SummerSlam:
The Undertaker: Recently, the Undertaker fought at Extreme Rules and going by expectations, he will be part of Summer Slam which the Biggest Show of the Summer. When it comes to facing McIntyre, the Phenom can be an unmatched choice. Having been the Team Tag partner of Roman Reigns, the Deadman crossed paths with McIntyre at Extreme Rules. Though Undertaker gave a miss to WrestleMania, he took the wrestling world by storm with Super ShowDown where he was pitted against Goldberg. Owing to his age, Undertaker may not be able to match up to the swiftness of McIntyre in the ring but WWE enthusiasts are expecting a decent match. Irrespective of the match results, the position of McIntyre in the WWE is sure to go a few notches higher.
Roman Reigns: Drew McIntyre and Roman Reigns had tussled a couple of times recently, and thus, share a long history. While Reigns has long been a rival of Shane McMahon, the feud also involved the former NXT Champion. Before WrestleMania 35, the Scottish Psychopath came to acquire a pretty high momentum. Besides pinning Dean Ambrose and Seth Rollins, he also made some other big names bite the dust. McIntyre had claimed to overthrow the Shield all by himself, but his efforts turned out to be futile when he was confronted with the Big Dog at the Grandest Stage of Them All as Reigns defeated McIntyre. The match was followed by them locking horns at Stomping Grounds, which was fated to the same result. This rivalry might reach its final stage if McIntyre and Reigns fight against each other at SummerSlam. Since he two men are equally dexterous in the ring, viewers can look forward to some interesting matches.
John Cena: Having been a WWE Champion for 16 times, John Cena shocked everyone with his appearance at RAW Reunion recently, since he was not supposed to be a part of it. When Cena made a comeback in early 2019, he was confronted by the Scottish Psychopath. The two men offered a segment that had the audience totally hooked. McIntyre had threatened to destroy the Leader of Cenation; however, going ahead, they participated in Fatal 4-Way match which was to decide the top contender for the Universal Championship. However, Cena went on to suffer some injuries. While there was a brewing feud between McIntyre and Cena, it did not aggravate thanks to Cena's injury. However, the rivalry might be fueled all over again if Cena makes up his mind to have a match at the biggest show of Summer. This rivalry in fact, is expected to be one-of-a-kind, since both the contenders have astounding mic skills too.
Shinsuke Nakamura: This Japanese wrestler has achieved a lot in his career so far, but in recent times, we have not gotten to see much of him after the Wild Card Rule took up extra spots on SmackDown Live. And since he has already announced that he intends to retire soon, it would be a great idea to see him facing McInyre at SummerSlam. Who knows, he might just end it with a bang!
Dolph Ziggler: Though a veteran in the business, Ziggler is yet to receive the respect he deserves. However, he is expected to be in line for a major push, which was hinted at by his power-packed confrontation with Shawn Michael's on this week's SmackDown Live. This American professional wrestler has held the World Heavyweight Championship twice, the Intercontinental Championship six times, the United States Championship twice, and the Raw Tag Team Championship once.
It remains to be seen whether WWE is planning a special track for Drew McIntyre which is a strong possibility considering his rising popularity and strong track record.