WWE Raw Results, Highlights, Videos, Winners August 5, 2019 and more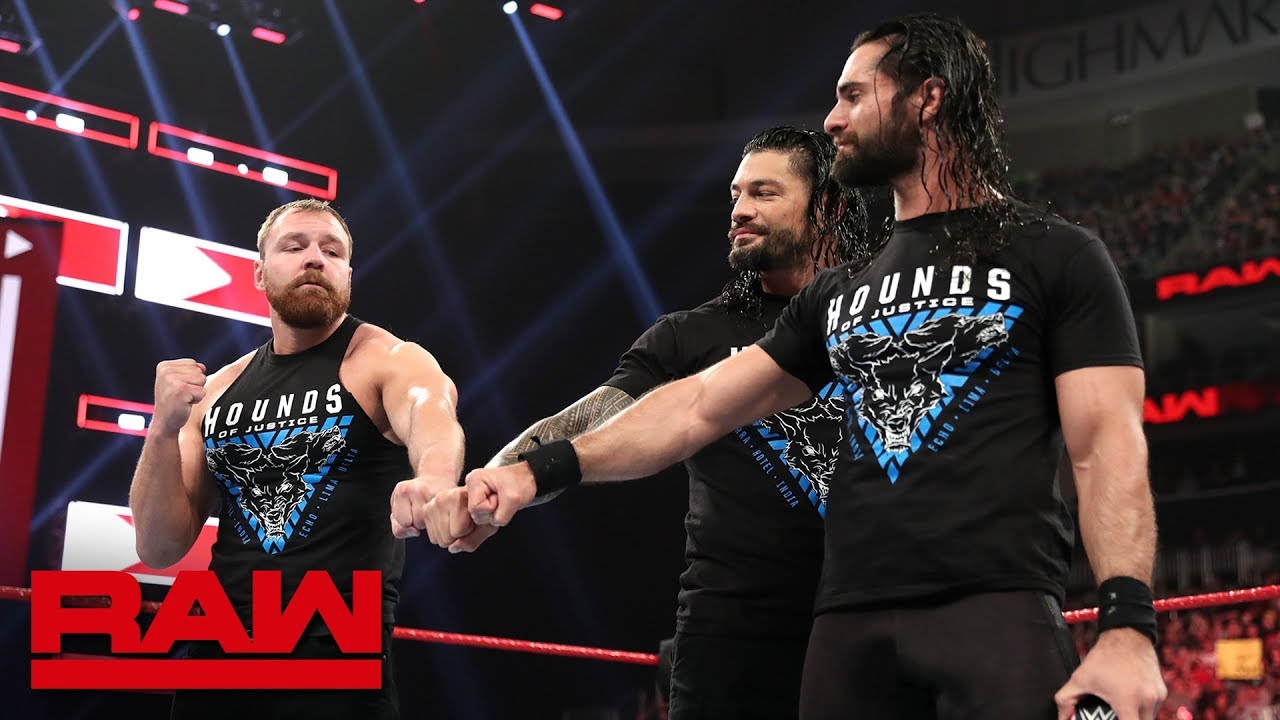 WWE Raw August 5 2019 was eagerly anticipated with only some days to go for SummerSlam. Here are the Results & highlights for latest Monday night WWE Raw that took place on 5th August 2019.
Here are the key highlights of latest episode of WWE RAW 2019:
Becky Lynch and Charlotte Flair vs. Natalya and Trish Stratus
Right at the beginning of the event, wrestlers stood on stage, remembering the victims at the shootings in El Paso, Texas and Dayton, Ohio. The match-up featured Trish Stratus and Natalya versus Charlotte Flair and Becky Lynch.
You can watch the video here:
The match was pretty evenly poised although The Man and The Queen had a major encounter and Charlotte Flair walked out. Natalya then came out with the Sharpshooter and even after Becky Lynch reached the ropes, she kept it locked, leading to a disqualification. This was followed by a scuffle between Natalya and Lynch backstage.
Result: Becky Lynch and Charlotte Flair defeated Trish Stratus and Natalya through disqualification.
Rey Mysterio vs. Andrade
Rey Mysterio was taken to the cleaners by Andrade although he recovered and fought back in spite of injuries. Andrade once again targeted Rey Mysterio's mask which led to the referee getting distracted. This enabled Andrade to bounce Mysterio from the ropes and then hit him with a hammerlock DDT to finish it off.
Result: Andrade defeated Rey Mysterio through pinfall.
Maria Kanellis deceived at OBGYN appointment
This dramatic highlight can be experienced in this video:
Maria Kanellis went with her husband Mike Kanellis to her OBGYN appointment. However, in a sudden turn of events, her husband pinned her and the doctor turned out to be a referee. As a result, Mike won the title. However, R-Truth caught up with him, throwing a fake baby in the waiting room for a distraction, enabling him to snatch back the belt.
Result: Maria Kanellis defeated by Mike Kanellis through pinfall. R-Truth defeated Mike Kanellis to become the new 24-7 champion.
Seth Rollins' clash with Brock Lesnar
Brock Lesnar started taunting Seth Rollins along with Paul Heyman. Rollins ultimately came out limping with his injuries and a steel chair. Yet, Lesnar left Rollins beaten up and overwhelmed in the ring. Yet, Seth Rollins refused to stay down, got hold of a microphone and promised to beat Lesnar at SummerSlam come what may.
Local Competitors vs. The Viking Raider
The Viking Raiders won against Local Competitors although the match didn't take place fairly since Ivar and Erik came up with the Viking Experience to get the victory.
Result: Viking Raiders defeated Local Competitors through pinfall.
Cedric Alexander vs. Drew McIntyre
Kurt Angle was interrupted midway by Drew McIntyre while prepping up for refereeing the match between him and Cedric Alexander with Street Profits. The ex-general manager of RAW was given a warning by McIntyre to avoid ruining the match. Yet, both wrestlers did not come to the ring. They kept fighting until the lights went off. Bray Wyatt came out and choked Kurt Angle with his mandible claw.
The OC vs. The New Day and Ricochet
AJ Styles helped Karl Anderson and Luke Gallows tear into Big E and Xavier Woods right before the start of the match. They also capitalized on Kofi Kingston not being around until the save was enabled by Ricochet. There was a 6-man tag team match where The O.C. reigned supreme and ultimately pumped out the Magic Killer for earning a victory.
Result: The O.C. defeated The New Day and Ricochet through pinfall.
Roman Reigns escapes a hit-and-run accident
Roman Reigns had a major brush with severe injury or a fatality at WWE Raw August 5, 2019. You can take a look at the video here:
Samoa Joe stood up on the announcement table and also criticized the commentators for implying that he had a role to play in attacking Roman Reigns last week at WWE SmackDown. He also called out Roman Reigns for a challenge. After issuing several challenges, he went backstage where he saw Reigns coming out from his car although another vehicle rammed right into Roman's car and sped off.
There may be a new rival in the offing for Roman Reigns which is thrilling and dangerous at the same time for fans of the popular wrestler. However, Samoa Joe stopped threatening Reigns and instead expressed his concern which was a positive.
Kabuki Warriors vs. The IIconics vs. Rose and Deville vs. Bliss and Cross
The IIconics were eliminated successfully by Mandy Rose with Billie Kay getting the bicycle knee. Rose was made to tap out for another elimination by Asuka. Thereafter, Kairi Sane was overwhelmed by a Twisted Bliss by Alexa Bliss for victory and the WWE Women's Tag Team Championship.
Result: Bliss and Cross defeated Rose and Deville, Kabuki Warriors and The IIconics through pinfall.
Dolph Ziggler's Opponent declared for SummerSlam 2019
Dolph Ziggler appeared on The Miz TV Show for encountering Shawn Michaels and The Miz at WWE Raw August 5. He promised to defeat The Miz at SummerSlam 2019 for becoming a WWE legend. However, The Miz declared then that he would not be fighting Dolph Ziggler at the mega event.
Rather, Goldberg arrived, sending everyone into a tizzy while Shawn Michaels even hit Dolph Ziggler with a Sweet Chin Music and the last show before mega event ended with that. Goldberg will now be facing Dolph Ziggler in the SummerSlam 2019. It will going to held on August 11, 2019, at the Scotiabank Arena in Toronto, Ontario, Canada.