Kurt Angle is all praise for Ronda Rousey, names WWE future stars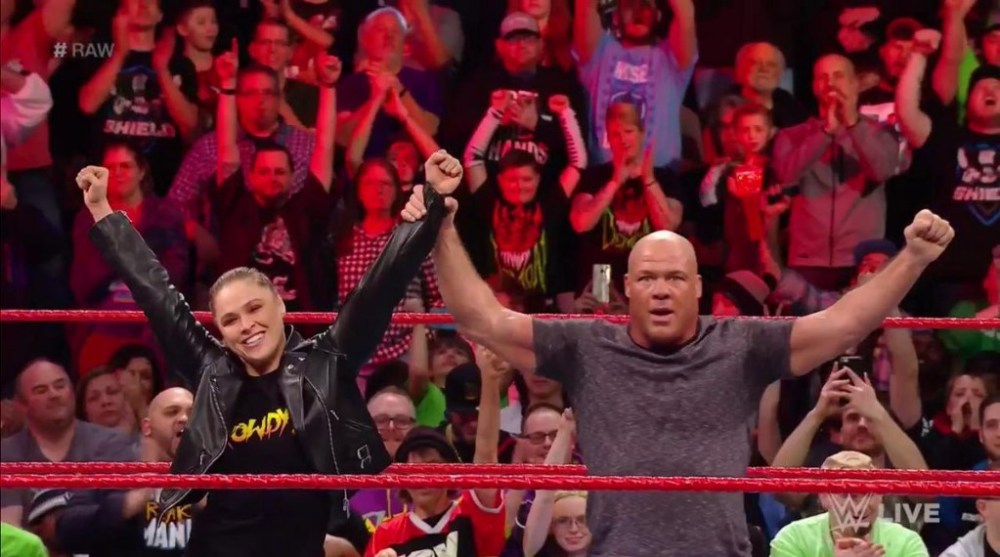 Although the World Wrestling Entertainment worries about a dip in their fan engagement and viewing, it still remains one of the top platforms for wrestling talent. With Roman Reigns out due to his battle with Leukemia and Braun Strowman recovering from an elbow injury, it is a great opportunity for some talent to take up the ranks. And WWE Hall of Famer Kurt Angle didn't hesitate to name a few future showrunners in his recent Facebook QnA session.
Barring some elite names like Ronda Rousey, Drew McIntyre, Seth Rollins, and Dean Ambrose, there is not a lot of top talent on the red brand right now. But Kurt Angles was confident of some guys taking up the mantle.
"You have guys right now that can do it. Some upcoming guys and girls? Finn [Balor]. [Bobby] Roode. [Chad] Gable. Ember Moon. Although I'm not crazy about him personally, [Baron], Corbin will be a huge factor."
Kurt Angle also praised Ronda Rousey and her meteoric rise in the WWE. Talking about his former tag team wrestler, Kurt Angle deemed Rousey to be an 'amazing sports entertainer'. The two had tagged along to beat Stephanie McMahon and Triple H in a Mixed Tag Team Match at WrestleMania 34 in New Orleans, Louisiana at the Mercedes-Benz Superdome.
"Ronda has become an amazing sports entertainer. She caught on so quickly. But, there will come a time where she will need to do some improvising during her matches. That only comes with experience. She has proven herself to be highly respected in the pro 'rasslin circle, but give her another year or so of experience so she feels 1,000 percent more comfortable. I understand where she is right now because I too was pushed into a spot that only the most experienced wrestlers get to, although I didn't have the experience. That's the main event. Ronda is special. She will only get better."
Ronda Rousey will be defending her RAW Women's Championship against Nia Jax soon.