WWE Clash of Champions 2019: 5 Probable opponents for AJ Styles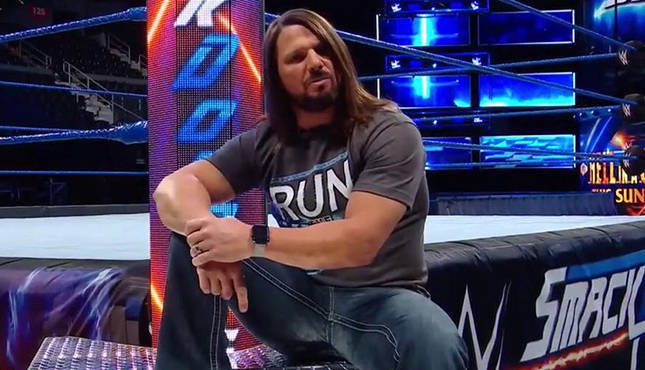 The Clash of Champions for the year of 2019 is right around the corner. It is a pay per view professional wrestling WWE network event which is going to take place on the 15th of September this year. There have been all sorts of speculations regarding who could possibly be the competitor against AJ Styles, who is currently at the top of his game, and is most likely to deliver a very strong performance in this year's championship.
5 Probable opponents for AJ Styles in this year's Clash of Champions:
Shawn Michaels: Shawn Michaels v/s AJ Styles is the dream fight for all ardent wrestling lovers. With both legends on opposing sides of the ring, deciding the winner is going to be a really difficult task. However, likelihoods of this match actually taking place are slightly lower due to Michael's sabbatical. But his return is most likely to guarantee a few more fight from him, and one of those could most possibly be against AJ Styles, who is also often referred to as the Shawn Michaels of his generation.
Bobby Lashley: An American wrestler by origin, Lashley has been also venturing in the field of mixed martial arts for quite some time now. In the past, he has been awarded the prestigious titles of the ECW World Championship (twice in the past) and the United States Championship. Lashley has been at the top of his game of late, which makes him the ideal candidate in the 2019 Clash of Champions fight against AJ Styles. The fight will be a true spectacle for all lovers of wrestling and is bound to increase the demand of the championship manifold. As both the fighters would have led and headlines several pay per view feud-based events in the past, the level of popularity a fight between Styles and Lashley will attract can only be imagined.
Aleister Black: In spite of a nasty recent injury, Aleister Black is now fit and back in the circuit. Although he has not taken part in a full-fledged fight yet, chances are that he might take part in the upcoming Clash of Champions. It is being heard that he might be pitted against Styles, and the between them is truly going to be legendary due to both their passions for winning the title. Another important point is that a fight like this will help in creating the perfect storyline for Black, or at least set up the building blocks for the same until the WWE creators engage further. This would then be a huge boost for all of Black's fans and increase the outreach of the championship to a significant extent.
Cedric Alexander: Cedric Alexander has been formidable names in the WWE circuit since he moved to the Monday Night RAW while the WWE superstar shake-up in 2019. He continues to impress all of us after his draw with the Roman Reigns, where he took on both Shane McMahon as well as Drew McIntyre. However, his consecutive losses could not bring his form down, as he succeeded to create a place for himself in the professional wrestling circuit due to his incredible talent. Alexander is best known for his speed and swiftness in the ring, and he can be considered as one of the potential opponents for Styles. The fight is surely going to be incredible, and would become a really crucial stepping stone for Alexander's career.
Rey Mysterio: Just a few days back, it was announced that Rey Mysterio will be returning soon on an episode of Monday Night RAW. (Although the chances of him resuming a fight against Andrade, as most of his fans are hoping to actually take place, is really low). Therefore, it will surely be an interesting turn of events if Mysterio ends up participating in a full-fledged feud against AJ Styles later this month in the Clash of Champions. His return also sets the perfect stage for him reclaiming his status as the best after him having to vacate the title of WWE Grand Slam Champion due to a nasty injury. Most popularly known for his signature high flying moves, Mysterio is determined to put up a great fight against Styles, and might even go on to win the title, as he often loves to take his fans by an absolute surprise.
It goes without saying that very few wrestlers could probably match AJ Styles in terms of strength and calibre. However, the five wrestlers mentioned in this article could really put up a very good fight against Styles, and we would love to see him fight any of these five in the upcoming Clash of Champions 2019 for a truly incredible WWE experience.