Lewis Hamilton's race against time: Is record eighth Formula 1 title dream still alive at Mercedes?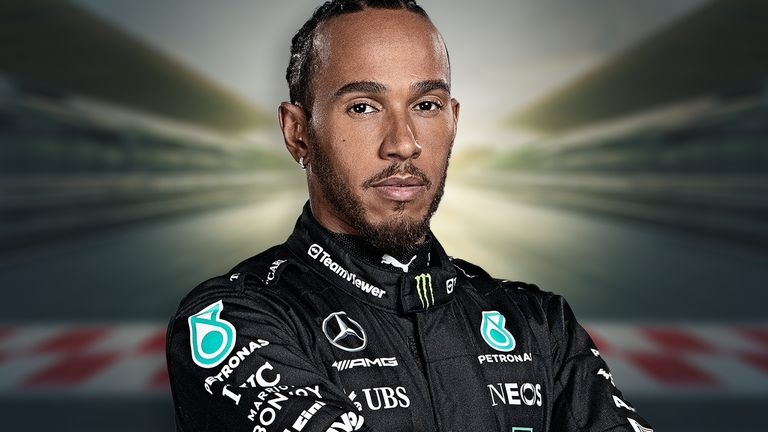 Lewis Hamilton is heading into a contract year aged 38 at Mercedes and has seemingly never been further away from that record eighth crown; With the help of the Sky Sports F1 pundits, we assess Hamilton's present and future and his motivation to keep racing.
When Lewis Hamilton equaled Michael Schumacher's record of seven Formula 1 world championships, his fate as the leader in the sport's statistical clubhouse appeared set.
Mercedes, after all, had just dominated the 2020 season and a still-on-top-of-his-game Hamilton had claimed six titles in seven years. One more crown, would make him F1's most decorated driver of all time.
But then came a much more competitive campaign than expected against Max Verstappen and Red Bull, and the crushing, infamously unfair, despair of an Abu Dhabi title finale that saw him robbed of the record.
Now, Hamilton heads into the 2023 campaign as far away as ever from his elusive title, with Mercedes having dropped from title-contenders to a team bidding to recover from their worst season in a decade.
Aged 38, Hamilton isn't getting any younger. And questions must be asked
Is time now against Hamilton in his dream bid for eight? Do Mercedes have it in them to provide the car the Englishman needs? Will a driver who previously ruled out driving at 40, keep going until he gets there?
With the help of the Sky Sports F1 pundits, we attempt to provide answers.
We'd be remiss talking about Hamilton's quest without starting with just how close he got to completing it.
No driver, bar Felipe Massa at the hands of Hamilton, has ever been denied so late on in a season. And that 2008 finale, while dramatic, had nothing on 2021 in terms of controversy and unjust conclusions.
You know the story by now. Hamilton, after an incorrect application of the rules by F1's race director and his team, was thrust into a one-lap showdown against Verstappen he was never going to win, on older tyres.
Verstappen would pass Hamilton on the last lap of the last race, in the cruellest ending to what was an incredible title battle.
"To come within a lap of the eighth championship and then potentially… he might not ever win it," said Ted Kravitz.
"Michael Schumacher wasn't able to win an eighth, Lewis Hamilton hasn't been able to win an eighth – is there something in the stars about an eighth world championship?"
Think about the agony Hamilton went through after that fiasco, and in the coming months. Even if Mercedes were quick last year, it is important to understand just how much an emotional toll that took out of him.
Coupled with Mercedes not being quick, does Hamilton recognise his dream was starting to fade?
"I think that's why Abu Dhabi hit him so hard," said Martin Brundle. "You could see him struggling with that through the early phase of 2022.
"I think time is looking against him."
Source: Sky Sports