Bukayo Saka's remarkable journey .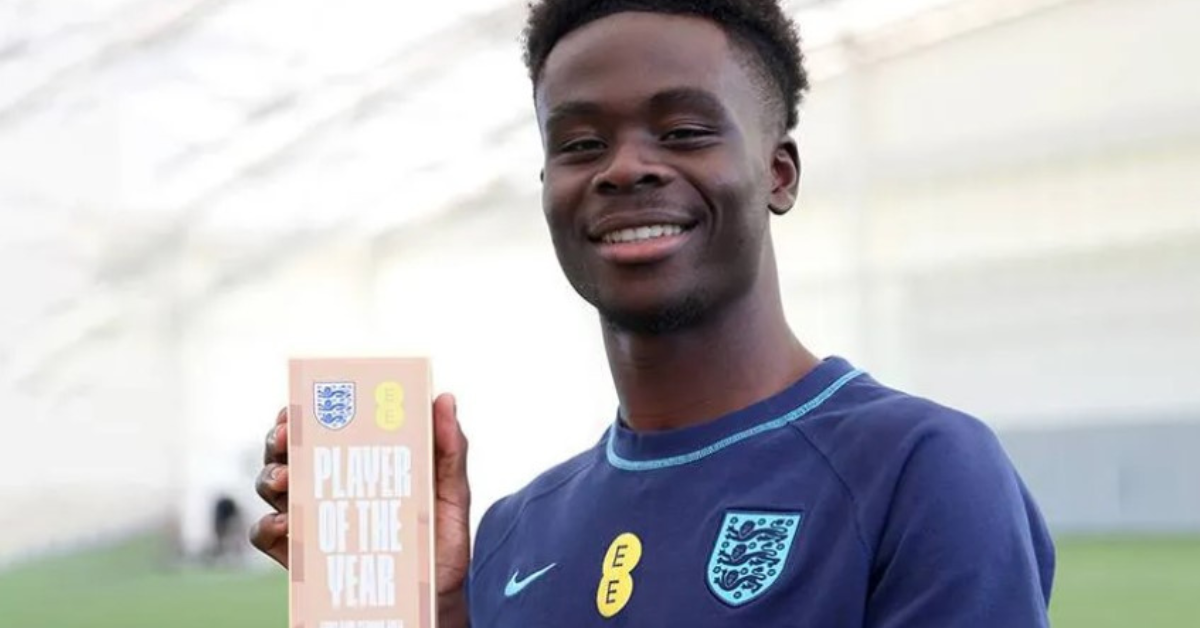 Bukayo Saka's remarkable journey:
Bukayo Saka's meteoric rise to stardom has reached new heights as he secures the title of England's Player of the Year connected by EE for the second consecutive year. This remarkable feat is a testament to his unwavering commitment, incredible talent, and sheer determination on the football pitch.
Throughout the 2022/23 campaign, Saka delivered electrifying performances while donning the Three Lions jersey. The accolade, determined by the votes of the public, reflects the widespread recognition of his contributions to the national team. Saka's impact was undeniable, with standout moments that left an indelible mark on English football.
One of the highlights of Saka's journey was his debut appearance in the FIFA World Cup last December. In a competition of the highest caliber, he demonstrated his prowess by netting three goals in just four games. Notably, he was awarded the Player of the Match for his exceptional display against Iran, a testament to his ability to shine on the world stage.
However, Saka's achievements extended beyond individual accolades. In June, he achieved a significant milestone in his career by bagging his first-ever career hat-trick during a match against North Macedonia. This remarkable performance showcased his versatility, skill, and ability to make a significant impact on the field.
The timing of the award presentation was particularly special, coinciding with Saka's 22nd birthday. As he celebrated this milestone, he was at St. George's Park, preparing with the national team for an important Euro 2024 qualifier against Ukraine. This recognition further solidified his unique status as the sole Arsenal player to have received this prestigious honor in the 19-year history of the award.
Saka's incredible week didn't end with the England Player of the Year title. He had previously been crowned the PFA Young Player of the Year, highlighting his exceptional talent and potential to become one of the game's future stars. These accolades underscore not only his individual achievements but also his significant contributions to the sport and his team.
As the football world celebrates Saka's remarkable achievements, there is also eager anticipation for the forthcoming announcement of the 2022-23 England Women's Player of the Year connected by EE. Last year, this prestigious award was claimed by Beth Mead, who dazzled fans with her outstanding performances during the 2022 European Championships.
Bukayo Saka's journey is a source of inspiration for aspiring young players and a testament to the power of dedication, hard work, and a love for the game. His back-to-back recognition as England's Player of the Year reflects not only his current excellence but also the promise of a bright future in the world of football. As he continues to make waves in the sport, fans can look forward to witnessing more incredible moments from this young footballing sensation.
For more related updates visit our official website .
By- Sahiba Suri