Roger Federer Reveals Why He Doesn't Wear Sleeve-less and Capri Pants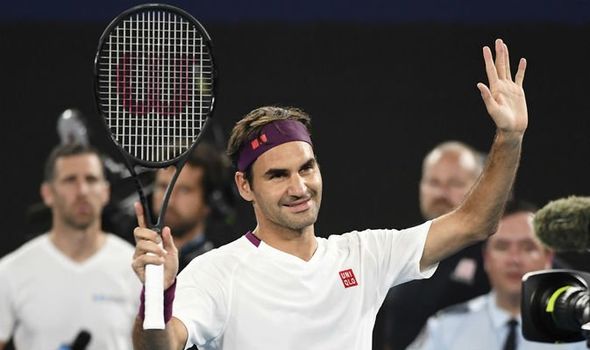 Along with his tennis, the Swiss maestro's outfit in every single tournament is adored by all his fans. Be it his whites from Wimbledon, his sparkling red t-shirt from French Open 2011 or white and black striped attire from Aussie Open 2017, everything wore by Roger Federer is simply admired by the tennis world.
But surprisingly, Federer was never seen wearing sleeve-less or capri pants alike his arch-rival Rafael Nadal. Rafa has worn those numerous times in his career. Also, during the 2018 Australian Open, Nadal was wearing his iconic cut-sleeves.
En route to his 20th Slam victory in Australia, Jim Courier asked Roger Federer: "Your great rival Rafa has come out in sleeve-less once again. When are you going sleeveless like Rafa?"
The Swiss had a pretty logical answer to it and stated that it won't happen ever because he does not possess those muscular arms like Nadal. "That's not gonna happen. You know why? My arms are not like his arms. It's pretty simple. I do love his look, though, this is the Rafa I knew when he was growing up," Federer said laughingly.
"It was a great look for him" – Roger Federer on Rafael Nadal's capri pants
Also, Nadal's three-quarter-length trousers along with his tank tops and long hair were the highlights of the men's game once upon a time. But unfortunately, the capri pants have disappeared from the game of tennis.
Federer revealed an interesting bit from the past when Nike had a notion to sponsor him those capri pants. "I remember Nike gave me those Capri pants to try before he actually wore them. And I remember I put them on at my home tournament in Basel. I came out and all the players were like "what are these things." And I was just like, 'I'm just testing them, I'm never playing in them,'" Federer revealed.
"That was when I was like, "I can't make this work for me", and then I think [Carlos] Moya rocked them and then Rafa after, it was a great look for him with the long hair. I would also love him to rock the Capri pants again. But he says not any more so unfortunately not," he added.
At Australian Open 2018, Roger Federer defeated Marin Cilic in the finals and lifted his 20th Slam. And Rafael Nadal withdrew from the quarterfinals amid an injury.
Source: Essentiallysports