Wiesberger ready to defend in Italy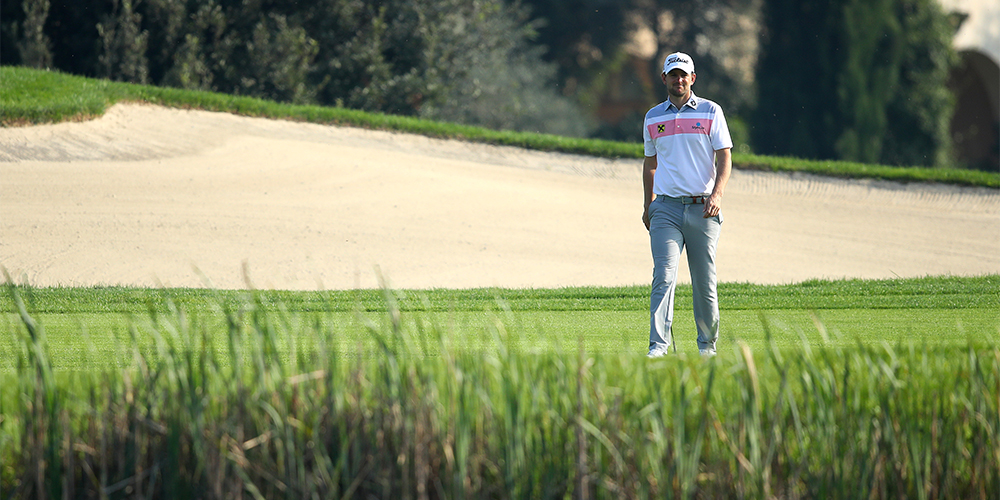 Bernd Wiesberger will not be making any changes to his regular tournament routine as he prepares to defend his Italian Open title at a new venue for the 77th edition of the prestigious tournament.
The Austrian held off Matt Fitzpatrick by a shot at Olgiata Golf Club in Rome last year, with the 2020 edition taking place at Chervó Golf Club in Brescia.
The World Number 35 has not missed a cut since golf resumed following the coronavirus lockdown but is looking to put himself in contention more regularly, having only recorded one top ten finish at the ISPS HANDA UK Championship.
Former World Number One Lee Westwood joins Wiesberger in the field, the Englishman entering the week on the back of six consecutive top 20 finishes as he looks for his 26th European Tour victory.
Having started the season with his second Rolex Series victory at the Abu Dhabi HSBC Championship presented by EGA, the 47-year-old has not missed a cut since the season restarted in July, and he is hoping that a continuation of that form can put him in contention to top the Race to Dubai Rankings Presented by Rolex.
Meanwhile, two-time Major winner Martin Kaymer feels he is very close to returning to winning ways having narrowly missed out on victories at The Belfry and Valderrama, before notching another top-ten finish at Wentworth in the BMW PGA Championship.
Italian Renato Paratore headlines the home favourites following his dominant victory in July at the Betfred British Masters hosted by Lee Westwood. The 23-year-old claimed his second European Tour title at Close House with a three shot victory over Denmark's Rasmus Højgaard and although he will miss the home support this week, he is excited to play his national open in the Lombardy region.
Player Quotes
Bernd Wiesberger: "It's a different golf course this year, a bit closer to home. I was able to take my own car and drive down in my own time. Lovely area here, near Lake Garda. Unfortunately, we won't be able to see much, but it's a lovely area. I definitely enjoy coming back to the Italian Open.
"It's not something that you do every week (defending a title). I've not won that many times that it's become a standard procedure, but it's definitely enjoyable to come back to a tournament where you are defending the title, especially with it being a big event in the schedule. It's special to defend a title, but it doesn't put any extra pressure on me.
"I took a couple of days off after Scotland and Wentworth. It's not really been going my way lately, not playing great either, not finding any momentum. There have been very positive things in all aspects of the game and some slips in all aspects as well, where I just want to find some momentum to it, some good vibes to it, getting a couple of low rounds in a row.
Lee Westwood: "I like the course. It's long, there's not a lot of run out there at the moment. It's 7,400 yards, there's a little bit of water in play on some holes as well, so there's some challenging shots and some tricky holes.
"I haven't really made any goals, just to keep playing well really and maybe have a chance in the last event of the year to win the Race to Dubai. Obviously I did win at the start of the year in Abu Dhabi and it would be nice to win another tournament before the end of the year, before the year's out."
Martin Kaymer: "There are a few events that I would like to win in my career. Italy, I have been close a couple of times. It's a country that I really like to come to. The people, I like to spend time with then, eat their food. It's a place that I would like to win one day in my career, absolutely.
"I'm very close (to a win) right now but in order to win you always need that little bit extra compared to the other competitors. Even at Wentworth I was playing good. Played three rounds of very solid golf – the first round was not so good – so I could creep into the top ten. That was still a positive looking back on the week.
"This is a new week now, new golf course, slightly different field that we played in Scotland and in England. I feel good about the game, it's just a matter of putting everything together and hopefully that will be one shot better than the second."
Renato Paratore: "It's really nice to be home in Italy and enjoying good weather. It's October but it's still really good weather and I like to play in the sun, and I like the course – it's a good test of golf – so I'm enjoying it.
"I think there will be some low scores this week, because if you hit the ball well you can have good chances. But over four days, the greens are tight so it could be tough scoring. I think about 17 under could be the winner.
"Of course, you play to the crowd when you are here so I would like to have them here but for the moment we just have to accept it and see when they come back."