Webinar on Modern Learning, QFA, ASEAN Football Federation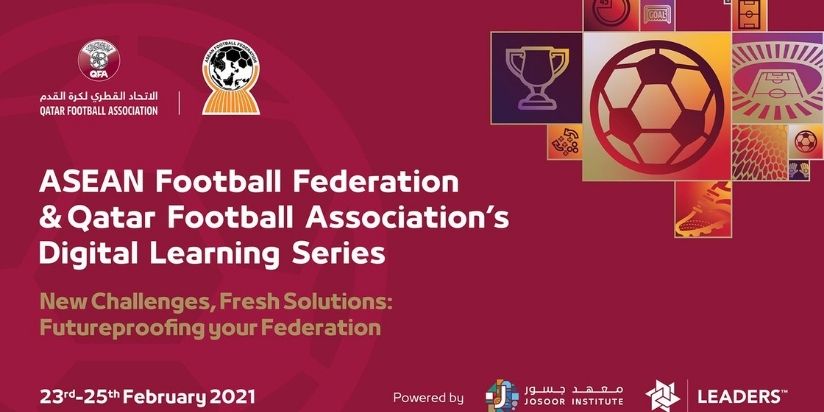 Qatar Football Association and ASEAN Football Federation will hold a second workshop as part of the Multimedia Learning series, beginning today until Thursday, to increase awareness of and tackle bribery, match-fixing, and illicit betting practices that undermine football credibility.

The series occurs within the scope of the deepening of collaboration and activation of the Memorandum between football federations, as well as representing the immediate need to exchange information on recent developments in this region.

With the cooperation of all 12 AFF Member Organisations, this is the second successive webinar to be organized by the QFA. Like the first, it is part of a new series on digital education established in 2019 in collaboration with the AFF. In 2021, additional collaborative ventures, including a number of conferences and webinars, are scheduled to take place under the scope of this agreement.
A selection of lessons to be offered by a panel of globally recognized specialists in this area is included in the webinar scheme. The significance of recognizing the global effects of match-fixing will be concentrated in these lectures. In addition, it will encourage reporting capabilities, increase awareness of the threats posed by sports betting to international football, and suggest solutions such as increased sharing of intelligence and well-defined shared priorities.
The safety and protection of sporting activities will be addressed on the second day of the webinar, during which attendees will review lessons from the English Premier League-providing perspectives that help to manage policies and create trusting partnerships in leading institutions. In addition, the means of contact will be addressed and effective teamwork will be allowed between all partners, including clubs and supporters' groups, not least in the field of ensuring secure access routes for persons with special needs.
On its third day, the webinar will shed more light on Qatar's experience in coordinating the COVID-19 Pandemic International Football Tournaments and on the precautionary steps it has taken to ensure the progress of a variety of football activities amid the pandemic.
Along with delegates from Australia, Brunei Darussalam, Cambodia, Indonesia, Laos, the Philippines, Malaysia, Myanmar, Singapore, Thailand, Timor Leste, and Vietnam, the webinar will bring in senior members of each organization.