The #IAMEVO Camps are back!!!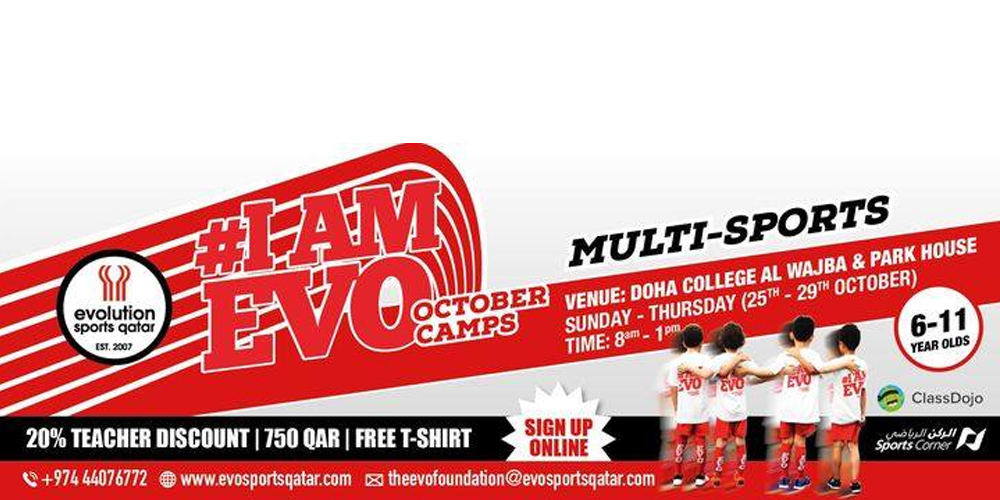 In line with the Qatar government guidelines, Evolution Sports is continually ensuring our members a safe return to physical activities with a range of fun sports and activities delivered by our specialist qualified coaches.
Kicking-off at Doha College (Al Wajba) and Park House English School (Abu Hamour) on Sunday 25th October, the highly successful #IAMEVO holiday camps are back.
The camps are designed for young learners aged between 6 to 13 years old. The week will include a mixture of exciting games and sports where all participants are guaranteed to have fun, meet new friends, and develop new skills in a safe and fun environment. There will be fun themes and a combination of sporting and educational activities that will ensure every child is fully engaged.
This half-term we are delighted to offer our #IAMEVO Multi-Sports Camps and a Fencing and Archery Camps, powered by Clement Sports. These camps are designed to challenge young learners to progressively develop their sporting skills and improve confidence through a considered approach to coaching that put's each individual child's needs at the centre of everything delivered.
Parents have a choice of venue, with the camps being held at Doha College (Al Wajba) and Park House English School (Abu Hamour). All the #IAMEVO camps are open to boys and girls aged 6-11 years old and run from 8am-1pm Sunday – Thursday.
We have made all the necessary provisions to ensure the safety of all our young learners and staff. Rest assured, that we will continue to deliver our high-quality programmes that have made Evolution Sports Qatar, the leading sports coaching provider in the region.
Throughout all programmes during this period the Evo coaching team will adhere to a number of safety procedures to ensure, group sizes are limited, social distancing is observed, equipment and facilities are sanitised, masks are worn by staff to provide our members with safest sporting environment possible.
Please see below the schedule and options of our camps this October Half Term (Sunday 25th – Thursday 29th October 2020):
#IAMEVO Multi-sports Camps
• 8 am – 1 pm
• 6 – 11 years old
• 750 QAR per week 
• Doha College (Al Wajba) & Park House English School (Abu Hamour)
#IAMEVO Fencing and Archery Camp (Powered by Clement Sports)
• 8 am – 1 pm
• 7 – 13 Years old
• 750 QAR per week 
• Doha College (Al Wajba) 
All camps have limited spaces and registrations are now open, to avoid disappointment and ensure that your child gets to take part in the most exciting summer camps in town, sign up today via our new look website www.evosportsqatar.com
If you would like to know more about either of our holiday camps, please contact our friendly Customer Support team– info@evosportsqatar.com or call 4407 6772.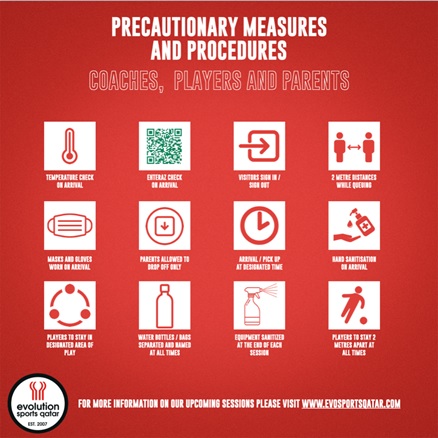 Editor's Notes
Evolution Sports is Qatar's largest and most establish sports coaching provider for children and young adults aged 18 months -18 years.
Formed in 2007 Evolution Sports quickly established itself as a market leader in the provision of sports for children and young adults in Qatar. Already recognised as one of the leading academies in the Middle East, Evo has worked alongside the Supreme Committee for Delivery and Legacy, the Qatar Football Association, the Qatar Stars League and Aspire to provide a world class coaching environment where good values and sportsmanship are held in equally high regard as winning and losing.
With over 3000 active members across 6 different disciplines at Evolution Sports we believe that a child's health is paramount to their success…
Evolution Sports were recently awarded by GHP Fitness and Nutrition "Best Multi-Sport youth coaching company – Qatar 2019"
PRESS ONLY:
For more information please contact:
Toyan Greaves
Direct Line +974 66126106 or Reception: +974 4407 6772