Superstar quarterback Dak Prescott eyes Super Bowl parade after signing mega deal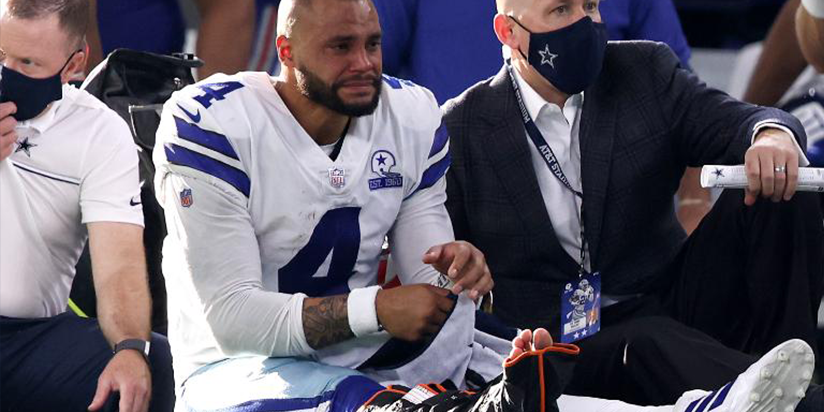 Dallas Cowboys quarterback Dak Prescott has his eyes set on a Super Bowl victory after signing a new mega deal with the franchise.
The 27-year-old, who suffered a compound ankle fracture and dislocation which forced him to miss much of last season, says he wants to forget the past and guide his team to new levels.
"That's my plan, to get a parade in Dallas," he said in a press conference on Wednesday as the deal was officially confirmed.
"As a competitor, you watch people celebrate, you watch people do what you want to do, and there's not too many more things that light a fire under you than somebody having what you want."
"You throw on there that I was holding my leg and didn't have a chance to be out there while guys were doing what was taken away from me.
"I'm just excited to get out there and show you what this team is going to do. The next big press conference we have is hopefully in another year after that big parade. So there you go."
Prescott, who was initially drafted by the Cowboys in 2016, has signed a reported four-year deal worth at least $160 million to stay in Dallas after nearly two years of on-and-off negotiations.
He says he never thought about playing for another franchise and is now fully focused on bringing the Lombardi Trophy to Dallas for the first time since 1996.
However, he'll first have to turnaround the team's current form which nosedived after his gruesome injury back in October 2020 — the Cowboys have now failed to make the playoffs for two consecutive seasons.
While Prescott still has some recovering to do, he said he'd work tirelessly to be fit and ready for when the offseason officially begins in April.
"I'll control what I can control. I'll follow the doctor's orders the whole time," he says. "Put my own work ethic into it. I'm healthy, I'm getting close. I'll be ready when it matters."
Source: CNN