Simonsen extends advantage in Spain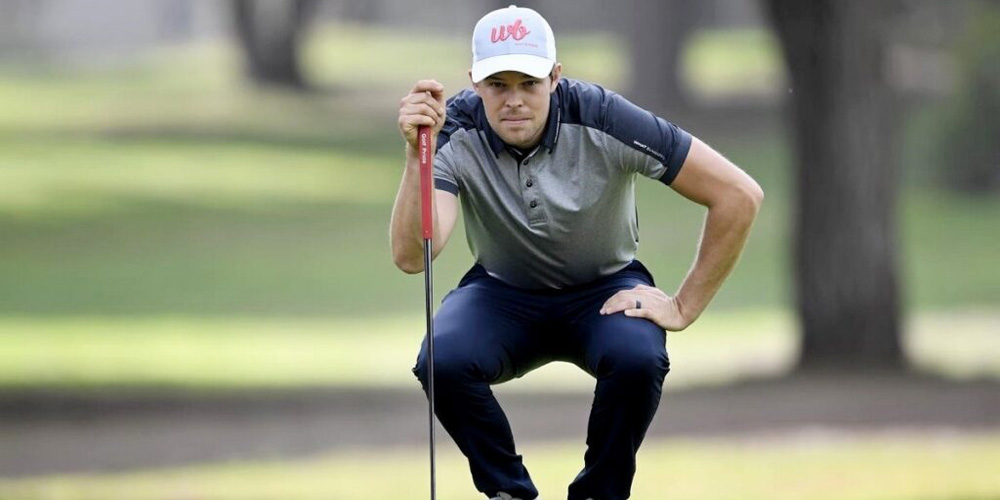 Round two report
Martin Simonsen holds a four-stroke lead at the halfway stage of the Andalucía Challenge de España after holing out from the bunker for birdie on the final hole to post a three under par second round of 69.
The Dane leads at Iberostar Real Club de Golf Novo Sancti Petri on nine under par, four strokes ahead of Sweden's Christofer Blomstrand in second place on five under par, while Czech Republic's Stanislav Matus and Scotland's Euan Walker are a stroke further back in tied third on four under par.
Simonsen was unable to roll in as many putts as he did during his opening 66, but an excellent short-sided hole-out from the bunker on the final hole saw him sign off with a birdie and extend his healthy lead going into the weekend.
"I didn't expect to make it from the bunker but obviously it's nice to do so," he said. "It was easier than putting for me, so I guess I'll do that again.
"Yesterday I putted well and today I still felt like I hit a lot of good putts, I just didn't read them well. There were some lip-outs and a little bit more than that sometimes too."
Scoring has not been as low as many expected thus far, however Simonsen believes there is a low round out there and knows he must remain vigilant if he is to keep the chasing pack at bay.
"I just have to go play and see where we end up," he said. "I think somebody can shoot seven or eight under out there, so hopefully it's me but if not then I'll have to see if I can hold in there.
"I'm a little surprised there haven't been lower scores because if you drive it well then you have a lot of wedges. If you're able to leave it on the right side of the pin then you're going to have a lot of opportunities.
"I don't know if it's because the greens are difficult to read or the finishing stretch, because 16, 17, 18, you can go double-double-double, so maybe that's why."
England's Richard Mansell posted a five under par round of 67 – the low round of the day – to move into a share of fifth place on three under par alongside five other players including Swedish duo Henric Sturehed and Oscar Lengden, Spanish pair Emilio Cuartero Blanco and Daniel Berna Manzanares, and Oliver Lindell, from Finland.
A total of 66 players survived the cut of four over par or better, including Spanish amateur and 2018 Junior Ryder Cup player Eduard Rousaud.
The third round of the Andalucía Challenge de España will begin at 8.20am local time on Saturday November 7, with Simonsen, Blomstrand and Matus playing in the final group at 12.00pm.
Scores after round two:
135 M SIMONSEN (DEN) 66 69,
139 C BLOMSTRAND (SWE) 70 69,
140 E WALKER (SCO) 69 71, S MATUS (CZE) 71 69,
141 O LINDELL (FIN) 68 73, D BERNA MANZANARES (ESP) 70 71, O LENGDEN
(SWE) 70 71, H STUREHED (SWE) 72 69, E CUARTERO BLANCO (ESP) 72 69, R MANSELL (ENG) 74 67,
142 C MIVIS (BEL) 69 73, S TILEY (ENG) 69 73, J KASKE (FIN) 70 72, P ORIOL (ESP) 71 71, J AXELSEN (DEN) 72 70, B RUSCH (SUI) 72 70, M BALDWIN (ENG) 73 69, R DE SOUSA (SUI) 74 68,
143 A HORTAL (ESP) 70 73, J BRUN (FRA) 70 73, S FERNANDEZ (ESP) 71 72, R KAKKO (FIN) 72 71, S GREGORY (ENG) 73 70,
144 M FORD (ENG) 72 72, M GALIANO AGUILAR (ESP) 72 72, J ANGLES ROS
(ESP) 73 71, O LIESER (CZE) 74 70, J THOMSON (ENG) 75 69,
145 K KOUWENAAR (NED) 73 72, J PASTOR (ESP) 73 72, J GARCIA DEL MORAL
(ESP) 74 71, J DANTORP (SWE) 74 71, S MANLEY (WAL) 75 70, N KIMSEY
(ENG) 76 69, L NEMECZ (AUT) 76 69,
146 P ERIKSSON (SWE) 72 74, V LOPES (POR) 72 74, R GOUVEIA (POR) 72 74, K KOIVU (FIN) 73 73, H LONG (GER) 73 73, M PASTOR (ESP) 75 71, N VON DELLINGSHAUSEN (GER) 76 70, K JOHANNESSEN (NOR) 76 70, C HOWIE
(SCO) 78 68,
147 M HOEY (NIR) 67 80, D GAVINS (ENG) 72 75, N KEARNEY (IRL) 72 75, D BORDA (ESP) 73 74, A KNAPPE (GER) 73 74, T KOIVISTO (USA) 73 74, I CANTERO GUTIERREZ (ESP) 73 74, A ARIZABALETA (COL) 75 72, S TARRIO
(ESP) 75 72, S DEL VAL (ESP) 75 72, T GANDY (IMN) 75 72,
148 A DEL REY (ESP) 69 79, B HELLGREN (SWE) 71 77, H ELLIS (ENG) 74 74, M ELVIRA (ESP) 75 73, A PLANT (ENG) 75 73, A HIDALGO (ESP) 75 73, T CLEMENTS (ENG) 76 72, E ROUSAUD (AM) (ESP) 76 72, A GARCIA-HEREDIA
(ESP) 76 72, M SIEM (GER) 77 71, M SCHNEIDER (GER) 78 70,
149 A WILSON (ENG) 72 77, M LAMPERT (GER) 73 76, G KRISTJANSSON (ISL)
76 73, E DI NITTO (ITA) 76 73, R PETERSSON (SWE) 77 72,
150 M QUIROS (ESP) 75 75, F MACCARIO (ITA) 75 75, J SANDBORG (SWE) 75 75, J SAINZ (ESP) 77 73, B NEIL (SCO) 79 71,
151 H DANA (GER) 73 78, J WRISDALE (ENG) 75 76, D FOOS (GER) 76 75, J ADARRAGA GOMEZ (ESP) 77 74, R VAN WEST (NED) 79 72, B VIRTO (ESP) 80 71,
152 G STAL (FRA) 76 76, M OVESEN (DEN) 77 75, A ZEMMER (ITA) 78 74,
153 G MOYNIHAN (IRL) 74 79, A KARLSSON (SWE) 76 77, C SAHLSTROM (SWE)
77 76, M FENASSE (FRA) 78 75,
154 V PASTOR (ESP) 75 79,
156 A JOHN (GER) 77 79, D YOUNG (SCO) 81 75, M WIEGELE (AUT) 81 75,
158 L VACARISAS (ESP) 80 78,
160 M BELTRAN (ESP) 82 78, 164 G GANCEDO (ESP) 81 83,