Shinkwin still riding high ahead of Cyprus Showdown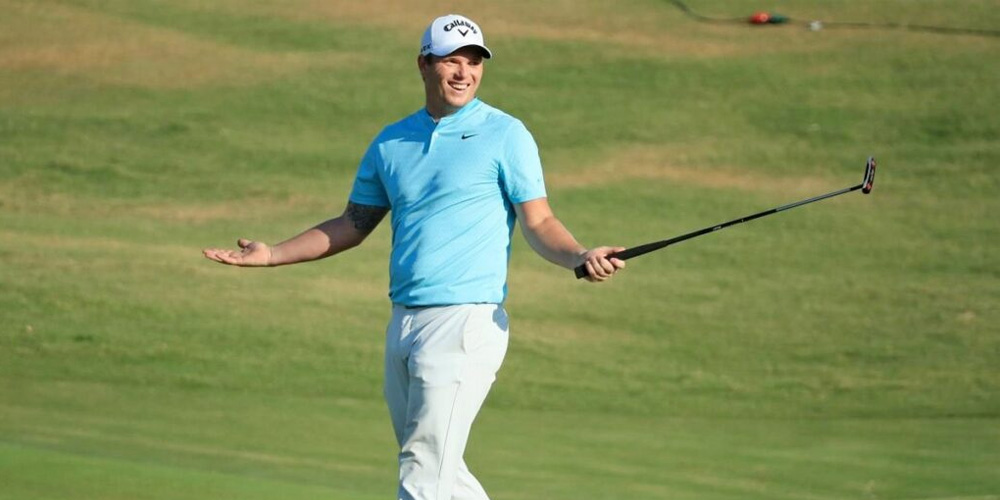 Tournament Preview
Last week's Aphrodite Hills Cyprus Open winner Callum Shinkwin is still riding the wave after his maiden European Tour victory, as he prepares to tee it up at the very same venue upon which he triumphed for this week's Aphrodite Hills Cyprus Showdown.
It is the second event to be held at the same golf course on the Mediterranean Island, with the Englishman sealing last week's title courtesy of a play-off victory over Finland's Kalle Samooja. Shinkwin had fired a course-record 63, eight under par, in the final round to force extra holes, and low scoring will be the key this week in a first-of-its-kind format on the European Tour.
The field of 105 players will be cut to 32 and ties after the second round, with all scores reset for Saturday's play. The top 16 and ties after the third round will progress to Sunday's final round, with scores reset for a second time and the player carding the lowest score will be crowned winner of the inaugural Cyprus Showdown.
Returning to action this week is Shinkwin's compatriot Ross McGowan, making his first start after winning the Italian Open a fortnight ago.
It was his first victory on the European Tour in 11 years after his
2009 Madrid Masters success.
Scotland's Robert MacIntyre will hope to carry over his form from last week's Cyprus Open. The 2019 Sir Henry Cotton Rookie of the Year improved by a stroke each day over the par 71 Cabell Robinson layout, carding rounds of 68-67-66-65 to finish in a share of third place, his best result so far on the 2020 Race to Dubai.
Player Quotes
Callum Shinkwin: "It took me a couple of days to go through all my messages. You're getting phone calls left, right and centre, non-stop.
It was great to see so many people messaging and supporting me.
"It would have been better if I had holed a putt to win – more of an adrenaline rush. With Kalle missing his putt, it's not nice to win that way – but also winning is winning, at the end of the day.
"I've done some research on the rules for this week. Two rounds to get through and then we start again, get through, and then an 18-hole shootout.
"That inspires birdies, lots of birdies. I've enjoyed myself here and don't have to worry about performing really well again. Everyone loves performing well every week but I think after your first time win it's hard to perform again. I'm not expecting too much. I'll just ride the wave."
Robert MacIntyre: "I played great last week. Obviously disappointed not to get across the line. A bit of bad luck here and there, that almost stopped us from really challenging. It's the right movement in the right direction for me.
"I had a brand new set of irons in the bag this week. I changed them just before coming out. Trusting your numbers. At Wentworth I was hitting some shots that were meant to land next to pins but were nowhere near. Last week I was hitting shots that I was expecting to land next to pins, and that's what I was doing. A new set of irons in the bag and trusting the distances.
"I've actually gone back to what I had previously. I had a new set of irons in which weren't quite right – the weight had changed. This week they are back to the exact same weight as they were last year. It's just about trust and believing in it."
Ross McGowan: "It feels good. I'm not sure it's completely sunk it yet. It's nice to be back out and trying to get the mind in the right frame of mind to give it a go again this week.
"The last few years have been a tough grind – working hard, trying to improve the swing, trying to change a lot of things, reduce injuries.
In Italy I didn't hit it my best but the short game came through.
"It was definitely my putting. That was really good. I did a lot of work at the beginning of the week on my speed and getting the ball started on the right line – that paid off. Last year when I won (on the Challenge Tour) it was my long game – that was really solid. I made a few putts, as you've got to these days to win any tournament.
Hopefully this week I'll hit it a bit better."