Sensational thriller for Al Sadd to win against Al Arabi, inch closer to the title: QSL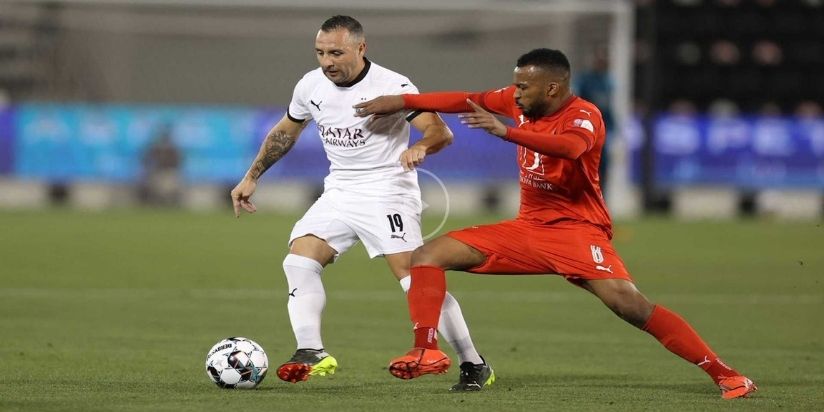 Last night, when they battled twice to steal a tense 3-2 win over Al Arabi, Al Sadd remained true to the word, thanks to fast goals by Baghdad Bounedjah and Santiago Cazorla late in the game.
Leading the match 2-1, Al Arabi were sensing an upset victory over Al Sadd – still unbeaten in the season – but Bounedjah's 90th-minute header and Cazorla's stunning shot in the second minute of stoppage time shocked The Dream Team as The Wolves moved to just one win away from sealing the prestigious QNB Stars League (QSL) title.
Al Sadd maintained their 13-point advantage over second-placed Al Duhail, who beat Al Gharafa 2-1 earlier in the day, with five more rounds to go.
The Qatar Derby in their backyard yesterday was probably the hardest challenge for Xavi Hernandez-coached Al Sadd this season, who entered the match with 63 goals from 16 outings under their belt.
Played without the guidance of coach Heimir Hallgrimsson, who last week screened positive for coronavirus, Al Arabi matched their energetic Amir Cup finale in which they terrified the Wolves before going down fighting last 2-1 December.
In the 10th minute, seasoned striker Sebastian Soria scored for Al Arabi, which in the 63rd minute was canceled by his former Al Rayyan team-mate, Rodrigo Tabata. In the 77th minute, Youssef Msakni reclaimed the lead before Bounedjah and Cazorla's heroics sealed Al Sadd's 15th victory of the season.
The Wolves began in their usual aggressive form, without star striker Akram Afif due to a two-match suspension, but in the first half, they were far from their peak. In their attacks, the Dream Team, on the other hand, appeared poised.
After having obtained a cross from Mehrdad Keshrazi, Soria crushed a brilliant header. The Uruguayan went low to tie the ball from near range, leaving little chance to avoid the move to goalie Meshaal Aissa Barsham. It was the first goal of the season for Soria.
Al Sadd made multiple attacks for an equalizer, securing the first with 64 percent of ball control, but failed to even the match before half-time. They made nearly seven tries, but in the first quarter, they had around two shots on goal.
Coach Xavi's yellow card for asserting with referee Abdulrahman Ibrahim Al Jassim was an addition to their disappointment.
Xavi, meanwhile, sent quick players in the second half to Abdelkarim Hassan and Boualem Khoukhi to replace Tarek Salman and Ahmed Suhail respectively. Msakni was shown a yellow card for a reckless challenge against Cazorla, four minutes before the hour mark, as Al Sadd looked for the equalizer.
Soon, with Al Arabi goalkeeper Mahmoud Abunada making a diving save, Captain Hasan Al Haydos fired a shot from space. With 13 minutes left, Msakni launched a spectacular shot from outside the box with the ball landing in the right corner as Al Arabi secured the lead. Moments later, Bounedjah missed a long dive was made by Barsham, but he was still far from the ball.
Soon Al Sadd offered a chance, but before making another excellent saving from Bounedjah's header, keeper Abunada blocked a shot by Tae-hee.
In a reverse strike, Al Arabi should have doubled the lead, but the attempt by Mohamed Salah Elneel missed the goal three minutes before time.
It was as the drama erupted in the space of three minutes that Al Sadd fought back with two goals.
By leaving Bounedjah unchecked, Al Arabi made a major mistake as the Algerian played the ball easily after a free hit from Cazorla for his 19th goal of the season.
Then, from an angled shot, the Spaniard scored the winning goal, leaving Al Arabi shocked.
Mohammed Muntari (19 minutes) and Eduardo Pereira Rodrigues-Dudu's (44 minutes) goals enabled defending champions Al Duhail to defeat Al Gharafa earlier at the Qatar SC Stadium. Scored by Jonathan Kodjia (24 minutes) for Al Gharafa.
With 34 points-7 points ahead of third-placed Qatar SC, who will face against Al Wakrah in their Week 17 match today, the Red Knights secured their second position.