Saeed guides Andreas SPB Z to Major Tour triumph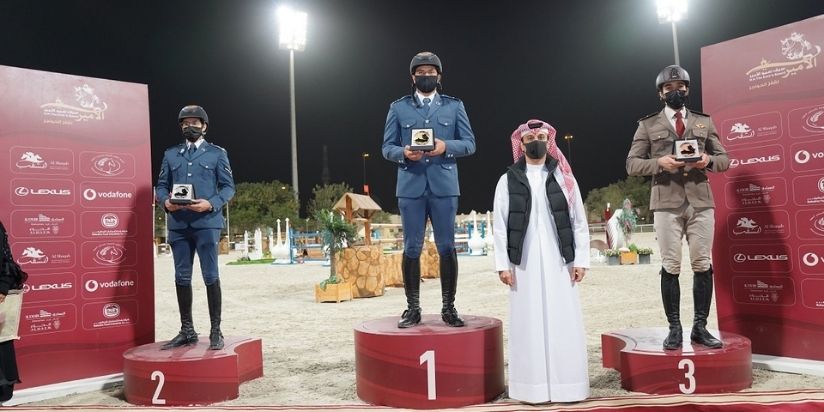 Doha: Yesterday, veteran Qatari rider Saeed Nasser Al Qadi led Andreas SPB Z to win in the Major Tour class as he warmed-up in style for the feature event of the Amir Sword Equestrian Festival.
Saeed and his 12-year-old stallion Andreas SPB Z were in brilliant form at the outdoor arena of the Qatar Equestrian Federation as the pair secured the victory in the 145cm division with a time of 84.79 seconds after admitting one mistake.
During the three-day Amir Sword Equestrian Competition, a total of QR500,000 is on offer as prize money for the winners, while today's winner of the feature class will receive a brand new car along with the coveted Amir Sword.
In second place in the main event yesterday was Hamad Nasser Al Qadi astride Electra B. In 86.17 seconds, the pair came home. In 88.66 seconds, Salman Mohamed al-Emadi followed with Cantaro 32 in third position.
The Medium Tour title was won in sensational fashion by Hussain Saeed Haidan on the 12-year-old Viahipi d'Auzay gelding. The pair defeated Cyrine Cherif and Brennus Villelongue, her 11-year-old stallion, by one-tenth of a second.
In 68.33 seconds, Haidan and Viahipi d'Auzay completed their round, while Cherif and Brennus Villelongue came home in 68.43 seconds. Astride Quintendro, Kamil Sabitov placed third in 72.61 seconds.
Earlier, Abdulaziz Ghanim Al Nuaimi claimed the Ferrari PH Small Tour class in 53.92 seconds. Mohamed Jamal al-Derbesti (Numero Uno T, 59.02) finished second and seventh, overall, and Abdulrahman Eisa Al Bukhari (Irschi, 63.23).
Meanwhile, yesterday, Badr Al Darwish, Member of the Qatar Equestrian Federation Board of Directors and Acting CEO of the Qatar Racing and Equestrian Club (QREC) shared his satisfaction with the progress of the first two days of competition. Al Darwish also praised all the committees participating with this outstanding championship organization and said the most influential event for the QREC and QEF is the Amir Sword festival.