#RESTART – International Table Tennis is BACK!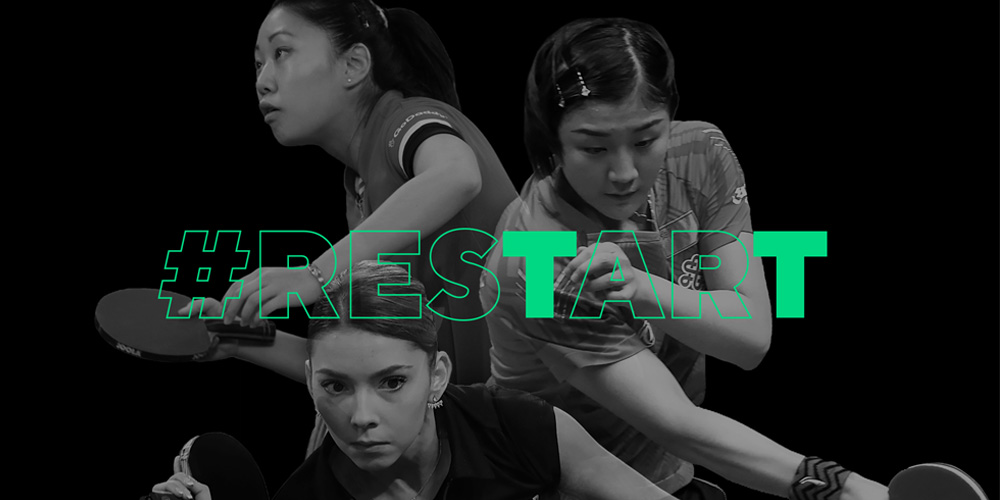 After eight months without international table tennis events, the time has finally come to #RESTART! This is the moment that the players, fans and entire table tennis community are reunited with the sport they love.

On Sunday 8 November 2020, table tennis will become one of the first sports to hold international activity since the COVID-19 pandemic broke out.

The #RESART series will see a long list of world-class players returning to the global stage at three prestigious events taking place over the next two weeks in China:

Dishang 2020 ITTF Women's World Cup: 8 – 10 November 2020 in Weihai

Dishang 2020 ITTF Men's World Cup: 13 – 15 November 2020 in Weihai

Bank of Communications 2020 ITTF Finals: 19 – 22 November 2020 in Zhengzhou

Supported by the Chinese Table Tennis Association (CTTA), the ITTF decided on a "bubble" approach to ensure a smooth transition from national to international activity for players, and to best protect the health and safety of everyone involved.

"This is a landmark moment for table tennis. After many months without international events for our athletes, fans and entire community, this is the moment that we return to the global stage. The majority of other sports have not managed to do this yet and these events have required considerable work and sacrifices. A big thank you to everyone who has helped to make this happen." – Liu Guoliang, CTTA President

"It has not been an easy road to get to this point and putting these major events in one bubble has required an enormous team effort. Therefore, I say a big thank you to everyone at the ITTF who has worked tirelessly behind the scenes. A huge thanks goes to CTTA, led by President Liu Guoliang, and also the Local Organising Committee who have provided exceptional support in extremely complicated circumstances. Furthermore, thanks to the players who have sacrificed a lot to be here with us. We wish you all the very best at the upcoming events." – Steve Dainton, ITTF CEO


Starting this Sunday: Dishang 2020 ITTF Women's World Cup

On Sunday 8 November 2020 at 11:00 (local time), the very first ball will be hit at the #RESTART series when the Dishang 2020 ITTF Women's World Cup gets under way.

The event will see 21 of the world's best women's players battle it out for top honours between 8 – 10 November at the Weihai Nanhai Olympic Center.

Chen Meng, the world's highest-ranked women's player, is setting her sights on the trophy that she has yet to win in her stellar career to date. Weihai represents familiar territory for the Chinese superstar who hails from Qingdao, Shandong province.

"I have trained here before and played the Chinese National Championships recently in Weihai too, so it's good to be back. In the last few days, I have met many other players again and even just seeing them in person has been exciting. I am getting myself into tournament mode now and I will be going all out to win the Women's World Cup title." – Chen Meng

Chen's greatest competition for the top prize comes in the form of Japan's Mima Ito (WR 2) and fellow Chinese, Sun Yingsha (WR 3). Among the players to have qualified via the continental cups, there are Dina Meshref (Egypt), who holds the record of eight Africa Cup titles; Petrissa Solja (Germany), winner of back-to-back Europe Cup titles; Adriana Diaz (Puerto Rico), winner of back-to-back Pan America Cup titles; and Lily Zhang (USA), the 2019 ITTF Breakthrough Star and one of the standout players at last year's Women's World Cup in which she reached the semi-finals.

Conducted on Saturday 7 November, the group-stage draw saw 13 players, seeded 9th through to 21st, find out their opponents for the first day of action.


In each group, the top two players will qualify for the round of 16, where they will meet the top eight seeds on Monday 9 November. An intense two-day main draw concludes on Tuesday 10 November.

Entering as a wild card, Bernadette Szocs (Romania) expressed her excitement about returning to the international stage:

"After a long wait, it is an honour to be competing again at this #RESTART series with so many world-class players on show. In the last two years, I have managed to reach the main draw of the Women's World Cup and my aim is to improve on these results in Weihai." – Bernadette Szocs