Qatar Men's Team Win Third Place in West Asia Rugby 7s Trophy 2021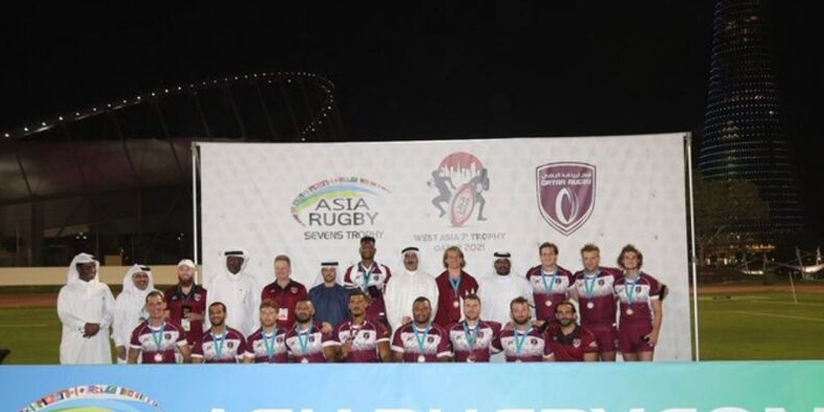 Qatar men's team won the third place in the West Asia Rugby 7s Trophy 2021 which concluded Saturday at Aspire.
Al-Adaam achieved the third place in the tournament after defeating its Lebanese counterpart (36-10) in the ranking match on the third and fourth places.
The UAE team won the title of the tournament after defeating its Iranian counterpart (31-14) in the final.
In the women's competitions, Qatar team won the second place after loosing to the UAE in the final. Iran's team came in the third place after defeating the Syrian team (5-0).
The first day of the tournament witnessed the launch of the "You Are Important" initiative which is implemented by the Stadium Security Section at the Authorities and Missions Security Department of the Ministry of Interior. The initiative aims at promoting community awareness of stadium security.
In comments, President of Qatar Rugby, Hockey and Cricket Committee (QRHCF) Yousef Jaham Al Kuwari expressed pleasure with the great success of the West Asia Rugby 7s Trophy Qatar 2021, noting the big efforts exerted by the Committee to provide all needs of the participating teams and delegations and to ensure the success of the tournament.
He highlighted the praise for the Qatari outstanding organization of the tournament over two days, which not surprising as the State of Qatar has a remarkable record and distinguished experiences in organizing international, continental and regional sporting events.
The QRHCF President added that the State of Qatar, in light of the challenges imposed by the COVID-19 pandemic, proved its ability to organize all tournament ideally by adopting an approved health protocol that ensure the safety of participants. (QNA)