MotoGP's closest-ever top 15 was captured at Losail in 8.928 seconds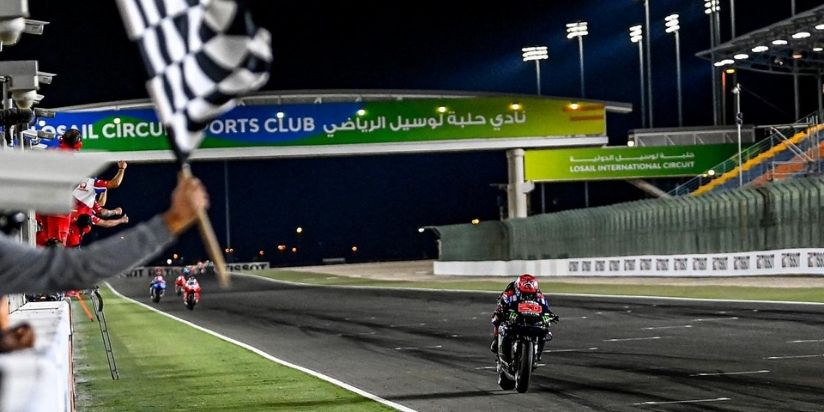 As we watch history unfold once more in Doha, the Tissot Grand Prix of Doha will go down as an instant classic.

The Tissot Grand Prix of Doha now holds the record for the nearest top 15 finish in MotoGP history, held by Fabio Quartararo of Monster Energy Yamaha MotoGP. The Losail International Circuit is known for producing tight finishes, but this time was no exception.

The time was 8.928 seconds. In a ferocious sprint under the spotlight, Quartararo and Miguel Oliveira (Red Bull KTM Factory Racing) had a lead of 15.093 seconds, comfortably beating the previous mark of 15.093 seconds set at the Losail International Circuit.

It's quite absurd because, after 42 minutes of competition, the point scorers flash over the line in under nine seconds, demonstrating once again how excellent Grand Prix motorcycle racing is in 2021.

To make it much more unique, every maker was in the top 15, and the difference between Yamaha, Ducati, Suzuki, KTM, Aprilia, and Honda in Doha was 6.063 seconds.

The six manufacturers have created extremely competitive machines for the world's best riders to compete, resulting in a far more spectacular spectacle than ever. And that's saying a lot.

We've had the first and fifth nearest top 15 finishes in history in the first two Grands Prix of the year.

The gap between Qatar GP champion Maverick Viales (Monster Energy Yamaha MotoGP) and Jorge Martin (Pramac Racing) was 16.422 seconds, just under fourth-tenths wider than Marc Marquez's winning margin in the 2018 Dutch GP (Repsol Honda Team).

It's fair to say that MotoGP is back in 2021 with a bang, and long may we get to see some of the most thrilling racing on the planet.