Marwan ElShorbagy reaches quarters in Doha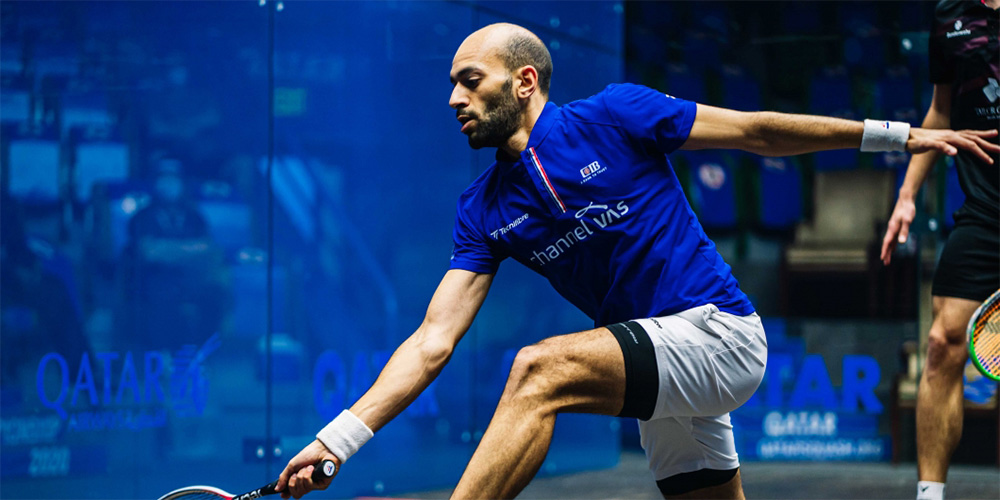 Egypt's World No.6 Marwan ElShorbagy took out Germany's Raphael Kandra by an 11-4, 11-5, 11-7 scoreline to reach the quarter finals at the 2020 Qatar Classic taking place in Doha.
The two players have met four times previously on the PSA Tour with their last three encounters being tight battles. However, today proved to be a straight-forward win for ElShorbagy, who is arguably the in-form player on the men's tour right now, as he saw out a comfortable victory in 34 minutes.
The Egyptian put work into the legs of World No.33 Kandra early on and was clinical and accurate with his hitting to take the first game, before an adductor injury to Kandra in the second saw the German struggle to make much headway in the remainder of the match as ElShorbagy booked his place in the quarter finals of the PSA Platinum event.
"Before this match, I was aware of our matches before," said ElShorbagy afterwards.
"But I also know that I'm a different player compared to what I was six months ago. I was just thinking about our match today, I'm really pleased with how I played. I was moving and my length hitting was on point today, really happy as well to finish in three so I'm fresh for my quarter final match tomorrow.
"I've been playing well so I'm not really concerned about the [strict COVID-19] measures. We are very thankful to the events that are able to host events – Manchester, CIB in Egypt and the Qatar Squash Federation – all of those events we are very thankful for.
"It's really hard to host events anywhere in the world, especially right now with what's happening, we are just really happy to be here. Even if the measures are a little bit strict, I'm just blessed to be able to be playing a squash event at this time."
Result:
[6] Marwan ElShorbagy (EGY) bt Raphael Kandra (GER) 3-0: 11-4, 11-5, 11-7 (34m)