Kohli and Naveen's Heartwarming Hug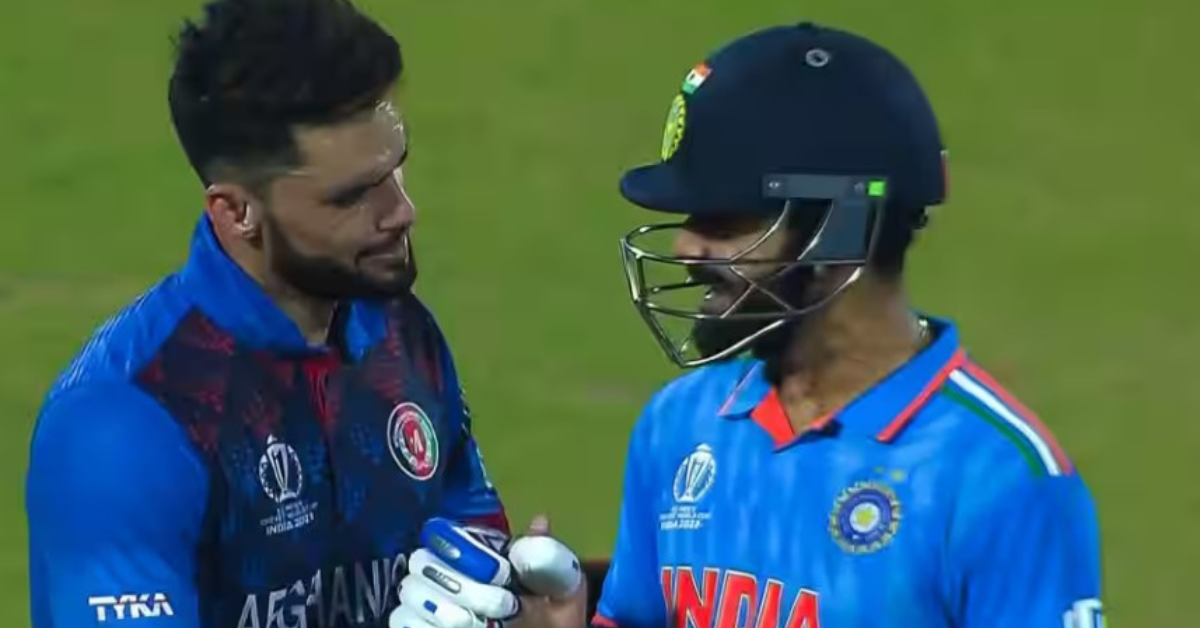 Kohli and Naveen's Heartwarming Hug
In the ODI World Cup 2023, India secured a convincing victory against Afghanistan. However, what garnered the most attention during the match was the heartwarming moment when Virat Kohli and Naveen ul Haq shared a hug on the field. This gesture of sportsmanship stole the limelight from Rohit Sharma's incredible century.
Virat Kohli, who represents the Royal Challengers Bangalore in the Indian Premier League (IPL), and Naveen ul Haq, a player for the Lucknow Super Giants, had previously engaged in a heated exchange during an IPL match in Lucknow earlier in the year. This incident had stirred some controversy, and there were even words exchanged between Kohli and LSG mentor Gautam Gambhir.
During the World Cup match in New Delhi on October 11, fans were pleasantly surprised to see Kohli and Naveen ul Haq hugging each other with smiles on their faces, putting their past differences behind them. This display of sportsmanship was captured in a video that quickly went viral.
Naveen ul Haq commented on the incident, saying, "Crowd will chant for their home cricketers, and that is what they did. It is his (Kohli's) home ground. He is a nice guy, a good player, and we shook hands." He also explained that the previous altercation was confined to the field and had not spilled over into personal matters. "It (what happened) was always in the ground, it was nothing outside the ground. People make it big. They need that stuff for their followers. He said 'we are done with that, and I said yes, we are done with that.' We shook hands and hugged."
In terms of the match itself, the Indian team displayed a remarkable performance. Indian skipper Rohit Sharma played a record-breaking innings, scoring 131 off 84 balls, and led India to chase down the target of 273 runs set by Afghanistan in just 35 overs. With this latest century, Rohit Sharma has now surpassed Indian cricket legend Sachin Tendulkar by recording seven centuries in ODI World Cup history.
Virat Kohli also made a significant contribution to the team's success by scoring an unbeaten 55 runs. This marked his second fifty in as many World Cup games. Opener Ishan Kishan also played a crucial role, scoring 47 runs. Collectively, they guided India to a resounding victory, as they achieved the target with eight wickets to spare, scoring 156 runs in 18.4 overs.
Following this victory, India currently holds the second position on the points table, just behind New Zealand in terms of net run rate. Their next challenge is a highly anticipated match against Pakistan on October 14 in Ahmedabad. Pakistan also has the same number of points as India and New Zealand after two games but is ranked third on the point table due to net run rate considerations.
In summary, the ODI World Cup 2023 match between India and Afghanistan was not only marked by outstanding performances on the field but also by a heartwarming moment of reconciliation between Virat Kohli and Naveen ul Haq, demonstrating the true spirit of sportsmanship in cricket.j
For More Related News Please Visit Our Official Website
By- Sahiba Suri