Hilarious Memes: Australia vs. India 3rd ODI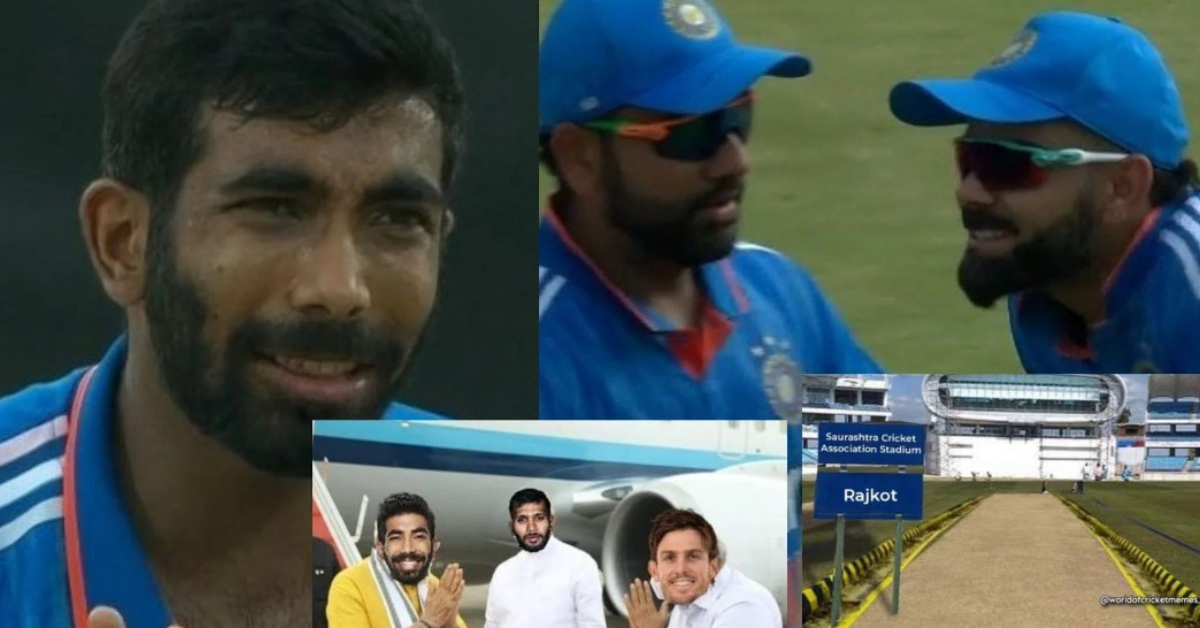 Hilarious Memes: Australia vs. India 3rd ODI
Asli Roop Nikal Aaya – Top 10 Hilarious Memes as Australia Scores 352/7 in 3rd ODI vs. India in Rajkot
In a thrilling third ODI match between Australia and India at the Saurashtra Cricket Association Stadium in Rajkot, Australia managed to post a mammoth total of 352/7. The match, which took place on Wednesday, September 27, witnessed some incredible performances and moments that had fans on social media buzzing with excitement and humor. As the saying goes, "Asli Roop Nikal Aaya," which translates to "The true colors have been revealed," let's take a hilarious journey through the top 10 memes that captured the essence of this high-scoring encounter.
1. The Warner-Marsh Show:
The match kicked off with a bang as Australian openers David Warner and Mitchell Marsh put up a fiery 78-run partnership in just 8.1 overs. The first meme portrays Warner and Marsh as superheroes, complete with capes, symbolizing their explosive start.
2. Captain Cummins' Gamble:
Australia's skipper, Pat Cummins, won the toss and chose to bat first in what were described as "batting-friendly conditions." Memes depicted Cummins as a fearless gambler in a casino, symbolizing his bold decision.
3. The Smith-Labuschagne Duo:
Steve Smith and Marnus Labuschagne were the backbone of Australia's innings, both scoring half-centuries. Memes showcased them as a dynamic duo in action, reminiscent of a famous superhero partnership.
4. Indian Bowlers Fight Back:
Despite the initial onslaught, the Indian bowlers managed to stage a comeback in the latter part of the innings. Memes featured Indian bowlers as gladiators, fiercely battling against the Australian batsmen.
5. The Elusive 400-Run Mark:
As Australia's total surged, fans on social media couldn't help but anticipate the team crossing the 400-run milestone. Memes humorously depicted the number 400 as a mythical creature, just out of reach for Australia.
6. Fans' Reactions:
One of the most entertaining aspects of any cricket match is the fans' reactions. Memes captured the rollercoaster of emotions that fans experienced during the match, from excitement to anxiety and back to jubilation.
7. Virat Kohli's Expressions:
Indian captain Virat Kohli's expressions on the field are always a subject of fascination. Memes showcased Kohli's wide range of emotions, from disbelief to determination, as he led his team's efforts to contain Australia's onslaught.
8. Epic Cricketing Duels:
Cricket fans cherish the epic battles between batsmen and bowlers. Memes humorously portrayed these battles as clashes between mythical creatures, with batsmen wielding mighty swords and bowlers summoning thunderbolts.
9. Hope Springs Eternal:
Even in the face of a daunting target, Indian fans held onto hope for a miraculous comeback. Memes depicted Indian fans as superheroes with unwavering faith, ready to support their team till the very end.
10. Celebrating the Victory:
As the match concluded, memes celebrated India's victory in the series, highlighting the jubilant scenes in the dressing room and among the fans.
In conclusion, the third ODI match between Australia and India in Rajkot was not just a cricketing spectacle but also a treasure trove of humorous moments and emotions. Fans on social media platforms embraced the true essence of the game by creating and sharing these delightful memes. Cricket continues to be a source of entertainment, not only on the field but also in the virtual world, where creativity and humor know no boundaries. "Asli Roop Nikal Aaya" indeed, revealing the fun-loving spirit of cricket enthusiasts worldwide.
For More Related Updates Visit Our Official Website
By- Sahiba Suri