Germany's kite foil gold medallist Florian Gruber revels in representing his country at ANOC World Beach Games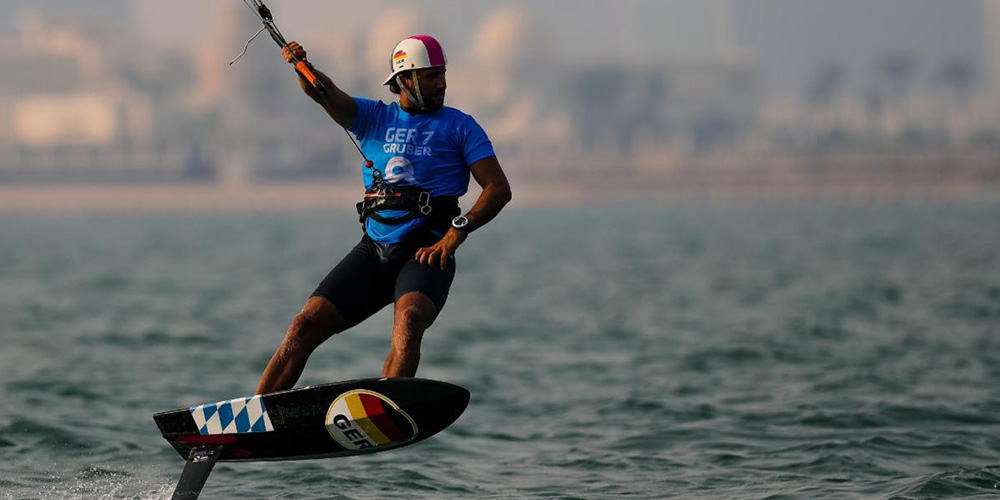 The ANOC World Beach Games was created as an opportunity to connect NOCs with new sports and new stars. Germany's Florian Gruber was one such star who took full advantage of this opportunity.
"Kite surfing is a pretty young sport, for them it is really important to have a platform where we can present how good we are; how cool the sport is," Gruber said. "The ANOC World Beach Games was a really nice opportunity for everyone."
Like many of the athletes in Qatar, Gruber had never competed at a multi-sport event and it was a rare opportunity for him to represent his country in a national team.
"I was super happy I was invited for that and representing Germany as a country there it was just amazing to have so many athletes in one building. Talking to them. Getting new experiences. Seeing other traditions. I really loved it."
The kite foil competitions drew together some of the very biggest names in the sport. On the water, he excelled winning gold in the men's event. Such was the global coverage of the event that his success was a moment that all his friends and family could enjoy.
"The ANOC World Beach Games had a really good media outcome especially for friends and family at home; it was really nice to follow the event over livestream. Especially the finals they were really nicely commentated and the cameras there you could see the sport. It was just a nice atmosphere. I got so many messages from home and everyone saw, which I think is really important."
But the experience off the water, was equally enjoyable for Gruber.
"To see around 100 countries at one spot was super fun, especially every continent brought a different spirit into the event. It was nice to see different perspectives and learn new sports."
The relaxed, fun and welcoming atmosphere was one of the hallmarks of the Games and for Gruber a big part of that was down to being at the beach.
"Everyone is going to the beach to have fun and enjoy it. For most of us, the beach has the word holiday around it or free time so that's why there are always good vibes."
"The ANOC World Beach Games has the good spirit and in the future there will be so many new and cool destinations where we can go and that flare around the beach is always fun."